Review by Gary Tooze
Production:
Theatrical: Noteworthy Films
Video: Odeon Entertainment
Disc:
Region: FREE (as verified by the Oppo Blu-ray player)
Runtime: 1:30:23.625
Disc Size: 23,645,193,125 bytes
Feature Size: 16,697,272,320 bytes
Video Bitrate: 19.99 Mbps
Chapters: 9
Case: Standard Blu-ray case
Release date: August 17th, 2015
Video:
Aspect ratio: 1.66:1
Resolution:
1080P / 25 fps

Video codec: MPEG-4 AVC Video
Audio:
LPCM Audio English 1536 kbps 2.0 / 48 kHz / 1536 kbps / 16-bit
Commentary:
LPCM Audio English 1536 kbps 2.0 / 48 kHz / 1536 kbps / 16-bit
Subtitles:
None
Extras:
• Audio Commentary with producer Richard Gordon and David De Valle
• Robin Askwith is admitted to Horror Hospital for further treatment (10:53)
• "Operating Out of Battersea - The Making of Horror Hospital" (27:10)
• Original Trailer (1:05)
Bitrate:
Description: The ultimate '70s UK horror like you've never seen it before! Legendary British actor Michael Gough stars as Dr. Storm, the depraved proprietor of a 'health hotel' in the English countryside. But when a burned-out rocker (Robin Askwith of Confessions of a Window Cleaner) and his sexy new girlfriend arrive for a relaxing vacation, they'll instead become trapped in a nightmare of psycho bikers, cheeky dwarves, rampant decapitations, gratuitous nudity, lethal luxury sedans and a diabolical plan to create a slave army of lobotomized zombies. Skip Martin (Vampire Circus) and Dennis Price (Theater of Blood) co-star in this bloody/campy cult favorite from writer/director Antony Balch, now transferred in HD from the original 35mm camera negative.
The Film:
This gory British horror satire features a hammy Michael Gough as Doctor Storm, the demented overseer of a bizarre health resort advertising "Hairy Holidays" for teenage hipsters -- on whom he secretly performs diabolical mind experiments, turning them into mindless automatons directed by a remote-control device. Those lucky enough to escape the doctor's operating table are invariably tracked down by a leather-clad bike gang or decapitated by the doctor's car (thanks to handy fender-mounted scythes). Into this trap falls pop music star Robin Askwith, whose quest for a stress-relieving getaway lands him in Gough's house of horrors. Oblivious, at first, to his impending fate (thanks to the diverting presence of the doctor's pretty niece, Vanessa Shaw), Askwith eventually realizes that the fellow patients look just a bit too relaxed for comfort. Ostensibly the blackest of black comedies, some aspects of the film actually presage Lindsay Anderson's far more sophisticated Britannia Hospital, though the satire here is far less intelligent. The biggest laughs are provided by the badly dated, ultra-mod '60s clothing and dialogue.
Excerpt from MRQE located HERE
Horror Hospital is a wonder. A film unknown by the world at large, and pretty much unknown by fans of general horror films, yet rightly lauded by British horror film fans as one of the greatest - if not the greatest - horror films ever made on these islands.

How did such a low budget mess of a film, with all its plot inconsistencies, wooden performances and all-round crapness, manage to reach such lofty heights? How can a production awash with fake blood and lacking in any genuine scares possibly be as good as quality films like The Wicker Man or Witchfinder General? It's a puzzle, alright. The only answer seems to be: "Because it is. And if you don't like it, we know a bloke who can change your mind. Forever."

Part of the film's charm lies with its willingness to give, and keep on giving. Although you'll never relive the glorious feeling of bewilderment and shock you feel on seeing it for the first time (an experience only one other film - 1978's Killer's Moon - has ever replicated for me), you will get a different experience on repeated viewings. The first time, you're astonished. The second time, you're laughing. The third time, you realise it's actually supposed to be a comedy. Then you start showing it to your mates, and enjoying their reactions. And, like some Japanese horror film, the word spreads…
Excerpt from British Horror Films located HERE

Image : NOTE: The below Blu-ray captures were taken directly from the Blu-ray disc.
Horror Hospital gets a single-layered transfer to Blu-ray from Odeon Entertainment in the UK. The bitrate is at the lower end but the image quality is surprisingly strong. It is in the original 1.66:1 aspect ratio and the overall visuals, colors and contrast seem to improve after about the first 15 minutes. It has some crisp detail in close-ups and shows some textures. The image is very clean and I saw no noise or signs of manipulation. The 1080P is far in advance of what i was expecting. Yes, very good.
CLICK EACH BLU-RAY CAPTURE TO SEE ALL IMAGES IN FULL 1920X1080 RESOLUTION
Audio :
Audio comes in a linear PCM 2.0 channel track at 1536 kbps. There are screams and other horror related effects that don't sound particularly remarkable but do come across with a pinch of depth. No score per-se but plenty of music from names like Mystic, Ivor Slaney, Pierre Arvay, Reg Tilsley, Eric Towren and others supporting the film's moods reasonably well. There are no subtitles offered and my
Oppo
has identified it as being a region
FREE - playable on Blu-ray players worldwide
.
Extras :
Odeon add a good audio commentary with producer Richard Gordon and David De Valle without quite a lot discussed regarding the production. I found it reasonably fun and educational. There is also a 11-minute interview with Robin Askwith reflecting on his experiences in making the film - noting the role was told that it was written for him. Lastly we het an original trailer with plenty of warnings about the graphic nature of the film.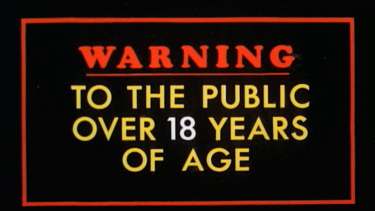 BOTTOM LINE:
Horror Hospital is all at once funny, sleazy, campy, schlocky, exploitive, satirical and generally a good time if you don't take it too seriously. The tone and atmosphere are the strong points. Yes, it intentionally pushes buttons with excess gore. There are plenty that best it as a film, but this has its own unique charm and appeal. I kinda liked it. The Odeon Entertainment Blu-ray gives you a great presentation and many will also appreciate the commentary. If you are open to the style and premise you will probably have some fun with it. Recommended!
Gary Tooze
September 24th, 2015