NOTE: These Blu-ray captures were taken directly from the Blu-ray disc.
The Criterion Blu-ray of
Cries and Whispers
is part of their Ingmar Bergman's Cinema 100th Anniversary 30 Blu-ray Boxset (reviewed, as a work in-progress, HERE).
This is a new transfer indicated by the source-text before the film: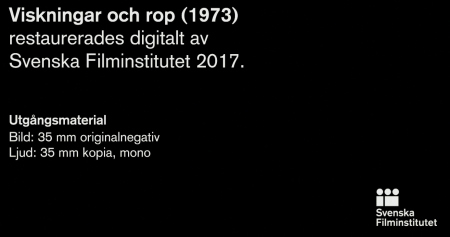 Colors take a dramatic shift - skin tones cool and normalize, contrast in superior with more pure whites and richer black levels, grass and other colors are far more realistic etc. looking more like the scheme exported by the 2011 DVD. The technical transfer is marginally more robust but this improvement seems directly related to the 35mm original negative source.
Same audio - linear PCM mono with the optional lossy English DUB and optional English subtitles. The extras are the exact same as well. The new Blu-ray disc is also Region FREE-locked.
This is a huge upgrade for Bergman fans. This new 1080P makes the 2015 Blu-ray presentation appear flawed. Another strong support for the Ingmar Bergman's Cinema 100th Anniversary 30 Blu-ray Boxset.
NOTE: Yes, as has been leaked, we can now confirm that this Blu-ray set is Region FREE!
***
ADDITION: Criterion - Region FREE - Blu-ray - February 2015': Firstly, Cries and Whispers is one of the most draining film experiences and I am struggling to give full review descriptions below, having just watched it.
The image is significantly different from Criterion's 2001 DVD. Much of the film in 1080P has the intentional red-bias. Skin tones warm significantly. The grain texture is wonderfully tight and even on the dual-layered transfer with a max'ed out bitrate. For the most part, the Blu-ray visuals show much more information in the frame on all 4 edges.
Uncompressed monaural audio via a linear PCM track, in original Swedish at 1152 kbps. It sounds authentically flat, with crisp dialogue. Of course, there is no officially composed score for Cries and Whispers, but we do get Bach's Suite No. 5 for solo Cello in C Minor, 4th mvt 'Sarabande' played by Pierre Fournier and Chopin's Mazurka in A minor, Op.17/4 played by Kabi Laretei. Criterion also include the standard Dolby Digital English DUB option, in mono. There are optional English subtitles on the region A-locked Blu-ray disc.
On their Blu-ray Criterion include the 7-minute introduction by Ingmar Bergman from reporter Marie Nyrerod's interview with the director for SVT Svensk Television in the summer of 2003, on the island of Faro, where he had lived since 1967. In this excerpt, Bergman, at 85, talks about Cries and Whispers. There is a new, January 2012, 20-minute interview with actor Harriet Andersson, conducted by film scholar Peter Cowie, where she talks about her work in Cries and Whispers. There is also 34-minutes of silent, color behind-the-scenes footage, shot during the production with commentary by Cowie. In a new 2014 video essay filmmaker : : kogonada explores director Ingmar Bergman's Cries and Whispers, a film in three movements. It runs 12.5 minutes long and is entitled 'Solace' on the supplements menu. We also get the same 52-minute interview also found on their 2001 DVD entitled Ingmar Bergman: Reflections on Life, Death, and Love with Erland Josephson from 2000 where Bergman talks with his longtime collaborator. There is a trailer, plus the package contains a liner notes booklet with an en essay by film scholar Emma Wilson.
***
ON THE DVD: On initial viewing this image looks excellent, but putting it under the microscope we notice some minimally noticeable manipulations. Contrast, usually Criterion's hallmark, is a shade out of sync here with the variance from white to black being quite dramatic - I usually wouldn't be bothered but I felt the darkness excluded some important details and the whites were literally glowing. Color seems strong and Bergman's extreme close-ups detail a bit of inconsistent grain and noise. There is an English DUB included with the original Swedish audio and optional English subtitles. I felt that the 52 minute interview with Bergman and Josephson was worth the price of the disc alone. This DVD looks very good, but not as filmic as one might expect. Still it is HD-sourced and anamorphic at a ratio at 1.68. No one will do this better than Criterion have done. A must-own for Bergman fans and all cinema lovers.

out of