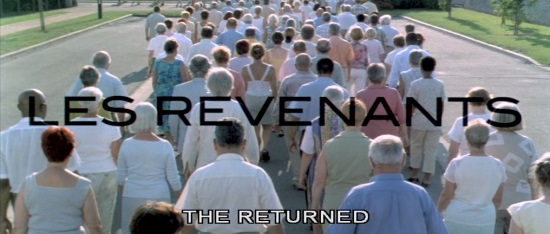 (aka "They Came Back" or "Les Revenants")
directed by Robin Campillo
France 2004
When the dead inexplicably rise from their graves, the reaction isn't fright but confusion. The residents of a French town have to contend with the return of thirteen thousand of their loved ones. The local government places their "returnees" in temporary housing in order to identify them as well as allow their loved ones to get accustomed to the sudden reappearance of departed husbands, wives, and children who seem to have no memory of their deaths and only fleeting familiarity with their lives prior to it. Isham (Djemel Barek, 360) and Veronique (Marie Matheron, WINTER'S CHILD) are initially delighted by the return of their young son Sylvain (Saady Delas) while the mayor (Victor Garrivier, FRENCH KISS) is guarded in his feelings over the return of his wife Martha (Catherine Samie, LE DIVORCE) who seems to be a total stranger. Young Rachel (Géraldine Pailhas, 5X2) resists finding out if her husband Mathieu (Jonathan Zaccaï, LITTLE DARLING) has come back until he confronts her himself. Observation by their loved ones and by government sociologists and anthropologists determines "the returned" all seem to suffer from symptoms mirroring aphasia and they seem to be incapable of creating new memories, merely imitating observed behavior or acting from memory. This makes them unskilled for all but the most menial tasks (engineer Jonathan is demoted to factory work) and a danger to themselves: the mayor and Sylvain's parents have to make sure they don't go wandering off as they seem to want to follow the same bizarre migratory patterns observed by local doctor Gardet (Frédéric Pierrot, POLISSE) who suspects that "the returned", for all their seemingly robotic behavior and lack of guile, seem to be plotting something during their nighttime assemblages.

Technically a zombie flick - in a similar sense as the dramatically-inclined resurrected dead flick DISTANT LIGHTS (1987) - LES REVENANTS has no voodoo or flesh-eating, and instead focuses on the feelings dredged up in those who have lost loved ones and never really achieved closure; in fact, it would have been interesting to have a character who had been able to move on, but the film suggests that those who haven't reclaimed their returned loved ones are either afraid or don't care (like one of the soldiers who is chastised by Gardet for making more work for those who have to identify and provide support services for the many unclaimed). Director Robin Campillo - editor of Gilles Marchand's thriller WHO KILLED BAMBI? and co-scenarist of Laurent Cantet's drama TIME OUT - approaches the subject sensitively with the feigned indifference of is living characters making the only thing their body temperature the only thing that distinguishes them from the returnees (as seen on the thermographic cameras being floated over the town in weather balloons). Unfortunately, Campillo's deliberate approach may provoke a similarly affectless response in the viewers even as they ponder the film's ideas. I would be very curious to see how the recent Studio Canal miniseries adaptation explores the film's themes.
Poster
Theatrical Release: 27 October 2004 (France)
Reviews More Reviews DVD Reviews
DVD Comparison:
Wellspring - Region 1 - NTSC vs. Arrow Films - Region 2 - PAL
Big thanks to Eric Cotenas for all the Screen Caps!
(Wellspring - Region 1 - NTSC - LEFT vs. Arrow Films - Region 2 - PAL - RIGHT)
DVD Box Covers

Distribution

Wellspring

Region 1 - NTSC

Arrow Films
Region 2 - PAL
Runtime
1:46:00
1:41:48 (4% PAL speedup)
Video

2.28:1 Original Aspect Ratio

16X9 enhanced
Average Bitrate: 6.34 mb/s
NTSC 720x480 29.97 f/s

2.36:1 Original Aspect Ratio

16X9 enhanced
Average Bitrate: 5.38 mb/s
PAL 720x576 25.00 f/s

NOTE: The Vertical axis represents the bits transferred per second. The Horizontal is the time in minutes.

Bitrate:

Wellspring

Bitrate:

Arrow Films

Audio
French Dolby Digital 5.1; French Dolby Digital 2.0 stereo

French Dolby Digital 2.0 stereo

Subtitles
English, none
English, none
Features
Release Information:
Studio: Wellspring

Aspect Ratio:
Widescreen anamorphic - 2.28:1

Edition Details:
• The Making of 'They Came Back' (4:3; 21:03)
• Trailer (1:22)
• Filmographies
• Trailers for 'Red Lights', 'Tarnation', 'In the Realms of the Unreal', and 'Milk and Honey'

DVD Release Date: 21 June 2005
Amaray

Chapters 24

Release Information:
Studio: Arrow Films

Aspect Ratio:
Widescreen anamorphic - 2.36:1

Edition Details:
• none


DVD Release Date: July 22nd, 2013
Amaray

Chapters 12
Comments

Although Arrow's new single-layer disc is barebones, it does sport the better transfer than the R1 disc's interlaced presentation (revealing slivers more information on the sides and perhaps a touch brighter). Although it is not action film, Wellspring's disc's 5.1 track is the preferred listening option for when there actually is surround activity; however, the 2.0 tracks on both discs are serviceable. The subtitle translation appears to be the same. The US release does feature a making-of featurette that might be of interest to fans.

For owners of any of the previous English-friendly releases (the Canadian edition may be identical to the US release), Arrow's edition does not present an essential upgrade despite the nicer picture quality; however, for fans of the new Studio Canal series curious about the original film, the UK edition should satisfy.
---
DVD Menus
(Wellspring - Region 1 - NTSC - LEFT vs. Arrow Films - Region 2 - PAL - RIGHT)

---
Screen Captures
(Wellspring - Region 1 - NTSC - TOP vs. Arrow Films - Region 2 - PAL - BOTTOM)
Subtitle sample
---
(Wellspring - Region 1 - NTSC - TOP vs. Arrow Films - Region 2 - PAL - BOTTOM)
---
(Wellspring - Region 1 - NTSC - TOP vs. Arrow Films - Region 2 - PAL - BOTTOM)
---
(Wellspring - Region 1 - NTSC - TOP vs. Arrow Films - Region 2 - PAL - BOTTOM)
---
(Wellspring - Region 1 - NTSC - TOP vs. Arrow Films - Region 2 - PAL - BOTTOM)
---
(Wellspring - Region 1 - NTSC - TOP vs. Arrow Films - Region 2 - PAL - BOTTOM)