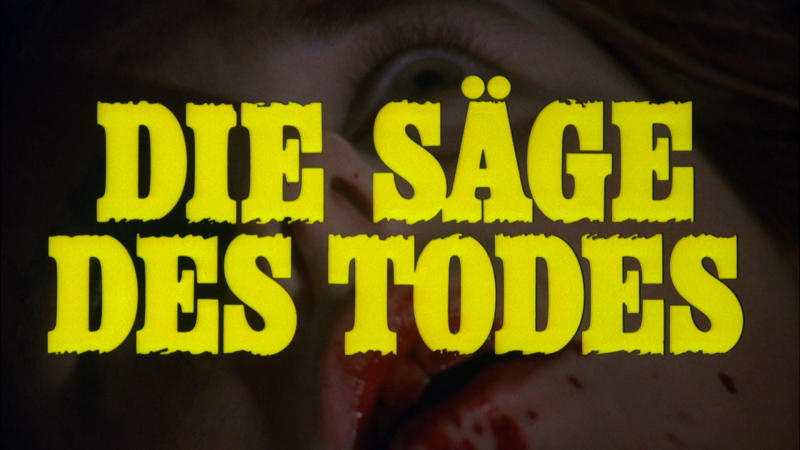 (aka "Bloody Moon" or "Colegialas violadas" or "Profonde tenebre")
directed by Jess Franco
West Germany/Spain 1981
Five years ago at a summer camp on the grounds of the Countess Maria Gonzales' (Marķa Rubio) estate, her disfigured nephew Miguel (Alexander Waechter) stabbed a girl to death in bungalow #13. Now his sister Manuela (Nadja Gerganoff) - for whom he has fostered an incestuous attraction - has brought him home after a stay in a psychiatric clinic (run by director Jess Franco himself) just in time for the opening of a language school on the estate for a host of nubile Teutonic coeds run by ladies man Alvaro (Christoph Moosbrugger). Miguel is eager to resume his taboo relationship with Manuela - recently disinherited by her aunt who plans to leave everything to Miguel - but she fears the judgement of others, musing "If we could just get rid of everyone around us, then things could be as they were." Angela (Olivia Pascal, BEHIND CONVENT WALLS) arrives late and is given the isolated bungalow 13, the better for her to be spied upon by Miguel and the countess' nutty, mute, "red herring" servant Bueno (Otto Retzer), romanced by tennis pro Antonio (Peter Exacoustos), and menaced by a stocking-masked assailant who starts slicing and dicing (and sawing) her friends. Corpses pop up around Angela but quickly disappear, and others blame her overactive imagination - she is seen reading Marc Olden's POE MUST DIE before the first murder she witnesses - even as threats on her life accumulate and her classmates keep disappearing. By the time the BLOODY MOON rises in the sky, their may be no one left to see it.

Scripted by producer Erich Tomek under the pseudonym Rayo Casablanca, BLOODY MOON is a West German cash-in on the slasher craze set in an exotic Spanish locale (Alicante) and helmed by a Spanish director (whose history of West German co-productions dates back to the late sixties as he sought work away from Spain under the oppressive reign of Francisco Franco, filming in France, Germany, Portugal, and Switzerland before returning home in the late seventies). Essentially a work-for-hire, Franco's at times absurd treatment of the slasher formula (treating the false scares like cheap laughs rather than ratcheting up the tension) and the comic relief (producer Wolf C. Hartwig was one of the men behind the SCHOOLGIRL REPORT series) feels less more like his own reaction to the script than a genuine desire to lampoon what was then a trend rather than a genre. It feels more like an old dark house thriller with its mystery-reading heroine, a will and scheming relatives, mysterious villa and the rituals of its inhabitants (Manuela baring her breasts to the moon for no reason or taking the wheelchair-bound countess for her moonlight stroll). The climax and rote resolution are rather sloppy, but Franco never really cared for that aspect of his more personal and obsessive films. With its relatively slick camerawork and moody lighting, it might appear to be one of Franco's best-looking films, although quite a few of his Spanish films from this period shot by Juan Soler (and Franco himself) - as well as his Swiss films for Erwin C. Dietrich - were quite accomplished visually compared to his Eurocine productions (it's certainly one of the better-photographed non-studio slasher films). The gore effects are largely laughable (more so thanks to the clarity of the newer transfer) but the sawmill decapitation stands out for being simultaneously wicked and ludicrous. Christina von Blanc - who had previously starred in Franco's superior A VIRGIN AMONG THE LIVING DEAD (1973) - appears here briefly as Alvarado's secretary Elvira.
Posters
Theatrical Release: 27 March 1981 (West Germany)
Reviews More Reviews DVD Reviews
Comparison:
Severin Films - Region 0 - NTSC vs. Severin Films - Region FREE - Blu-ray
Big thanks to Eric Cotenas and Gary Tooze for the Screen Caps!
(Severin Films - Region 0 - NTSC - LEFT vs. Severin Films - Region FREE - Blu-ray - RIGHT)
Box Covers

Distribution

Severin Films

Region 0 - NTSC

Severin Films
Region FREE - Blu-ray
Runtime
1:24:51
1:25:00.595
Video

1.78:1 Original Aspect Ratio

16X9 enhanced
Average Bitrate: 5.56 mb/s
NTSC 720x480 29.97 f/s

1080P Single-layered Blu-ray

Disc Size:

19,512,163,889 bytes

Feature:

17,196,976,128 bytes

Codec: MPEG-4 AVC Video

Total Video Bitrate: 23.99 Mbps

NOTE: The Vertical axis represents the bits transferred per second. The Horizontal is the time in minutes.

Bitrate:

Severin Films

Bitrate:

Severin Films Blu-ray

Audio
English Dolby Digital 2.0 mono

LPCM Audio English 1536 kbps 2.0 / 48 kHz / 1536 kbps / 16-bit

Subtitles
None
None
Features
Release Information:
Studio: Severin Films

Aspect Ratio:
Widescreen anamorphic - 1.78:1

Edition Details:
• 'Franco's Moon' interview with Jess Franco (16:9; 18:48)
• Theatrical Trailer (4:3; 1:38)

DVD Release Date: 28 October 2008
Amaray

Chapters 16

Release Information:
Studio: Severin Films

Aspect Ratio: 1.78:1

1080P Single-layered Blu-ray

Disc Size:

19,512,163,889 bytes

Feature:

17,196,976,128 bytes

Codec: MPEG-4 AVC Video

Total Video Bitrate: 23.99 Mbps

Edition Details:
• 'Franco's Moon' interview with Jess Franco (18:51)
• Theatrical Trailer (1:39)


Blu-ray Release Date: July 8th, 2014
Standard Blu-ray Case

Chapters: 16
Comments

NOTE: The below Blu-ray captures were ripped directly from the Blu-ray disc.

ADDITION - Severin - Region FREE - Blu-ray June 2014: Severin's three simultaneous Blu-ray releases of July 8th, 2014, The Baby, Bloody Birthday and Bloody Moon, share many transfer characteristics - so I will duplicate some of my comments. All three are single-layered with the same bitrate and in the 1.78:1 aspect ratio. Each seem to use the same source as their previous SD, supporting the same color scheme etc. They also seem to have all the same extras as the older DVDs (as well as no optional subtitles) but all offer lossless audio.

You can see the improved resolution present in the many close-ups. As far as slasher flics go - this would be in the upper 50% with Franco piling on the cheese - but it's often kitschy. Decent Blu-ray package from Severin for those who like to immerse themselves in this genre.

***

On the Severin DVD: Severin's single-layer DVD features a progressive, anamorphic DVD of the uncut version of the film. Unfortunately, the German version of the film was censored and the negative apparently conformed to this version. The missing bits - extensions of the gore shots rather than self-contained shots - seem to have been grafted in from video sources, and the quality change is dramatic. The Dolby Digital 2.0 mono track's mix of disconnected English dubbing and the atmospheric score (apart from the constant use of Frank Duval's "Love in the Shadow") is more consistent in quality than the image track.

Franco appears in an interview - along with a cameo from longtime music Lina Romay, grabbing her keys on her way out - speaking English with English subtitles also provided (the multilingual director usually speaks French on other DVD extras, but he is easy to understand here despite his thick accent). He recalls having relative creative freedom on the set because the producers did not know what they wanted other than a horror film (he usually lost control of his films in post-production with few release versions representing director's cuts) and that he was promised that Pink Floyd would score the film, which I'm not sure I believe. The disc also includes the film's English trailer.

-Eric Cotenas
---
Menus
(Severin Films - Region 0 - NTSC - LEFT vs. Severin Films - Region FREE - Blu-ray - RIGHT)

| | |
| --- | --- |
| | |
| | |
| | |
| | |
---
CLICK EACH BLU-RAY CAPTURE TO SEE ALL IMAGES IN FULL 1920X1080 RESOLUTION
Screen Captures
(Severin Films - Region 0 - NTSC - TOP vs. Severin Films - Region FREE - Blu-ray - BOTTOM)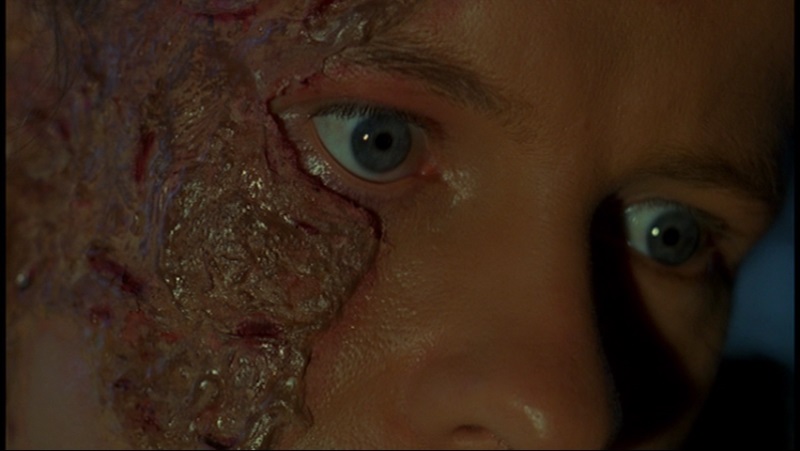 ---
(Severin Films - Region 0 - NTSC - TOP vs. Severin Films - Region FREE - Blu-ray - BOTTOM)
---
(Severin Films - Region 0 - NTSC - TOP vs. Severin Films - Region FREE - Blu-ray - BOTTOM)
---
(Severin Films - Region 0 - NTSC - TOP vs. Severin Films - Region FREE - Blu-ray - BOTTOM)
---
(Severin Films - Region 0 - NTSC - TOP vs. Severin Films - Region FREE - Blu-ray - BOTTOM)
---
(Severin Films - Region 0 - NTSC - TOP vs. Severin Films - Region FREE - Blu-ray - BOTTOM)
---
(Severin Films - Region 0 - NTSC - TOP vs. Severin Films - Region FREE - Blu-ray - BOTTOM)
---
(Severin Films - Region 0 - NTSC - TOP vs. Severin Films - Region FREE - Blu-ray - BOTTOM)
---
(Severin Films - Region 0 - NTSC - TOP vs. Severin Films - Region FREE - Blu-ray - BOTTOM)
---
(Severin Films - Region 0 - NTSC - TOP vs. Severin Films - Region FREE - Blu-ray - BOTTOM)
---
(Severin Films - Region 0 - NTSC - TOP vs. Severin Films - Region FREE - Blu-ray - BOTTOM)
---
Report Card: