Review by Gary Tooze
Production:
Theatrical: United Artists
Video: Twilight Time
Disc:
Region: FREE (as verified by the Oppo Blu-ray player)
Runtime: 1:54:54.929
Disc Size: 31,576,729,353 bytes
Feature Size: 30,121,512,960 bytes
Video Bitrate: 29.99 Mbps
Chapters: 12
Case: Standard Blu-ray case
Release date: February, 2014
Video:
Aspect ratio: 2.35:1
Resolution: 1080p / 23.976 fps
Video codec: MPEG-4 AVC Video
Audio:
DTS-HD Master Audio English 1070 kbps 1.0 / 48 kHz / 1070 kbps / 24-bit (DTS Core: 1.0 / 48 kHz / 768 kbps / 24-bit)
DTS-HD Master Audio English 1649 kbps 2.0 / 48 kHz / 1649 kbps / 24-bit (DTS Core: 2.0 / 48 kHz / 1509 kbps / 24-bit)
Commentary: DTS Audio English 256 kbps 2.0 / 48 kHz / 256 kbps / 24-bit / DN -10dB
Subtitles:
• English (SDH), None
Extras:
•
Commentary by Lem Dobbs, Julie Kirgo and Nick Redman
• Theatrical Trailer (1:58) / MGM 90th Anniversary Trailer
• Isolated Score track
Bitrate:
Description: Thunderbolt and Lightfoot (1974) marked the directing debut of screenwriter Michael Cimino (The Deer Hunter, Heaven's Gate), working under the meticulous guidance of star/producer Clint Eastwood. Eastwood plays a typically laconic loner, a big-time thief in hiding who hooks up with a goofy young drifter (Jeff Bridges, giving an Oscar®-nominated performance). First attempting to escape from a couple of vengeful former partners (George Kennedy, Geoffrey Lewis), then joining forces with them to pull off a risky robbery, Eastwood and Bridges give us an ultimately touching portrait of masculine friendship. Superbly photographed in Montana's Big Sky country by Frank Stanley, and featuring a score by Eastwood regular Dee Barton.
The Film:
As much an eccentric character study as a road movie, Michael Cimino's directorial debut follows the adventures of a quartet of misfits in their life of crime. Retired thief Thunderbolt (Clint Eastwood) and sweet drifter Lightfoot (Jeff Bridges) meet cute when Thunderbolt jumps into Lightfoot's stolen car to escape a gunman. The pair embarks on an oddball journey to get Thunderbolt's loot from an old robbery before his former associates, the sadistic Red (George Kennedy) and cretinous Goody (Geoffrey Lewis), get to it first, but all four are too late; the one-room schoolhouse hiding place has apparently vanished. So instead, the four play house and work legit jobs while they plot to rob the same place Thunderbolt and Red hit before. Although the plan goes awry, Thunderbolt and Lightfoot discover that they may still have succeeded-or so they think. As the easy-going mediator between the two, Eastwood's Thunderbolt was a move away from his tough cop-westerner image; his audience accepted this then-atypical performance enough to turn Thunderbolt and Lightfoot into a moderate hit. Bridges received his second Best Supporting Actor Oscar nomination, but Cimino turned down a subsequent deal with Eastwood, moving instead to his artistic peak with The Deer Hunter (1978) and career nadir with Heaven's Gate (1980.)
Excerpt from MRQE located HERE

Image : NOTE: The below Blu-ray captures were taken directly from the Blu-ray disc.
Michael Cimino's enigmatic Thunderbolt and Lightfoot comes to Blu-ray from our friends at Twilight Time. The almost 2-hour film is put to dual-layered disc, with a high bitrate, and it looks quite acceptable - probably more the condition of a strong source. Contrast is, likewise, adept and the visuals seem fairly tight. Aside from the wobbling opening credits (settles down shortly after) I had no complaints. There is pleasing grain and even some depth exported. Not much damage or speckles are visible. I suspect this is a 'straight' transfer with no manipulation, The Blu-ray provides a pleasing 1080P presentation with no major flaws.
CLICK EACH BLU-RAY CAPTURE TO SEE ALL IMAGES IN FULL 1920X1080 RESOLUTION
Audio :
The DTS-HD mono track at 1070 kbps sounds clean with a few more impressive moments in pushing the film's modest depth through. Dee Barton, the jazz trombonist, big band drummer, (who also composer on a couple of other Clint Eastwood films; High Plains Drifter and Play Misty For Me) did the score which, musically, is eclipsed by the the song Where Do I Go from Here sung, and composed, by Paul Williams playing at the beginning and end of the film. Twilight Time offer an isolated score in a clean lossless track. There are optional English subtitles (sample above) and m
y
Oppo
has identified it as being a region FREE.
Extras :
Aside from the theatrical trailer and isolated film score track - we get a new commentary by screenwriter Lem Dobbs and film historians Julie Kirgo and Nick Redman. A lot of questions become resolved in listening to the trio explore some deeper concepts including the many, seemingly superficial, characters that interact with the protagonists. Excellent and certainly bolsters the appreciation of the film - and story.
| | |
| --- | --- |
| | |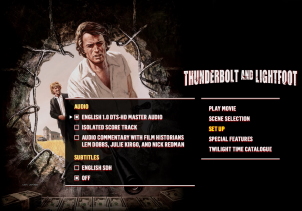 BOTTOM LINE:
An odd but entertaining film. There are disjointed moments in both characters and plot actions - as if huge swaths of the story were left out (perhaps they were!). I did sense moving to some redeeming process, but, on the surface, it had more of a buddy-road-movie feel than anything deep. This is where the commentary comes in. I'm not saying I didn't like it - I certainly did - and accepted the swings expecting to become informed as the film rolled along. The commentary helped a lot. The Twilight Time Blu-ray has some definite value - both in exploration of Cimino as a director/auteur and because of the valuable commentary. What a strange, but appealing, film experience.
Gary Tooze
February 25th, 2014