NOTE: The below Blu-ray captures were ripped directly from the Blu-ray disc.
ADDITION: Filmedia - Region FREE Blu-ray - March 2014:
NOTE: This was restored in 2013 from the 8-perf Super-Technirama 70 Camera Negative! I'm blown away by the image - the 1080P looks incredible - a gigantic upgrade from the DVD. And it is region FREE -
AND
the French subtitles are totally removable. Look at the colors and detail - WOW!! The Technicolor bursts off the screen at times. Detail, skin tones, depth - it has it all looking tremendous!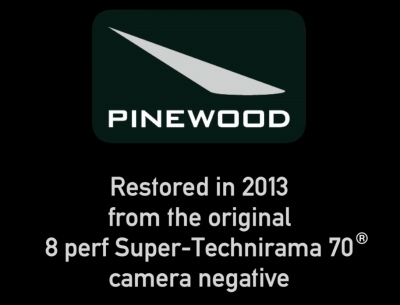 The original English audio gets the lossless treatment with two options a DTS-HD Master 2.0 channel at 2112 kbps and a 5.1 surround via a DTS-HD Master Audio English 3905 kbps. Originally we had a 6-Track (Westrex Recording System) so the Surround would be closest and it sounds fabulous with plenty of depth in the many aggressive scenes in the film. Separations are plentiful. The powerful score is by the iconic Dimitri Tiomkin (Angel Face, Strangers on a Train, The Men, Dial M For Murder, The Thing From Another World etc. etc.) and it sounds highly remarkable in the uncompressed rendering. There is a Dolby French DUB and optional French subtitles (they are totally optional when English language is chosen!)
All of the extras are in French (and there are many!) except we get about 20-minutes worth of interviews with Charlton Heston, Mrs. Heston, David Niven, and John Moore. Magnificent release - as good as it gets! This Blu-ray has our highest recommendation!
***
ON THE DVD (July 2003): The print used may have had been a little faded and looks to have been transferred with a some form of contrast dampening, giving an appearance of being a unusuallty thick, heavy and dull. Although it might be the worst of the Bronston Japanese DVDs with the aspect ratio out of whack. Like "The Fall of the Roman Empire" or "El Cid" this DVD is encoded for Region 0 (still NTSC) so standard North American DVD players will play it suiting those who are not yet Region-free (why though?). NOTE: Gordon has warned us that his ordered copy of El Cid is actually region 2- I can assure you that mine is region 0, but when we find out about the discrepancy we will let you know.
Again I found the Dimitri Tiomkin soundtrack a little overpowering at times. On this DVD there is English 4.0 surround audio and removable Japanese subtitles.

out of

NOTE: We have reviewed 3 more similarly strong Japanese DVD releases (El Cid, The Fall of the Roman Empire, and Circus World) to include in a possible group order from Amazon Japan or YesAsia.com.