NOTE: The below Blu-ray captures were taken directly from the Blu-ray disc.
Criterion present Bergman's Fårö Document 1979 on a dual-layered Blu-ray with a high bitrate. The follow-up 1979 film looks especially pleasing, full of rich grain. The image has color depth and looks film-like in-motion. Fårö Document 1979 was transferred from a mix of both the CRI (Color Reversal Intermediate) negative and a duplicate negative from 16mm elements. Both Blu-ray transfers (this and Faro Document) have a good fidelity to the original film, its just that 79 looks like a 16mm, as opposed to Fårö Document's 35mm - this film starts with this text screen: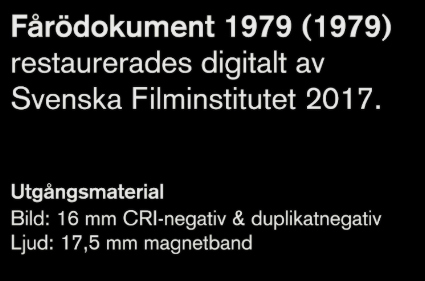 The film is presented in its original Swedish language, mono 24-bit linear PCM track with music by Claes af Geijerstam performed by Ola & the Janglers, Den blomstertid nu kommer ("The Flower Time Now Comes") performed by Popular Choir of Fårö, Santa Lucia by Female Choir of Fårö etc. and it sounds authentically flat but consistent and clear. There are optional English subtitles on this Region-Free Blu-ray.

There are extras for this film on the Blu-ray disc, the first being "Karin's Face", a short 15-minute documentary that Bergman made about his personal photo album, focusing mostly on his mother Karin. The second is an 11-minute short documentary "Daniel", on the birth and early years of Bergman's eponymous son.
I was quite surprised by how much I enjoyed Bergman's "Fårö Document" and "Fårö Document 1979". What originally sounded rather dry and anthropological (removed) is quite emotional and just as intimate as one would expect from Bergman. The transfers are film-like, presenting the film as it would have been seen originally on Swedish TV, only better (from the film's print, not a TV broadcast.)