NOTE: The below Blu-ray captures were taken directly from the Blu-ray disc.
Criterion present Bergman's Fårö Document (1969) and his follow up, Fårö Document 1979 on a dual-layered Blu-ray with a high bitrate. The original 1969 film looks especially good, with a high level of detail and a healthy amount of grain. The image switches between B&W and Color, both showing decent contrast levels with a strong range of blacks. This was transferred from the original 35mm negative. Fårö Document 1979 was transferred from a mix of both the CRI (Color Reversal Intermediate) negative and a duplicate negative from 16mm elements. Both Blu-ray transfers (This and Faro 1979) have a good fidelity to the original film, its just that 79 looks like a 16mm, as opposed to Fårö Document's 35mm - which is supported by this text screen: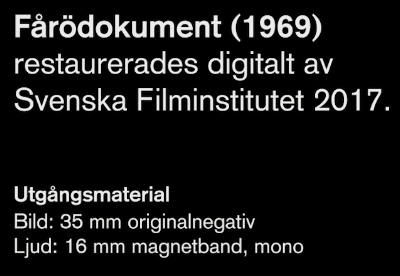 The film is presented in its original Swedish language, on a 1.0 24-bit linear PCM track. There are optional English subtitles on this Region-Free Blu-ray.

There are no extras for this film on the Blu-ray disc, although there are on the Faro 1979.
I was quite surprised by how much I enjoyed Bergman's "Fårö Document" and "Fårö Document 1979". What originally sounded rather dry and anthropological (removed) is quite emotional and just as intimate as one would expect from Bergman. The transfers are great, presenting the film as it would have been seen originally on Swedish TV, only better (from the film's print, not a TV broadcast).