NOTE: The below Blu-ray captures were taken directly from the Blu-ray disc.
The Criterion Blu-ray of A Lesson in Love is part of their Ingmar Bergman's Cinema 100th Anniversary 30 Blu-ray Boxset (reviewed, as a work in-progress, HERE). A Lesson in Love shares this Blu-ray with Dreams. See comparative captures, a listing of technical details, extras etc., on this page. The 1080P is a obvious upgrade.
Criterion premieres "A Lesson In Love" to Blu-ray as part of their mammoth collection of Bergman's cinema. The film shares a disc with "Dreams" and has a high bitrate. This presentation comes from a 35mm interpositive, and looks almost as if it came from the original negative.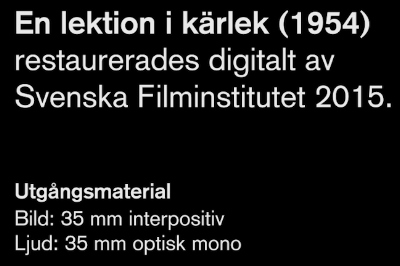 Certain scenes have a slight vertical scratch on the print and some scenes seem a little soft focused, but the former is barely noticeable, and the latter is surely due to the film's production and not the transfer. The detail level is very strong, as is the contrast with deep black levels. Yet another beautiful transfer in this Blu-ray set.

"A Lesson In Love" has uncompressed, original Swedish, mono audio with a score by Dag Wirén and optional English subtitles.

The sole extra on this Blu-ray is another Bergman introduction to the film from 2003 with Swedish journalist Marie Nyrerod. Bergman and Nyrerod discuss A Lesson in Love for 4.5-minutes.