NOTE: The below Blu-ray captures were taken directly from the Blu-ray disc.
The Criterion Blu-ray of Waiting Women is part of their Ingmar Bergman's Cinema 100th Anniversary 30 Blu-ray Boxset (reviewed, as a work in-progress, HERE). Waiting Women shares this Blu-ray with Brink of Life. See comparative captures, a listing of technical details, extras etc., on this page.
Criterion present Bergman's Waiting Women (1952) on a dual-layered Blu-ray with a high bitrate. This was transferred from a 35mm dup-negative. It looks especially pleasing in 1080P. The Blu-ray exports excellent contrast, tight lines and a consistent presentation in-motion. No damage no digitization, no complaints. It starts with this text-source screen: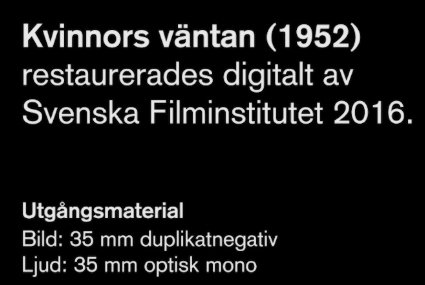 The film is presented in its original Swedish language, on a mono 24-bit linear PCM track. Dialogue is clear, flat and consistent. The score is by Erik Nordgren (Bergman's Through a Glass Darkly, The Virgin Spring, The Magician, Wild Strawberries, The Seventh Seal) plus music from the opera "Orfeo ed Euridice", the recognizable Can-Can (Nordgren), La Marseillaise etc. There are optional English subtitles on this Region-Free Blu-ray.

There are no extras at all on the Blu-ray disc, only the two films; Waiting Women and Brink of Life.
I had never seen Waiting Women and I believe its the first time the film has ever been on Blu-ray, although it was on Tartan DVD. It's an excellent drama with some humor and includes a Hitchcockian-cameo by Bergman and risqué cabaret with bare breasts. It has the director's unmistakable moodiness and less-familiar vintagesque formal comedy of circumstance. Upon reflection it is impressive - more brilliance that is very welcome in the Ingmar Bergman's Cinema 100th Anniversary 30 Blu-ray Boxset.