Review by Gary Tooze
Production:
Theatrical: Showtime
Video: Paramount
Disc:
Region: 'A'-locked (as verified by the Momitsu region FREE Blu-ray player)
NOTE: The UK
Blu-ray
version appears to be region FREE!

Episode Runtime: 54:00 X 12

Disc One Size: 47,729,696,188 bytes

Single Disc Features Size: 46,009,116,672 bytes

Video Bitrate: 21.93 Mbps

Chapters: 7 X 12

Case: Standard Blu-ray case

Release date: August 14th, 2012
Video:
Aspect ratio: 1.78:1
Resolution: 1080p / 23.976 fps
Video codec: MPEG-4 AVC Video
Audio:
Dolby TrueHD Audio English 3485 kbps 5.1 / 48 kHz / 3485 kbps / 24-bit (AC3 Embedded: 5.1 / 48 kHz / 448 kbps)
Dolby Digital Audio French 448 kbps 5.1 / 48 kHz / 448 kbps
Dolby Digital Audio English 192 kbps 2.0 / 48 kHz / 192 kbps / Dolby Surround
Dolby Digital Audio Spanish 192 kbps 2.0 / 48 kHz / 192 kbps / Dolby Surround
Subtitles:
English, English (SDH), none
Extras:
• BD-Live (House of Lies 1 + 2, Californication - Season 5 Ep 1+2, The Borgias Season 2 Ep 1+ 2 and interviews with Colin Hanks, Michael C. Hall, David Zayas, C.S. Lee, Julie Benz, Lauren Velez, Jennifer Carpenter and Desmond Harrington).
Bitrate (disc 1):
Description: The explosively popular Dexter is back with a vengeance for a sixth season of startling suspense and unexpected twists. It's been a year since last season's shocking and heartbreaking conclusion, and mild mannered criminologist-cum-grisly serial killer Dexter Morgan has come to terms with who he is. But his existence is shattered when he crosses paths with an enemy unlike any he's faced before. A delusional religious zealot with unflinching convictions, this new adversary soon draws Dexter into a dangerous game that could well end in disaster.
Season Six descriptions from IMDb HERE:
Season Six, Episode 1
Oct. 2, 2011
Those Kinds of Things
Life for Dexter is returning to normal. He's taking care of his son with the help of Angel Batista's sister Jamie. He dispatches two EMTs who have been killing patients to harvest their organs and he's looking forward to his high school 20th anniversary reunion. Not surprisingly, Dexter was something of an outsider in school but one girl, Janet, was at least nice to him. She dated and eventually married the schools star quarterback Joe Walker but committed suicide after they were married.

Once Upon a Time...
Season Six, Episode 2
Oct. 9, 2011
Once Upon a Time...
Dexter lines up his next victim, Brother Sam a criminal who claims to have found religion and while still running his body repair shop, gives other ex-cons a chance at rehabilitation. Dexter isn't buying any of it and is certain that Sam will be his worthy next victim. Doesn't quite turn out that way. The investigation into the dead man with the snakes put into his torso advances when one of the students finds heavy metals in their system. The two men responsible for that killing continue their preparations. Deb meanwhile has a day to remember.

Smokey and the Bandit
Season Six, Episode 3
Oct. 16, 2011
Smokey and the Bandit
Deb faces her first day as the homicide squad's Lieutenant. She isn't sure she's made the right decision given that she not used to the administrative side of the job and the fact that she is also supervising her now ex-boyfriend Quinn. She also has to deal with Captain LaGuerta who seems to want to do both her new and her old job. The police find another body on the shore. The dead woman may have been a prostitute but it's her missing tooth that sends Dexter to an old scrap book.

A Horse of a Different Color
Season Six, Episode 4
Oct. 23, 2011
A Horse of a Different Color
Dexter is in awe of the latest display from the Doomsday killer: the Four Horsemen of the Apocalypse made up of mannequins and human body parts. Testing confirms that the human parts all came from the same body. Deb Morgan, in her capacity as the new Lieutenant in homicide, holds her first press conference which she concludes did not go well. She is certainly very blunt. Meanwhile, Geller is unhappy with Travis' decision to go on a date with a pretty waitress. There's a price to pay for that. Dexter has a family crisis when Harrison has a burst appendix.

The Angel of Death
Season Six, Episode 5
Oct. 30, 2011
The Angel of Death
Dexter runs background checks on Travis and discovers that he was a former student of Gellar. Batista and Quinn go to the university where Gellar used to teach.

Just Let Go
Season Six, Episode 6
Nov. 6, 2011
Just Let Go
As Dexter is following Travis in the hope of finding Professor Geller, he learns of Brother Sam's shooting. He races to the hospital to learn Sam is unconscious. He sets out to find the killer and is quite certain who the culprit might be. During a brief lucid period, Sam asks him not to avenge his death. Deb tells Batista to get Professor Porter down to Miami for further questioning but realizes the whole case is in jeopardy when she learns Quinn spent the night with her. At the police psychologists suggestion, Deb decides to throw a house warming party.

Nebraska
Season Six, Episode 7
Nov. 13, 2011
Nebraska
Having avenged Brother Sam's death, Dexter gets some bad news from Deb - it appears the Trinity Killer has returned to kill his wife and daughter, leaving his son Jonah as the only survivor. Dexter knows that Trinity is lying in pieces at the bottom of the ocean and immediately suspects that Jonah may have taken over where his father left off. He sets off for Nebraska to confront Jonah accompanied by someone from his past. When he confirms Jonah's role in the deaths, Dexter clearly has a choice to make.

Sin of Omission
Season Six, Episode 8
Nov. 20, 2011
Sin of Omission
Dexter returns to Miami after his road trip to Nebraska and get a frosty reception from Debra who has been under pressure to get results in the doomsday killer case. He does his best to make amends, but doesn't share what he knows about Travis and Professor Gellar. Thanks to Masuka's intern Louis, the police now have a list of 200 of Gellar's former students living in the Miami area and the team fans out to interview them all. It doesn't stop the Doomsday Killer from striking again with a new tableau: the Whore of Babylon.

Get Gellar
Season Six, Episode 9
Nov. 27, 2011
Get Gellar
Having rescued Travis at the church, Dexter now tries to figure out what the next tableau will be. With Travis having agreed to help him, Dexter gets him a room in a hotel to keep him safe. A clue from one of the paintings eventually leads Dexter to a Professor Casey, an avowed atheist. He tries to warn Casey about what may happen but the professor brushes him off, claiming to get threats all of the time. Unfortunately, the doomsday killer strikes again. When Travis disappears, Dexter traces him to the church.

Ricochet Rabbit
Season Six, Episode 10
Dec. 4, 2011
Ricochet Rabbit
Now realizing the error he has made, Dexter redoubles his efforts to track down the doomsday killer and eliminate him. He plants evidence in the church to keep the police off the scent and sets out to find DDK. He manages to track down Holly, the woman Travis freed, but too late. From the evidence at the crime scene, Dexter believes he knows what DDK will strike with next, though he has no idea where. With Quinn hung over and not at work, Batista sets off to interview a person of interest which may have major ramifications for him.

Talk to the Hand
Season Six, Episode 11
Dec. 11, 2011
Talk to the Hand
Dexter finds himself at the yacht where Travis and his accomplices were preparing the next tableau, Wormwood". They quickly realize that Travis is planning a gas attack. Worried that Batista has not been seen since the previous day, Quinn sets off to find him. Travis meanwhile sends Beth Dorsey to Miami Metro homicide with a canister of deadly gas and orders her to meet with Lt. Morgan. Deb has dinner with Deputy Chief Matthews and discusses the case of the dead call girl. The next day Deb realizes that Laguerta is very adept at office politics.

This Is the Way the World Ends
Season Six, Episode 12
Dec. 18, 2011
This Is the Way the World Ends
Stuck in the ocean miles from shore, Dexter is rescued by an old boat carrying illegal immigrants to the US. He even manages to render them a service. Once ashore, he heads home hoping to figure out where and when Travis will stage his last tableau. Travis has holed up in a small house and has killed the occupants. While he's away, the police show up and Dexter has something of a surprise waiting for him. Dexter makes it to son Harrison's school recital only to have Travis take the child. Meanwhile, Debra has a plan to catch Travis and gets LaGuerta's support for her.
Image :
NOTE: The below Blu-ray captures were taken directly from the
Blu-ray disc.
We've already covered Season One, Two, Three and Four on Blu-ray and this image looks totally in-line with the strong visual quality. The 1.78:1 HD shot episodes look strong with the occasional weaknesses of that format - some noise in darker sequences and it handles outdoor light somewhat poorer than straight film with occasional flaring. Overall it supports the series in 1080P with excellent detail in close-ups and bright impressive colors with Floridian flora. All three discs are dual-layered and maxed out at over 45 Gigs of space per - 4 episodes on each of the 3 Blu-rays. There are no manipulations at all and it is, predictably, spotlessly clean. This looks exactly as it was shot and ready for broadcast in 2011; essentially it can be considered flawless as a direct representation.
CLICK EACH BLU-RAY CAPTURE TO SEE ALL IMAGES IN FULL 1920X1080 RESOLUTION
Audio :
Powerful Dolby TrueHD 5.1 at a supportive 3485 kbps 5.1
. It has some potent, and subtle, range
. I'm always impressed with Daniel Licht original score that can really light up a scene or bring it down to a more human, and sympathetic, level. I think it is one of the best for a TV show that I've heard.
There are optional English + English (SDH) subtitles and my
Momitsu
has identified it as being a region 'A'-locked - like the previous packages.
Extras :
There are no digital extras except the advertised (but unseen) BD-Live 'Portal' offerings of an House of Lies 1 + 2, Californication - Season 5 Episodes 1+2, The Borgias Season 2 Episodes 1+ 2 and interviews with Colin Hanks, Michael C. Hall, David Zayas, C.S. Lee, Julie Benz, Lauren Velez, Jennifer Carpenter and Desmond Harrington.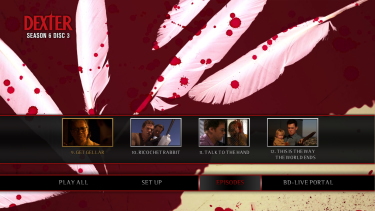 BOTTOM LINE:
Dexter continues to improve - interesting characters - babysitter Aimee Garcia, new detective from Chicago; Billy Brown, forensic intern Josh Cooke, Edward James Olmos, counselor Rya Kihlstedt, new friend Mos Def and others enter but keeping the darker, moral elements interesting. Tension mounts with the 'Doomsday Killer' (Tom Hanks son, Colin, as Travis Marshall). Departmental politics seems on the back burner to the plethora of serial killers keeping Dex super busy being one-step ahead of his investigatory colleagues. Michael C. Hall is fabulous as he was in Six Feet Under. The Blu-ray gives a great presentation. It has great value for almost a dozen hours of top-notch TV - those who've been following the series won't be disappointed. I watched this whole package over 2 enthralling nights.
Gary Tooze
August 5th, 2012