Review by Leonard Norwitz
Studio:
Theatrical: Showtime Entertainment & John Goldwyn & Clyde Phillips Productions & The Colleton Company
Blu-ray: Paramount/CBS Home Entertainment
Disc:
Region:
Discs 1 + 2 are region FREE but disc 3 is locked!
Runtime: 12 Episodes X 50minutes
Chapters: 6-7
Size: 50 GB
Case: Standard Blu-ray case, w/ flip-page
Release date: May 5, 2009
Video:
Aspect ratio: 1.78:1
Resolution: 1080p
Video codec: AVC
Audio:
English Dolby TrueHD 5.1. Spanish Dolby TrueHD 5.1
Subtitles:
English SDH
Extras:
• Tools of the Trade video game
• Trailers
• BD-Live 2.0 features:
• Blood Fountains Featurette
• Dark Defender – Season 2 Short Films
• Michael C. Hall Podcasts
• First 2 Episodes of United States of Tara
The Film:
[See also my review of Dexter Season One HERE]

As we learn in Season One, by day Dexter Morgan (Michael C. Hall) is a blood-spatter forensic analyst for the Miami Metro Police. By night, he "takes out the trash" as he refers to his decade long obsession as a vigilante serial killer. Dexter's fascination with the processes of death and killing began early but he's found a way to live with his peculiarities. In one of Dexter's many flashbacks we find him in a close-up discussion with his adoptive father, a straight-arrow Miami cop (James Remar), about the morality of killing domestic animals and how such a propensity could lead to targets higher up the food chain if not checked.

Dexter is quick to point out the downside to his special gifts: he truly is disconnected from feeling. His sister, Debra (Jennifer Carpenter) is a competitive, foul-mouthed undercover vice cop when we first met her in Season One, but was promoted to homicide detective as Dexter helps her with his "hunches" about her various investigations. With Debra, as with everyone else, he
goes to some pains to keep the truth about himself secret. Nevertheless, Sgt. Doakes (Erik King) is certain something is up with Dexter and shadows him relentlessly after the close of Season One.

Season Two begins just "38 days, 16 hours and 12 minutes" after the end of the previous season: Thanks to Doakes, Dexter has been unable to continue his private serialization, and when his first opportunity finally presents itself, Dexter finds to his dismay that he is unable to cut to the final chase. What's up with this! Meanwhile, Debra is still not recovered from her intimate brush with the Ice Truck Killer – nor does she know his true identity. In this state she attempts to return to work, with predictable results.

Rita (Julie Benz) is Dexter's experiment at a normal life. She's a single mom with two sweet kids and an abusive, estranged husband, Paul (Mark Pellegrino), whom Dexter managed to frame for possession. At the start of Season Two Paul is still in prison, pleading with Rita to find the one piece of evidence that could possibly free him – evidence that Dexter carelessly left lying about. As Paul feared, he doesn't survive prison, which soon leads Rita to put the question to Dex.

And, speaking of evidence lying about, it is the accidental discovery of the dozens of bags of Dexter's body parts in shallow seas off Miami that spur an investigation into the "Bay Harbor Butcher" led by Federal superstar, Frank Lundy (Keith Carradine), who doesn't take long to confirm what we already know – these latest finds are not the work of the Ice Truck Killer", nor Kevin Costner, nor Ray Milland.
Image: 7/8
The first number indicates a relative level of excellence compared to other Blu-ray video discs on a ten-point scale. The second number places this image along the full range of DVD and Blu-ray discs.

For a "mere TV show" Dexter employs considerable image processing. Shot on HD video, the image demonstrates what's good and less good about the medium, especially in scenes with wide exposure considerations. As to sorting out intentional from transfer issues, I didn't come across the fringing problems that beset Season One Blu-ray on occasion, but It did find noise in some dark scenes – as, for example, in the bar of the bowling alley where Doakes is shadowing Dexter. The image has an intentional high contrast, well-saturated color palette, but it also shows a curious, quasi oversharpened look to things, and a grain that comes and goes depending on the dictates of the filmmakers. Often as not, there is a kind of fuzz that pervades – the sort of thing I usually find on 1080i material, as if the image is not quite cooked enough. Bit rates are in the upper 20s and above.
Audio & Music: 8/8
I found the audio to be about the same, only more so, as compared to the Season One Blu-ray. There's a bit more solidity, more clarity, more huevos. Starting with its moody, spicy rhythms over the credits Daniel Licht sets the stage for sex and blood. Whenever this noirish music is projected into the surrounds with its warm, pulsing caress, we know that sex and death are not far away. I say "sex" but that is usually implied rather than portrayed. The music provides a kind of transitional cover on the way to the latest homicide scene or Dexter's more graphic forensic work. Dialogue is perfectly staged and focused in the center, while Dexter's inner monologue is just enough larger to distinguish it from the rest. This is a show whose effects are largely atmospheric and ambient. They seemed almost "invisible" until I turned off the surrounds and discovered what I was missing.

I might mention that the Spanish dub is now also in Dolby TrueHD 5.1 instead of DD 2.0 as was the case for last season's Blu-ray.
Operations: 3
If you access the Play All function on the first disc, it begins with a "Previously on Dexter" Season One reprise. So far, so good, But for some strange reason, there is no chapter mark for the start of the first episode: Chapter 1 consists of both the reprise and the prologue to the episode through the credits, which is where chapter 2 starts. On the other hand, if you selected the specific Episode from the Menu, it begins with the prologue (in the middle of what would be chapter if the menu had a chapter subsection, which it doesn't.)

Related to the question of chapters: You see those little frames extending from either side of Dexter's face on the menu caps? Well, they're not opportunities for scene selections nor are they active. They are there merely to show how connected Dex is to others in the cast. Two points off.

I expected a clearer indication as to connection to BD-Live, but in fact we don't know that we are being connected until it happens upon clicking on "Episodes" "Trailers/Episodes" in the Special Features menu. Who knew! I know Dexter is a mystery, but should the menu be as much?
Extras: 2
As you may have heard by now Paramount has included no audio commentaries or featurettes or deleted scenes with the Blu-ray edition of Season 2. Turning the knife further, there is an embarrassingly lame trivia game called "Tools of the Trade" and a trailer or two. But that's it for bonus bits on the discs themselves. As with the Season 1 Blu-ray, BD-Live 2.0 offers the more extended extra features: the Michael Hall podcasts and the episodes from Showtime's United States of Tara are still there (as they were when Season 1 BR was first released.) And you can download a "Blood Fountains" featurette as well as the season 2 "Dark Defender" shorts.
| | |
| --- | --- |
| | |
| | |
| --- | --- |
| | |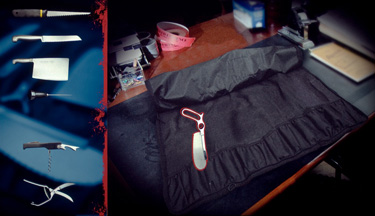 Bottom line: 8
If you appreciate the peculiar moral ambiguity that is the soul of Dexter, as it does me, then you will not be disappointed in Season Two. (At least Dex doesn't waterboard his victims before killing them, though he does insist on a confession before dispatch.) Paramount's Blu-ray of Dexter Season Two has a more consistent, less problematic image than their first season, but it still shows so much post-production processing that I found myself squinting to determine where the "problem" was. Perhaps I'm making too much of this since the result is most likely largely the artistic intention. Still, I found myself longing for more coherence. The audio is even better than before and, despite its lean extra features, Dexter Season Two gets a qualified recommended vote from this viewer.
Leonard Norwitz
May 2nd, 2009