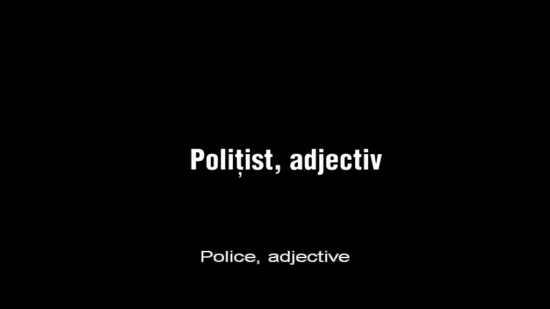 (aka "Politist, adjectiv" or "Police, adj.")
directed by Corneliu Porumboiu
Romania 2009
Police officer Cristi (Dragos Bucur, THE DEATH OF MR. LAZARESCU) is tailing a teenager Victor (Radu Costin) who has been implicated in smoking and supplying pot by his best friend Alex (Alexandru Sabadac); however, Cristi is suspicious about Alex's motives, and he is also unwilling to put a kid away for seven years (or three-and-a-half as his superior suggest) for a law that he believes will soon change. Cristi avoids his captain Anghelache (Vlad Ivanov) who is pushing him to simply run a sting on the teenagers and sort out the case in the statements, and starts trailing Alex. Cristi also presses various overworked and apathetic co-workers into rushing background checks as Anghelache presses him for results. That's really all there is to POLICE, ADJECTIVE, because the film is less about the investigation - which takes up so much of its running time - and more about the limitations that language places on Cristi's ability to function as a policeman and as a human being. In contrast, the same limitations allow his superiors to fulfill the letter of the law without moral quandaries; and it is in the crucial climactic scene that Anghelache demolishes Cristi's very ability to argue against "the law" with the literal definitions of such terms as "conscience," "morality," "law," and - of course - "police." The climactic scene would have made for a compelling and stimulating short film; however, it takes director Corneliu Porumboiu a long time to say little else. Lengthy scenes of bureaucratic drudgery establish nothing most viewers will not have accepted the first time around, while the surveillance scenes establish at length that nothing covert is taking place. More interesting are the scenes with Cristi's office colleague which establish that Cristi's lack of linguistic savvy in effectively discouraging the older, pudgier man's interest in joining Cristi's "foot tennis" team, and the first scene of Cristi at home with his wife in which he expresses an ignorance (perhaps willingly so) of the symbolic language of a pop song that his wife listens to ad nauseum. Porumboiu's objective filming approach often means that - unless we get to read Cristi's reports - we do not learn any of the case's revealing details until we've followed Cristi from his office to another office so that he can talk to another person (and the facts of the case are meaningless anyway).
Posters
Theatrical Release: 2009 (Romania)
Reviews More Reviews DVD Reviews
DVD Comparison:
Zeitgeist Films (The KimStim Collection) - Region 1 - NTSC vs. Artificial Eye - Region 0 - PAL
Big thanks to Eric Cotenas for all the Screen Caps!
(Zeitgeist Films (The KimStim Collection) - Region 1 - NTSC - LEFT vs. Artificial Eye - Region 0 - PAL - RIGHT)
DVD Box Covers

Distribution

Zeitgeist Films

Region 1 - NTSC

Artificial Eye
Region 0 - PAL
Runtime
1:54:32
1:49:48 (4% PAL speedup)
Video

1.83:1 Original Aspect Ratio

16X9 enhanced
Average Bitrate: 8.83 mb/s
NTSC 720x480 29.97 f/s

1.83:1 Original Aspect Ratio

16X9 enhanced
Average Bitrate: 5.5 mb/s
PAL 720x576 25.00 f/s

NOTE: The Vertical axis represents the bits transferred per second. The Horizontal is the time in minutes.

Bitrate:

Zeitgeist Films (The KimStim Collection)

Bitrate:

Artificial Eye

Audio
Romanian Dolby Digital 2.0 stereo

Romanian Dolby Digital 5.1; Romanian Dolby Digital 2.0 stereo

Subtitles
English, none
English, none
Features
Release Information:
Studio: Zeitgeist Films

Aspect Ratio:
Widescreen anamorphic - 1.83:1

Edition Details:
• U.S. Trailer (4:3; 2:02)
• Liner Notes Booklet

DVD Release Date: 30 August 2011
Amaray

Chapters 12

Release Information:
Studio: Artificial Eye

Aspect Ratio:
Widescreen anamorphic - 1.83:1

Edition Details:
• Interview with director Corneliu Porumboiu (14:44)
• U.S. Trailer (16:9; 2:03)


DVD Release Date: 14 February 2011
Amaray

Chapters 12
| | |
| --- | --- |
| Comments | Both discs likely utilize the same HD master. The barebones Zeitgeist disc features a higher bitrate, but the anamorphic transfer is interlaced (although the running time is that of the 24fps projection speed) and features only a 2.0 stereo Dolby Digital track. The Artificial Eye disc features a progressive, anamorphic transfer with the original 5.1 mix (and 2.0 stereo downmix), as well as a fourteen minute interview with the director. The subtitles translations have slight variations - Alex's character is called a "squealer" on the US track, and a "grasser" on the UK one - but nothing that noticeably alters the plot. |
---
DVD Menus
(Zeitgeist Films (The KimStim Collection) - Region 1 - NTSC - LEFT vs. Artificial Eye - Region 0 - PAL - RIGHT)

| | |
| --- | --- |
| | |
| | |
| | |
| | |
---
Screen Captures
(Zeitgeist Films (The KimStim Collection) - Region 1 - NTSC - TOP vs. Artificial Eye - Region 0 - PAL - BOTTOM)
---
(Zeitgeist Films (The KimStim Collection) - Region 1 - NTSC - TOP vs. Artificial Eye - Region 0 - PAL - BOTTOM)
---
(Zeitgeist Films (The KimStim Collection) - Region 1 - NTSC - TOP vs. Artificial Eye - Region 0 - PAL - BOTTOM)
---
(Zeitgeist Films (The KimStim Collection) - Region 1 - NTSC - TOP vs. Artificial Eye - Region 0 - PAL - BOTTOM)
---
(Zeitgeist Films (The KimStim Collection) - Region 1 - NTSC - TOP vs. Artificial Eye - Region 0 - PAL - BOTTOM)
---
(Zeitgeist Films (The KimStim Collection) - Region 1 - NTSC - TOP vs. Artificial Eye - Region 0 - PAL - BOTTOM)
---
(Zeitgeist Films (The KimStim Collection) - Region 1 - NTSC - TOP vs. Artificial Eye - Region 0 - PAL - BOTTOM)