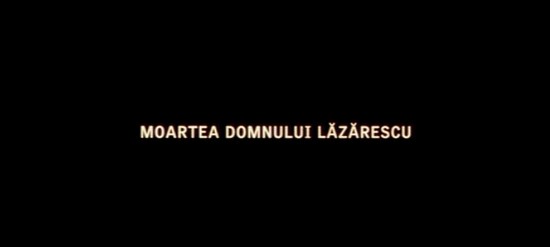 (aka 'The Death of Mister Lazarescu')
Directed by Cristi Puiu
Romania 2005
Take another glance at the title of this Romanian film and you have its story, climax and all: Mr Lazarescu will die. We know this from the start, which means that we can concentrate fully on director Cristi Puiu's real purpose, which is to show, almost in actual time over one night in Bucharest, the indignity, sadness and sheer mundanity with which an unexceptional, lonely 62-year-old man can leave this earth within hours of reporting a suspicious headache to the emergency services. The terrible, meditative power of Puiu's film is that while we, the viewer, are all-knowing from the off, Mr Lazarescu himself knows nothing of his impending fate. He dies, delirious and muttering about his family, headaches and painkillers, in the company not even of strangers but alone on a hospital trolley, naked and his head shaved ready for surgery. No hails of bullets, weepy farewells, hysterical resuscitation efforts or soppy flashbacks for Puiu; this is death as cinema rarely does it – credibly.

Dante Remus Lazarescu (Ion Fiscuteanu) lives alone in Bucharest with two cats. His wife has been dead for ten years, his sister lives in another part of the country and his daughter has emigrated to Canada. His flat is shabby and dirty. He is overweight and scruffy. And he drinks – a lot, it seems, and not just normal booze, but Mastropol, a local moonshine of a suspicious hue. When, one evening, Lazarescu complains of a headache that 'comes from the stomach', it's his liking for the drink onto which a queue of knowing, dismissive, disapproving commentators – neighbours, paramedics, nurses, doctors – immediately latch. But it's when Lazarescu first vomits over himself, blood and all, that we – armed with the knowledge of the title – begin to contemplate the power of death over life. A shadow hangs over Puiu's handheld, docu-realist style – which compresses about six hours into two-and-a-half and gives the impression of real-time with long takes and acute attention to detail – and it's a contemplative one. How might we ourselves die? Will we be prepared for it? Might death really arrive in such pedestrian, unexpected, awkward fashion, its only witnesses a room full of doctors and nurses who never knew us and treat us as little more than ageing, spent nuisances?
Excerpt from review at TimeOut Film Guide located HERE
Posters
Theatrical Release: May 17th, 2005- Cannes Film Festival
Reviews More Reviews DVD Reviews
DVD Review: Tartan - Region 1 - NTSC
DVD Box Cover

CLICK to order from:

Distribution
Tartan Video - Region 1 - NTSC
Runtime
2:27:35
Video
1.85:1 Aspect Ratio
Average Bitrate: 4.75 mb/s
NTSC 720x480 29.97 f/s

NOTE: The Vertical axis represents the bits transferred per second. The Horizontal is the time in minutes.

Bitrate:

Audio
Romanian (Dolby Digital 2.0), Romanian (Dolby Digital 5.1) , Romanian (DTS)
Subtitles
English, None
Features

Release Information:
Studio: Tartan Video

Aspect Ratio:
Original Aspect Ratio 1.85:1

Edition Details:

• Interview with the director
• Perspective on the U.S. Healthcare System by Dr. Fred Berlin
• Trailers

DVD Release Date: September 12th, 2006
Keep Case
Chapters: 14
Comments:

I don't have too many positives to say about this DVD transfer from Tartan. It suffers serious artifacts due to being either a non-progressive transfer or an unconverted PAL-> NTSC job (typical of Tartan).... or both. I suspect the latter and 'combing' is very evident (see last screen capture). There is a greenish haze over a lot of the film, especially the darker scenes - this is similarly seen when New Yorker doesn't bother converting a European PAL film before transferring on an NTSC DVD. Also, who choose the color and font of these subtitles? It drastically impinges upon the integrity of the image and is often very hard to make out.

There is an extensive interview with director Cristi Puiu - some vital conversation - it runs about 45 minutes. There is another featurette - Perspective on the U.S. Healthcare System by Dr. Fred Berlin - I'm sure there is some viable political reason to have included this but I don't feel it was particularly appropriate for the context of the film. Really a silly addition.

Someone should have a long talk with the person who is making these decisions for Tartan. Why do they continue to include these extensive audio bumps? This has a 5.1 and DTS option. For this film it is absolutely unnecessary. Instead they could have put that effort into a better image transfer - I don't see the benefit of making a DVD anamorphic if you intend to disregard other important areas. The DVD only appeals to tube viewers with extensive audio setups.

The film is quite good - not great - but the DVD has not helped represent it in the best light. I'd ignore it if I were you.
---



DVD Menus
---
Subtitle Sample
Screen Captures