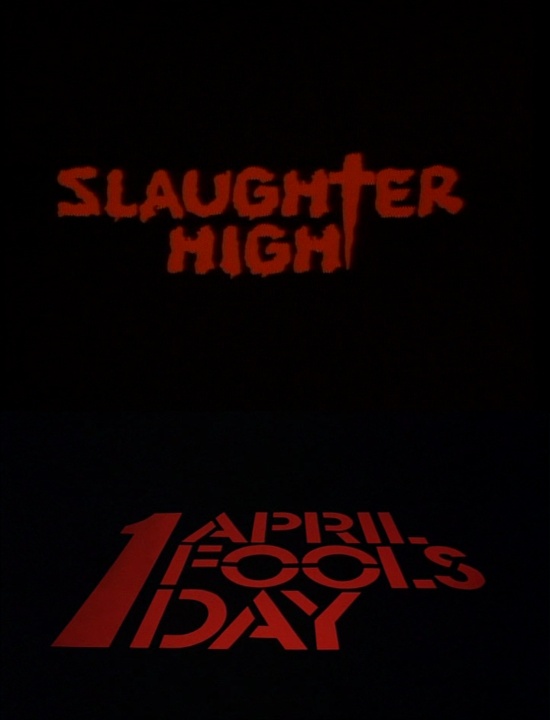 (aka "April Fool's Day" or "Jolly Killer")
directed by George Dugdale, Mark Ezra, Peter Litten (special effects)
UK/USA 1986
Marty (Simon Scuddamore) is the unfortunate geeky misfit of Doddsville High, and the student body has planned a most cruel April Fools prank on him (as if that were bad enough, it also happens to be his birthday). Ten years later, the responsible circle of friends are stupid enough to accept an invitation to a reunion at the now-derelict, cobweb-strewn school on April Fool's Day. From then on, it's a parade of creative deaths (including acid beers and acid baths, electrified beds, and lawnmower blades to the guts, along with a handful of less imaginative kills). Caroline Munro (STARCRASH and MANIAC) is the final girl, who only slightly more sympathetic than the rest of the characters (poor Marty is the most sympathetic character) - and seems only to be the final girl because she's the only name actor - but she screams and flees through the hallways with the best of the slasher genre's heroines. Co-directors Mark Ezra, George Dugdale (Munro's husband), and effects man Peter Litten conceived SLAUGHTER HIGH for producers Dick Randall and Steve Minasian after doing gory reshoots for the Edmund Purdom-directed British slasher DON'T OPEN TIL CHRISTMAS (Randall and Minasian had also produced the Boston-set Spanish slasher PIECES), and the style is remarkably consistent. FRIDAY THE 13TH composer Henry Manfredini favors synthesizers this time around.
Posters
Theatrical Release: 14 November 1986 (USA)
Reviews More Reviews DVD Reviews
DVD Comparison:
Arrow Video - Region 0 - PAL vs. LionsGate (The Lost Collection) - Region 0 - NTSC
Big thanks to Eric Cotenas for all the Screen Caps!
(Arrow Video - Region 0 - PAL - LEFT vs. LionsGate (The Lost Collection) - Region 0 - NTSC - RIGHT)
DVD Box Covers

Distribution

Arrow Video

Region 0 - PAL

LionsGate
Region 0 - NTSC
Runtime
1:26:39 (4% PAL speedup)
1:30:33
Video

1.77:1 Original Aspect Ratio

16X9 enhanced
Average Bitrate: 6.0 mb/s
PAL 720x576 25.00 f/s

1.29:1 Aspect Ratio
Average Bitrate: 5.51 mb/s
NTSC 720x480 29.97 f/s

NOTE: The Vertical axis represents the bits transferred per second. The Horizontal is the time in minutes.

Bitrate:

Arrow Video

Bitrate:

LionsGate (The Lost Collection)

Audio
English Dolby Digital 2.0 mono

English Dolby Digital 5.1

Subtitles
none
English, Spanish, none
Features
Release Information:
Studio: Arrow Video

Aspect Ratio:
Widescreen anamorphic - 1.77:1

Edition Details:
• Introduction by Mark Ezra (16:9; 0:20)
• Audio Commentary by writer/co-director Mark Ezra, moderated by Justin Kerswell
• Audio Commentary by actress Caroline Munro, moderated by Callum Waddell (with Allan Bryce)
• Jesters and Jolts: interview with Mark Ezra (16:9; 11:46)
• Lamb to the Slaughter: the Scream Queen Career of Caroline Munro (16:9; 25:59)
• Theatrical Trailer (4:3; 1:38)
• Easter Egg: Caroline Munro interview blooper (16:9; 0:18)
• Collectors' Booklet featuring brand new writing on the film by author Troy Howarth, an interview
• with legendary composer Harry Manfredini by Calum Waddell and an interview with star Josephine
• Scandi by Justin Kerswell
• Reversible sleeve with original and newly commissioned artwork by Graham Humphreys
• Double-sided fold-out artwork poster

DVD Release Date: 11 July 2011
Amaray

Chapters 16

Release Information:
Studio: LionsGate

Aspect Ratio:
Fullscreen - 1.29:1

Edition Details:
• Theatrical Trailer (4:3; 1:38)
• Trivia Track
• Trailers for MY BLOODY VALENTINE, THE MONSTER SQUAD, and DIRTY DANCING


DVD Release Date: 14 April 2009
Amaray

Chapters 16
Comments

Arrow Video's DVD of SLAUGHTER HIGH is a definite improvement on LionsGate's disc. The 16:9 widescreen transfer bears the overseas APRIL FOOL'S DAY title (the title was changed to SLAUGHTER HIGH when producer Steve Minasian - who was involved with the FRIDAY THE 13TH franchise - sold the title to Paramount Pictures who produced the Fred Walton slasher comedy under that title). The out of print French and German 16:9 discs also bore the original title. LionsGate's disc was sourced from the old Vestron master and was fullscreen, interlaced, soft, and impenetrably dark during the night exteriors and some interiors. Framing between the two is not so simple as matted/open matte. The Arrow transfer does lose some vertical information, but it also features more side information compared to the LionsGate disc. The matting seems accurate (the film would have been matted to 1.85:1 in the US; it never received a theatrical release in the UK). The LionsGate has a 5.1 upmix that is a bit more spacious but nothing special (the Arrow original mono audio is fine). Besides the original trailer, the LionsGate disc also featured a worthless triva track (LionsGate also released their transfer of SLAUGHTER HIGH on a 2-disc four film set with REPOSSESSED, MY BEST FRIEND IS A VAMPIRE, and SILENT NIGHT DEADLY NIGHT PART 3).

The Arrow release features newly-produced extras. First up is an audio commentary by co-writer/co-director Mark Ezra (Dugdale worked with the actors and Litten on the special effects, while Ezra was the overall supervisor and writer) moderated by Hysteria Lives' Justin Kerswell. This is the more informative of the two commentary tracks while the Munro commentary (moderated by Callum Waddell and Allan Bryce is very chatty. There is some good info there, including some discussion of similarities between SLAUGHTER HIGH and MANIAC as well as AMERICAN PSYCHO (Kerswell, on the Ezra track, points out the similarities of the film to the other reunion slasher THE REDEEMER as well as TERROR TRAIN), but it is less focused than the director track. The Caroline Munro interview is a bit clip-heavy but wisely focuses on her entire horror career (including CAPTAIN KRONOS: VAMPIRE HUNTER, DRACULA A.D. 1972, MANIAC, THE LAST HORROR FILM/FANATIC, THE BLACK CAT, and Jess Franco's FACELESS), so there is less overlap with the feature commentary (an Easter Egg features Munro's stomach rumbling during the scuttled first interview take). The Ezra interview does feature quite a bit of overlap with his commentary. The film's theatrical trailer is the same fullscreen that appears on the LionsGate disc.
---
DVD Menus
(Arrow Video - Region 0 - PAL - LEFT vs. LionsGate (The Lost Collection) - Region 0 - NTSC - RIGHT)

| | |
| --- | --- |
| | |
| | |
| | |
| | |
| | |
---
Screen Captures
(Arrow Video - Region 0 - PAL - TOP vs. LionsGate (The Lost Collection) - Region 0 - NTSC - BOTTOM)
---
(Arrow Video - Region 0 - PAL - TOP vs. LionsGate (The Lost Collection) - Region 0 - NTSC - BOTTOM)
---
(Arrow Video - Region 0 - PAL - TOP vs. LionsGate (The Lost Collection) - Region 0 - NTSC - BOTTOM)
---
(Arrow Video - Region 0 - PAL - TOP vs. LionsGate (The Lost Collection) - Region 0 - NTSC - BOTTOM)
---
Report Card:
| | |
| --- | --- |
| Image: | Arrow |
| Sound: | Draw |
| Extras: | Arrow |
| Menu: | Arrow |