Up From the Depths (1979) Demon of Paradise (1987)
---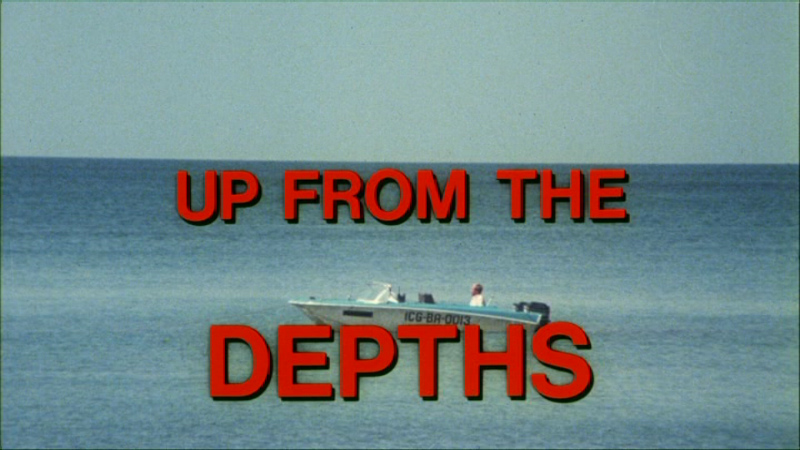 directed by Charles B. Griffith
USA 197
9
In Up From The Depths, staff and vacationers at a first-class resort on the island of Maui are beginning to mysteriously disappear. A biologist believes that an underwater earthquake has caused a giant, and very hungry dormant prehistoric fish to be released from his slumber. Voraciously, the fish helps himself to a tourist buffet. Now it is open season for the local fishermen to find the creature and kill it! Starring Sam Bottoms (Apocalypse Now, The Outlaw Josey Wales).
Poster
Theatrical Release: June 1979 (USA)
Reviews More Reviews DVD Reviews
DVD Review: Shout! Factory (Roger Corman's Cult Classics) - Region 0 - NTSC
DVD Box Cover

CLICK to order from:

Distribution

Shout Factory

Region 0 - NTSC

Runtime
1:24:54
Video

1.78:1 Original Aspect Ratio

16X9 enhanced
Average Bitrate: 5.5 mb/s
NTSC 720x480 29.97 f/s

NOTE: The Vertical axis represents the bits transferred per second. The Horizontal is the time in minutes.

Bitrate

Audio
English Dolby Digital 2.0 mono
Subtitles
None
Features
Release Information:
Studio: Shout! Factory

Aspect Ratio:
Widescreen anamorphic - 1.78:1

Edition Details:
• Grindhouse Experience trailers (Firecracker, Humanoids from the Deep etc.)

DVD Release Date: January 18th, 2011
Transparent Keep Case

Chapters 8
Comments

Firstly the 2.2/10 star rating on IMDb is generous. This is very bad - and not in the charming way we tend to like cheap sci-fi/horror cinema. It was trying to sail in the wake of Jaws, but 1000s of fans must have requested their money back. Ughhh.

Up From the Depths shares the dual-layered disc with Demon of Paradise. It is anamorphic and progressive but that is the extent of any positive attributes. There are some noticeable vertical scratches but otherwise is generally clean with noise prevalent throughout.

Audio is unremarkable and there are no extras save 'The Grindhouse Experience' - which is a couple of trailers (Firecracker - this looks cool - and Humanoids From the Deep) with 70's theatre intro and separation screens. No chapter menu or 'set-up' - and there are no subtitles.

-

Gary Tooze
---

DVD Menus

---
Screen Captures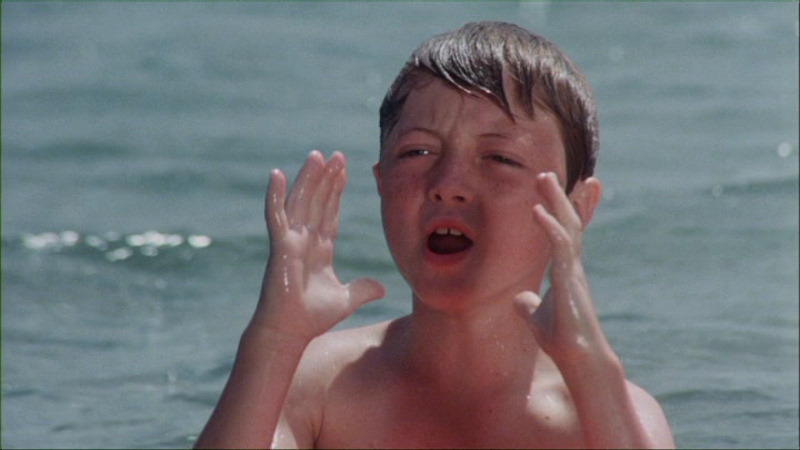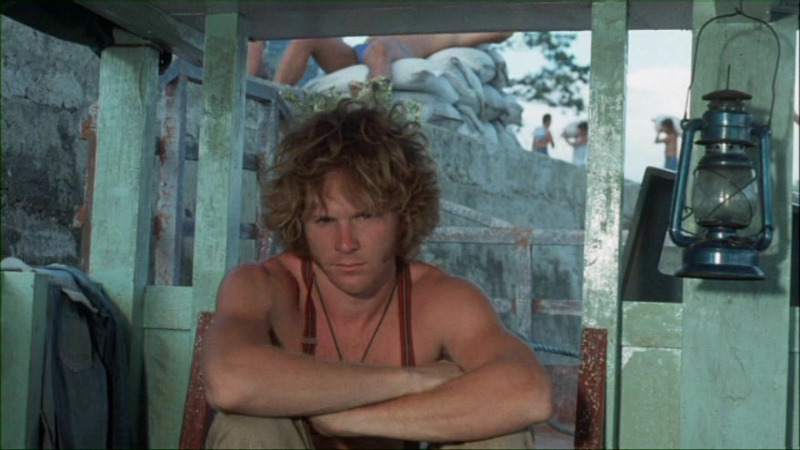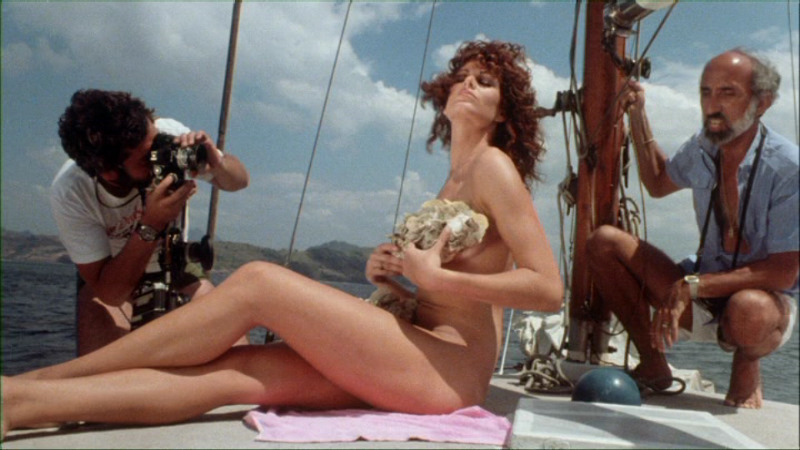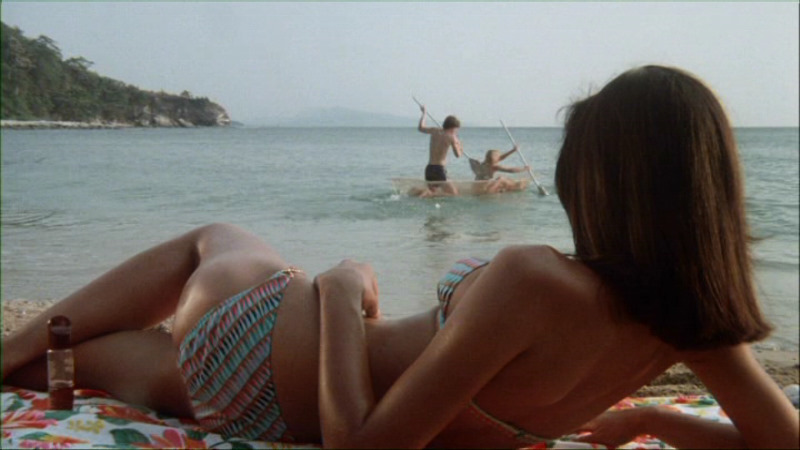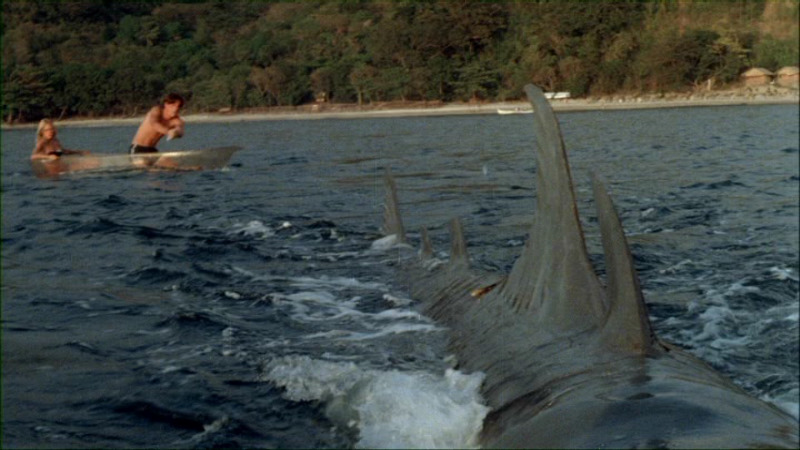 ---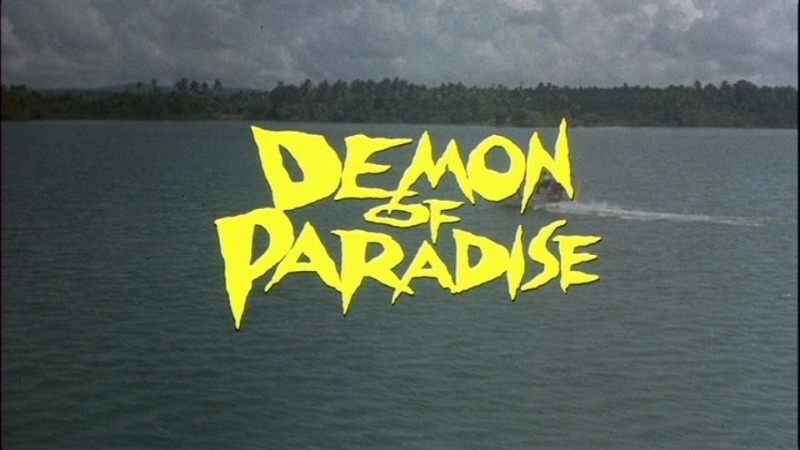 directed by Cirio H. Santiago
USA 1987
The hunters become the prey when illegal dynamite-fishing prematurely ends the hibernation of a mythological carnivorous lizard-man in Demon Of Paradise. The owner of the local resort, whose patrons have become the appetizers on this predators menu, and a herpetologist join forces with the sheriff to save the tourists from succumbing to the feasting of the beast. Starring Kathryn Witt (Cocaine Wars, Star 80) and directed by cult filmmaker Cirio H. Santiago (The Big Doll House, TNT Jackson).
Poster
Theatrical Release: November 1987 (USA)
Reviews More Reviews DVD Reviews
DVD Review: Shout! Factory (Roger Corman's Cult Classics) - Region 0 - NTSC
Runtime
1:27:15
Video

1.78:1 Original Aspect Ratio

16X9 enhanced
Average Bitrate: 5.6 mb/s
NTSC 720x480 29.97 f/s

NOTE: The Vertical axis represents the bits transferred per second. The Horizontal is the time in minutes.

Bitrate

Audio
English Dolby Digital 2.0 mono
Subtitles
None
Features
Release Information:
Studio: Shout! Factory

Aspect Ratio:
Widescreen anamorphic - 1.78:1

Edition Details:
• Grindhouse Experience trailers (Firecracker, Humanoids from the Deep etc.)

DVD Release Date: January 18th, 2011
Transparent Keep Case

Chapters 8
Comments

This is 2.7/10 stars on IMDb but not a better film in my opinion. Typical Corman with some breasts and cheap monster gore. There is nothing to extol.

Unlike Up From the Depths - Demon of Paradise is interlaced - or rather from an interlaced source (not an interlaced transfer). It is anamorphic and looks clean and bright - still some noise artifacts. It's appearance is not the determining factor here. The film is only moderately fun.

Audio is unremarkable and like Up From the Depths there are no extras save 'The Grindhouse Experience'. Shout! Factory really cheaped out on these two - although they didn't have a lot to work with considering the content. To be fair the price kind of reflects the inferiorities - but we still advice a pass. If it comes to a Wal-Mart bin for $6-7 you might want to consider.

-

Gary Tooze
---

DVD Menus

---
Screen Captures
---
DVD Box Cover

CLICK to order from:

Distribution

Shout Factory

Region 0 - NTSC