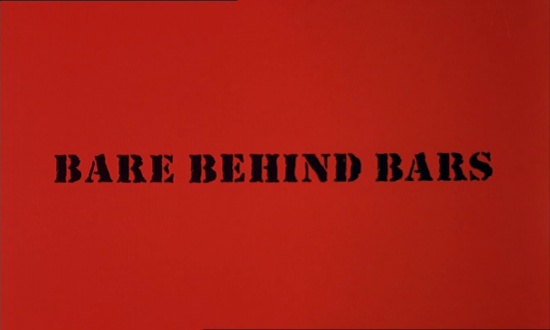 (aka "A Prisão" )
directed by Oswaldo de Oliveira
Brazil 1980
Simultaneously sleazy and uninvolving, BARE BEHIND BARS is the story of the prisoners of a rat-infested, corruption-ridden Brazilian prison for women. The prisoners are hosed down and molested by the statuesque warden Sylvia (Maria Stella Splendore), who seems to have lost all of the buttons on her blouse, and the nutty fruit-loving nurse Barbara (Marta Anderson, MASSACRE IN DINOSAUR VALLEY). The prisoners are made available for use by wealthy women, and the ones that wind up dead are secretly buried so as not to provoke investigations from the government. Cynthia (Danielle Ferrite), aka Prisoner 431, and two other prisoners escape. Instead of keeping a low profile, the three perform a home invasion and slaughter a couple (all for the purposes of obtaining some fresh clothes). While the prison and the escape are being investigated, the three women go their separate ways (Cynthia becomes a prostitute and another has a penchant for taking a razor to men's members), but fate has some WTF retribution in store for everyone involved. BARE BEHIND BARS is too ugly to titillate and too silly to truly offend with any of its onscreen transgressions, but the dubbing is often hilariously bad (the film was dubbed into English in Europe and some of the voices will be familiar to fans of Euro exploitation) and not a moment goes by without exposed female flesh (although it is not always a pretty sight).
Poster
DVD Comparison:
Arrow Video - Region 0 - PAL vs. Blue Underground - Region 1 - NTSC
Big thanks to Eric Cotenas for all the Screen Caps!
(Arrow Video - Region 0 - PAL - LEFT vs. Blue Underground - Region 1 - NTSC - RIGHT)
DVD Box Covers

Distribution

Arrow Video

Region 0 - PAL

Blue Underground
Region 1 - NTSC
Runtime
1:28:36 (4% PAL speedup)
1:34:45
Video

1.66:1 Original Aspect Ratio

16X9 enhanced
Average Bitrate: 6.2 mb/s
PAL 720x576 25.00 f/s

1.67:1 Original Aspect Ratio

16X9 enhanced
Average Bitrate: 5.55 mb/s
NTSC 720x480 29.97 f/s

NOTE: The Vertical axis represents the bits transferred per second. The Horizontal is the time in minutes.

Bitrate:

Arrow Video

Bitrate:

Blue Underground

Audio
English Dolby Digital 2.0 mono

English Dolby Digital 2.0 mono

Subtitles
none
none
Features
Release Information:
Studio: Arrow Video

Aspect Ratio:
Widescreen anamorphic - 1.66:1

Edition Details:
• Theatrical Trailer (16:9; 2:33)
• 2-sided cover (original and new artwork), 2-sided poster, and booklet with essay by Robin Bougie

DVD Release Date: January 31st, 2011
Amaray

Chapters 12

Release Information:
Studio: Blue Underground

Aspect Ratio:
Widescreen anamorphic - 1.67:1

Edition Details:
• Theatrical Trailer (16:9; 2:39)



DVD Release Date: May 30th, 2006
Amaray

Chapters 23

Comments

Rejected by the BBFC in the home video days (in a submitted version that ran only 86 minutes - no mention whether that with or without PAL speedup), BARE BEHIND BARS has arrived on UK DVD with 1m 35s of cuts to "strong sex" (some ugly hardcore bits) and "sexualized violence" (even the implication of one of these bits is missing while we only see the grizzly aftermath of the other, although the uncut version of the scene still features most of its violence offscreen). Some of the digital cuts are not smooth and there are sometimes jumps in the music at those points. The 1.66:1 anamorphic, single-layer transfer looks similar to that of the Region 1 Blue Underground release, which is uncut but out of print. Audio quality is similar (both feature the English dub as they were licensed through German international rights holder Atlas International). Both discs feature the English dubbed theatrical trailer with its hilarious narration.

In presentational terms, Arrow is ahead with their usual new and original artwork choices, posters, and booklets but if this "so bad its shocking" film has any fans, I think they would want to go for the uncut version. As with Shameless Screen Entertainment's BBFC-cut UK DVD of NEW YORK RIPPER, it is likely Arrow chose this title (regardless of the slim chances of getting through the censors intact) because of the notoriety surrounding the earlier submission. The two other known editions are not worth consideration. The Dutch DVD Network disc is sourced from NTSC and reportedly cut, while the German XT Video release is 4:3 letterbox with English and German mono tracks as well as reportedly bad 5.1 upmixes of both tracks.
---
DVD Menus

(Arrow Video - Region 0 - PAL - LEFT vs. Blue Underground - Region 1 - NTSC - RIGHT)

---
Screen Captures
(Arrow Video - Region 0 - PAL - TOP vs. Blue Underground - Region 1 - NTSC - BOTTOM)
---
(Arrow Video - Region 0 - PAL - TOP vs. Blue Underground - Region 1 - NTSC - BOTTOM)
---
(Arrow Video - Region 0 - PAL - TOP vs. Blue Underground - Region 1 - NTSC - BOTTOM)
---
(Arrow Video - Region 0 - PAL - TOP vs. Blue Underground - Region 1 - NTSC - BOTTOM)
---
(Arrow Video - Region 0 - PAL - TOP vs. Blue Underground - Region 1 - NTSC - BOTTOM)
---
(Arrow Video - Region 0 - PAL - TOP vs. Blue Underground - Region 1 - NTSC - BOTTOM)