Review by Leonard Norwitz
Studio:
Theatrical: Mirage Enterprises
Blu-ray: Universal Studios Home Entertainment
Disc:
Region: FREE! (as verified by the Momitsu region FREE Blu-ray player)
Runtime: 2:41:02.694
Disc Size: 44,429,258,665 bytes
Feature Size: 39,306,504,192 bytes
Video Bitrate: 25.57 Mbps
Chapters: 18
Case: Standard Blu-ray case
Release date: April 27th, 2010
Video:
Aspect ratio: 2.35:1
Resolution: 1080p / 23.976 fps
Video codec: MPEG-4 AVC Video
Audio:
DTS-HD Master Audio English 4173 kbps 5.1 / 48 kHz / 4173 kbps / 24-bit (DTS Core: 5.1 / 48 kHz / 1509 kbps / 24-bit)
DTS Audio French 768 kbps 5.1 / 48 kHz / 768 kbps / 24-bit
Dolby Digital Audio English 192 kbps 2.0 / 48 kHz / 192 kbps / Dolby Surround
Subtitles:
English (SDH), English, French, Spanish, none
Extras:
• Audio Commentary by Director Sydney Pollack
• Song of Africa Documentary – in 4:3 SD (1:12:30)
• Deleted Scenes – in Letterboxed SD (15:00)
• DVD of the Feature Film (Side B)
The Film: 8
I can see a number of good reasons why not everyone warms to this movie. For starters, Redford is supposed to be an Englishman, but doesn't sound like one. He speaks his name from a distance while walking away so that we might fail to notice the obvious. On the other hand, Meryl Streep affects an accent so deliberate that the very contrast between them might make some people seasick.

And so it was with me the first time through in its first theatrical run. I can't say why exactly, but over time I seem to have found the movie's heart, or it mine, despite that Pollack seems to be trying so hard to impress me – unlike his previous work with Redford in Jeremiah Johnson or my personal favorite of their seven collaborations, The Electric Horseman.

Out of Africa is an adaptation for the screen of a number of books, some by the principle character, Karen Blixen (who wrote under the name Isak Dinesen); one by her biographer, Judith Thurman. It is a romantic memoir of her time in Africa where she ran a farm in the early 1910's and 20's. It was a time when Europeans pretty much had their way in the "Dark Continent" and where a number of countries were so named (Belgian Congo, British East Africa, German East Africa, French Somaliland – it was quite a list). White women, however, still had to maintain their proper place – And it is made quite clear from the outset that the newly married Baroness Blixen (Streep) was not supposed to be doing this sort of thing.

The baroness was fiercely independent woman who cared a great deal for Africa and its native inhabitants, and since her husband (Klaus Maria Brandauer) preferred hunting to husbandry, she was ripe to meet her match in the person of Denys Finch Hatton (Redford), a British expatriate even more independent than she (no surprise). The movie paints their romance in fairly broad strokes, with stories recited by the fire and Mozart played against the trials that her farm brought her, her coming to terms with the Kikuyu and Maasai, and the largely British upper class that held her alternately in contempt and respect. Karen's conversations with the baron's Somali major domo, Farah, (Malick Bowens) and various lions on safaris long and short are among the high points of the drama.

The movie won Oscars for Art Direction, Cinematography, Picture, Director, Music, Sound Mixing, and Adapted Screenplay. Whatever you may think of Streep and Redford here, Bowens and Michael Kitchen (whom we know more recently from Foyle's War and two Pierce Brosnan Bond films) as Finch Hatton's close friend, Berkeley Cole, are among the film's standout actors - the movie is worth seeing just for them, I think – and Africa, of course.
Image: 5 NOTE: The below Blu-ray captures were taken directly from the Blu-ray disc.
The first number indicates a relative level of excellence compared to other Blu-ray video discs on a ten-point scale. The second number places this image along the full range of DVD and Blu-ray discs.

One of my favorite images comes near the beginning during the credit for Director of Photography David Watkins, appropriately enough: It's a telephoto shot of the train coming round a curve at dusk (cf. capture #6). The DVD reminded me how much I liked that moving image when it sailed past in the theater nearly 25 years ago, but it was not until I saw it again in high definition that I knew why I liked it so much: its poetry and contradiction of the mass of the train against the natural setting on an African plain traveling into the dark. The DVD conveys no weight nor does it do justice to its movement – relentless, yet somehow lyrical, as we feel without effort on the Blu-ray. It augers well for things to come. And for my money, it was difficult to redirect attention to technical matters, but some problems were hard to ignore.
CLICK to see larger examples of the egregious edge-enhancement 'halos'

Indeed, while the DVD was plagued by edge enhancement, the Blu-ray is less so, but still very much in evidence. There is also a general thinning of the color for which I wondered if a higher bit rate might have helped.
CLICK EACH BLU-RAY CAPTURE TO SEE ALL IMAGES IN FULL 1920X1080 RESOLUTION
Blu-ray TOP vs. DVD BOTTOM
Blu-ray TOP vs. DVD BOTTOM
Blu-ray TOP vs. DVD BOTTOM
Blu-ray TOP vs. DVD BOTTOM
Blu-ray TOP vs. DVD BOTTOM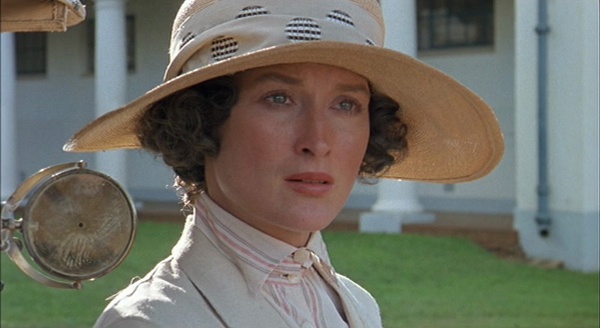 Audio & Music: 6/9
John Barry's music is so reminiscent of Somewhere in Time we might guess the effect is calculated, as I'm sure it is. The way the music is edited into the mix leaves no doubt that Pollack feels it is as important as the story, or any of his actors or the photography – indeed, you might think it more so. The way in which the music score swells into the foreground - vividly recorded with ripe, solid bass - will strike some as a fault, as if Pollack feels he cannot depend on his other assets. But many will enjoy the effect of a racing heart and a hint of perspiration.

Otherwise, the audio mix is something of a mixed bag: dialogue is oddly shaped and too loud compared to the effects. Effects that should have been subtle or offhand, like the jangling of bracelets on a person running away from the camera, are placed too forward in the mix. There's a nice moment where an unseen chorus encircles the actors, and ambiance, as in the British Men's Club and nighttime crickets and other animal noises, are often nicely conveyed.
Operations:
Infinity. . . and beyond!
Taking my cue from Letterman, here are the Ten Best reasons why the double-sided presentation for this Blu-ray is imaginative and courageous beyond my wildest:

10. Universal has taken my criticism about unimaginative artwork to its logical conclusion: No distracting artwork on either side of the disc.
9. A new concept in video games: Try placing the disc back in the box without getting your fingerprints on it. 5 for a smudge. 10 points for a clearly recognizable print. With 20 points, you get to clean the surface and start all over again.
8. If you damage one side, the other side is still available.
7. You can always slap some artwork on the disc; the question is: which side?
6. The Blu-ray movie is on the side that doesn't have the blue ring, and since your player reads the bottom of the disc, place the disc in the tray with the blue side facing up. Got it?
5. Can double-sided Blu-ray TV seasons be far behind!
4. You no longer have to worry about to whom you're going to give your unwanted DVD .
3. If you lose the DVD you get to re-purchase the Blu-ray, thus doing your bit for the economy.
2. You no longer need to exercise a smile when opening the case, for there is nothing there to smile at.
1. Now with only one disc instead of two, there is less stress to the shelf.
Extras: 6
The substantial documentary on the life and times of Karen Blixen, included on Universal's 2000 Collector's Edition DVD, is ported over to Blu-ray without any re-rendering of the image. It still looks pretty shabby, which is not what we can say of its content. The documentary is a feature length piece written, produced and directed by Charles Kiselyek, who has made a number of making-of documentaries – several on Oliver Stone, and hosted by Blixen's biographer (and the film's Co-Associate Producer) Judith Thurman, with assists from Sidney Pollack. It's a good piece that melds footage from the movie with archival photos of Blixen and excerpts from her writings. Pollack's sober and informative commentary from the DVD comes to the Blu-ray at no extra charge. There are no HD features, but there are a handful of deleted scenes in letterboxed SD.
Bottom line: 6

A flawed image, despite the wonderful photography, which is really a shame. And a clear, if unnecessarily heightened audio mix support this Blu-ray offering from Universal. Some will find the movie's pace a little slow for them since most of what happens in Out of Africa is reflective, and only offers a taste of the big adventure. I think they call it a "Romance."
Leonard Norwitz
April 23rd, 2010