Review by Brian Montgomery
Studio:
Theatrical: Tristar Pictures
Blu-ray: Lionsgate
Disc:
Region: FREE! (as verified by the Momitsu region FREE Blu-ray player)
Runtime: 1:22:10.759
Disc Size: 47,661,485,210 bytes
Feature Size: 25,663,672,320 bytes
Video Bitrate: 34.99 Mbps
Chapters: 17
Case: Standard Blu-ray case
Release date: November 24th, 2009
Video:
Aspect ratio: 2.35:1
Resolution: 1080p / 23.976 fps
Video codec: MPEG-4 AVC Video
Audio:
DTS-HD Master Audio English 3806 kbps 5.1 / 48 kHz / 3806 kbps / 24-bit (DTS Core: 5.1 / 48 kHz / 1509 kbps / 24-bit / DN -4dB)
Dolby Digital Audio English 224 kbps 2.0 / 48 kHz / 224 kbps / DN -4dB / Dolby Surround
Dolby Digital Audio English 224 kbps 2.0 / 48 kHz / 224 kbps / DN -4dB / Dolby Surround
Dolby Digital Audio English 224 kbps 2.0 / 48 kHz / 224 kbps / DN -4dB / Dolby Surround
Subtitles:
English (SDH), English, Spanish, none
Extras:
• Audio comentary with co-writer/director Fred Dekker and Squad members Andre Gower, Ryan Lambert and Ashley Bank
• Audio comentary with co-writer/director Fred Dekker and director of photography Bradford May
• Monster Squad Forever!
• A Conversation with Frankenstein (8:39)
• Deleted scenes (14:00)
• Animated storyboard sequences (1:40)
• Stills gallery
• Original theatrical trailer and TV spots
The Film:
Seventh-grade horror fanatics come to the rescue when their town is invaded by Dracula, the Frankenstein monster, the Wolf Man, the Mummy, and the Creature From the Black Lagoon. Released in 1987, this kiddie comedy has accumulated a sufficient glaze of nostalgia to win a 20th-anniversary DVD package. But as a former seventh-grade horror fanatic, I was seriously put off by it: even a burlesque like Abbott and Costello Meet Frankenstein managed to create some sense of genuine menace, yet the monsters here seem less reminiscent of the Universal classics than of a Universal Studios tour. Fred Dekker directed a script he cowrote with Shane Black, who moved on to greener pastures with the Lethal Weapon series
Excerpt of review from J. R. Jones located HERE
Image: NOTE: The below Blu-ray captures were taken directly from the Blu-ray disc.
The image on the disc is surprisingly good. Using a MPEG-4 AVC codec at 1080p resolution, the video here certainly hasn't looked this good since it first played in theaters. There are no signs of artificial manipulations, artefacting, or damage to be found anywhere on the print. The clarity of the image is often jaw dropping for a film from the mid 1980s, and the colors look vibrant and warm. Indeed, the stereotypical 80s fashion sported by Horace (aka "Fat Kid") simply look amazing, and for those of us who survived the era, they'll bring you back to the time.
Audio & Music:
The disc also sports a lossless DTS-HD MA 5.1 in addition to an optional Dolby Digital 2.0 track. The former audio track is very strong and clear. It ranks among the best 5.1 HD tracks that I've come across, boasting no instances of unwanted background noise or signs of artificial manipulations. The music really shines here, with a stereotypical montage segment of the kids preparing for battle with an uplifting power ballad really standing out for a number of reasons. The 2.0 track is acceptable, but given the HD option, I'm not sure why one might bother with it. The optional English and Spanish subtitles are clear and don't obstruct the image.
Extras:
The disc also boasts a surprising amount of extras. First, there are two commentary tracks on the disc. Both tracks feature director Fred Dekker, but the first has three of the child actors from the film (long since grown up), and the second has him with cinematographer Bradford May. So far I've only listened to the first, but it was quite fascinating to hear what happened to the actors in the film. Sadly, Dekker reveals that Brent Challam, who played Horace in the film, died of pneumonia at only 22. The film also boasts a five part documentary entitled "Monster Squad Forever!", which the filmmakers discuss the making of the film and runs longer than the film itself! Next, there's a very strange mock interview with actor Tom Noonan as Frankenstein, discussing his Hollywood career from the 1930s through the mid 1980s. The interview is amusing, but more grin and chuckle inducing then laugh out loud funny. Next, there are animated storyboard to film comparisons as well as a stills gallery, and trailers and TV spots. Finally, there's also 14 minutes worth of extended and deleted scenes.
| | |
| --- | --- |
| | |
| | |
| --- | --- |
| | |
| | |
| --- | --- |
| | |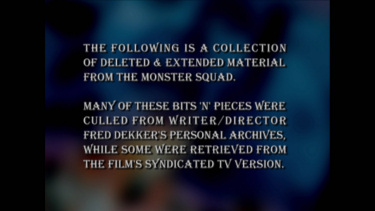 Bottom line:
"Monster Squad" was a childhood favorite of mine, and one that I haven't revisited since since I was about 10. When I saw it for a mere eight dollars I thought that I would pick it up and give it a shot. I was pleasantly surprised to see that much of it held up to my memories. It's no masterpiece, but it was still a lot of fun. Given the low price and the exceptionally high quality of the disc, I can easily recommend it.
Brian Montgomery
April 14th, 2010