Review by Gary Tooze
Studio: Paramount
Discs:
Region: FREE
Feature Runtime: 1:35:57.042
Chapters: 17
Disc Size: 40,017,688,969 bytes
Feature Size: 32,424,529,920 bytes
Average Bitrate: 45.06 Mbps
One dual-layered Blu-ray
Case: Standard Blu-ray case
Release date: December 30th, 2008
Video:
Aspect ratio: 2.35
Resolution: 1080p
Video codec: MPEG-4 AVC
Audio:
Dolby TrueHD Audio English 3452 kbps 5.1 / 48 kHz / 3452 kbps / 24-bit (AC3 Core: 5.1 / 48 kHz / 640 kbps)
Dolby Digital Audio French 640 kbps 5.1 / 48 kHz / 640 kbps
Dolby Digital Audio Spanish 640 kbps 5.1 / 48 kHz / 640 kbps
Dolby Digital Audio English 224 kbps 2.0 / 48 kHz / 224 kbps / Dolby Surround

Subtitles:
Feature: English (SDH), French, Portuguese, Spanish and none

Supplements:
• Commentary by Director Paul W.S. Anderson and Producer Jeremy Bolt
• The Making of Event Horizon – 5 Documentaries (1:43:01 in total):
-Into the Jaws of Darkness
-The Body of the Beast
-Liberate Tutume Ex Infernis
-The Scale to Hell
-The Womb of Fear
• Secrets - Deleted Scenes: (optional commentary) (26:36)
• The Unseen Event Horizon:
-
The Un-Filmed Rescue Scene (optional commentary) (2:52)
-Conceptual Art (3:20)
•
The Point of No Return : the Filming of
Event Horizon
(optional commentary)(8:03)
• T
heatrical trailer (in HD!) and video trailer
Bitrate Graph: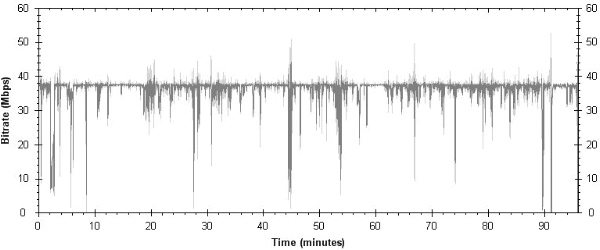 Product Description: The year is 2047. Years earlier, the pioneering research vessel Event Horizon vanished without a trace. Now a signal from it has been detected, and the United States Aerospace Command responds. Hurtling toward the signal's source are a fearless captain (Laurence Fishburne), his elite crew and the lost ship's designer (Sam Neill). Their mission: find and salvage the state-of-the-art spacecraft. What they find is state-of-the-art interstellar terror. What they must salvage are their own lives, because someone or something is ready to ensnare them in a new dimension of unimaginable fear. Costarring Kathleen Quinlan...
The Film:
You know those movies that you only "kinda like" after seeing them once, but the magic of DVD and cable-induced repeat viewings give you a new appreciation for them? That's Event Horizon, which is one gory little concoction. Though it's not likely to win any originality awards (or screenwriting Oscars), this is a movie that more than delivers where it counts: Blood, jolts and gravity-defying gore!

Written by Philip Eisner (his first and so far only script) and directed by Paul Anderson (not to be confused with Paul Thomas Anderson, this is the guy who directed Mortal Kombat, Soldier and the upcoming Resident Evil), this is one of the nastiest and darkest haunted house movies ever to take place...in outer space. With a surprisingly strong cast for such an obviously B-grade movie, a handful of thought-provoking concepts and a truly nasty sense of horror, this is a movie I find myself recommending more and more to people who are weary of such "science fiction" drivel as Lost in Space, Supernova and those two twin towers of astronomic ineptitude: Red Planet and Mission to Mars...
Excerpt from Scott Weinberg at eCritic.com located HERE
Image : NOTE: The below Blu-ray captures were ripped directly from the Blu-ray disc.
Another 10-year old film that looks pretty strong in high-definition. Paramount are continuing to produce highly competent Blu-rays in terms of image quality. Event Horizon is very dark and the 1080P MPEG-4 transfer seems up to support the film's characteristics very well. Everything is toned down - muted (often non-existent) colors which are accentuated when they do appear in the frame - and detail remains sharp - very notable in close-ups. This is presented in the original 2.35 aspect ratio - the disc takes up 40 Gig (the film itself 32 Gig) with another powerhouse bitrate of 45.06 Mbps! Event Horizon shows a few speckles (mostly early in the film) and doesn't exhibit extensive depth but the dual-layered disc seem to do a faithful job of representing how the film may have originally looked. I found no reasons for strong complaints - most will be pleased with the appearance.
NOTE: Carl in email tells us: "This release is still vertically stretched. Maybe on encoding the original 1080p master for the last special edition they just scaled vertically to fit 1.85:1 into 1.78:1, but maybe there is another explanation.

You can tell its stretched in the corridor shot and the screen graphics which should be circular, but look like horizontally narrow ovals instead.
The stretching was not there in the original DVD releases nor in the European DVD releases.

It seems to have occurred when making the last US DVD special edition where this stretching was first appeared. Now the stretching seems to have carried over to the USA blu-ray release.' (Thanks Carl!)
CLICK EACH BLU-RAY CAPTURE TO SEE ALL IMAGES IN FULL 1920X1080 RESOLUTION
Audio & Music:
Another TrueHD sole offering from Paramount. The film's track is laced with effects and jumping bass and the TrueHD is up to the challenge with vast separations spreading the breadth of your surround channels. I'd venture to say the aggressive track is more viable than the image. This will surely rock your floorboards and windows! Michael Kamen has composed quite a large number film scores (Lethal Weapon, Brazil among his credits) and he has developed another energetic, if not especially memorable, track for Event Horizon. This is all good on the audio-front folks. There are French and Spanish 5.1 DUBs and optional subtitles offered in
English (SDH), French, Portuguese or Spanish
. The commentary is in 2.0 channel.
Extras:
Endless supplements all ported over the the last 2-disc SCE DVD (all in SD too). No one can fault director Anderson for not giving his time to these extras - with a full commentary and optional ones on a couple of the deleted scenes etc. . I don't know that Event Horizon warrants a commentary, but Anderson and Producer Bolt soldiered through it with plenty of production details. Somewhat exhausting is the 5-part Making of... feature which actually has a longer running time than the film itself. You have the evolution of the film and much more on production and effects. We certainly don't want to look a gift-horse in the mouth and for those keen enough on the film - the extras are there to indulge (conveniently on one disc). I will admit seeing them did marginally increase my appreciation of the film - a massive amount of work went into the creation of Event Horizon. Ohh... we do get a trailer in HD!
Bottom line:
E
vent Horizon
is in the mold of the 'modern' sci-fi/horror flick - possibly tending to gravitate too far into that edgy territory instead of existing on staying the course with the initial genre's key strengths. It's a reasonably intelligent story (reminding me of Lem and Clarke) - good performances - and what is over-indulged upon is soon forgotten especially in repeat viewings. This is an intense film - no masterpiece but can push a few of the right buttons. As far as the
Blu-ray
goes - it has represented the film very adeptly with above-average video and audio quality. Let's not forget there are a host of supplements. Overall, the film on
Blu-ray
can present quite a white-knuckled, thrill-inducing night in the Home Theater.
Gary Tooze
December 13th, 2008