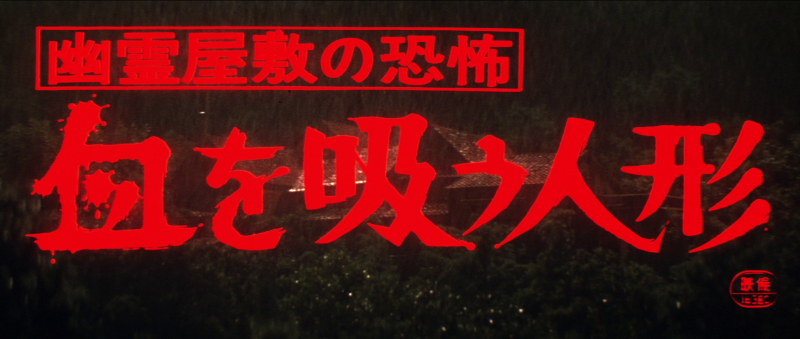 (aka "Yūrei yashiki no kyōfu: Chi wo sū ningyō" or "Legacy of Dracula")
directed by Michio Yamamoto
Japan 1970
When a boy vanishes after visiting the isolated country home where his girlfriend lived, the boy's sister and her boyfriend try to track him down.

This was the first of Michio Yamamoto's three vampire movies, the other two being LAKE OF DRACULA and EVIL OF DRACULA. Though there was a certain amount of curiosity value in seeing the Japanese take on Hammer-style horror, my overall reaction was only lukewarm for these other two movies. That's not the case with this one; it not only made me jump a couple of times, but I found the backstory to be fascinating, powerful and sad. It's the only one of the series that really caught my attention and held it. Unfortunately, it also seems to be the hardest one to find, but for those interested in an unusual twist to the vampire story, this one should fill the bill.

Excerpt from Fantastic Movie Musings and Ramblings (Dave Sindelar) located HERE

***

Description of Arrow's The Bloodthirsty Trilogy: Inspired by the runaway success of the British and American gothic horror films of the sixties, Toho studios brought the vampiric tropes of the Dracula legend to Japanese screens with The Vampire Doll, Lake of Dracula, and Evil of Dracula three spookily effective cult classics collectively known as The Bloodthirsty Trilogy.

In The Vampire Doll, a young man goes missing after visiting his girlfriend s isolated country home. His sister and her boyfriend trace him to the creepy mansion, but their search becomes perilous when they uncover a gruesome family history. Lake of Dracula begins with a young girl suffering a terrifying nightmare of a vampire with blazing golden eyes. Eighteen years later, the dream is revealed to be a hellish prophecy when a strange package containing an empty coffin mysteriously turns up at a nearby lake. In Evil of Dracula, a professor takes up a new post at an all-girls school only to discover the school s principle conceals a dark secret and the pupils are in grave danger.

Abounding with images of dark thunderous nights, ghostly mansions and bloody fangs, Michio Yamamoto's trilogy emphasizes atmosphere and style and is sure to please both fans of classic gothic horror and Japanese genre cinema.
Posters
Theatrical Release: July 4th, 1970
Reviews More Reviews DVD Reviews
Comparison:
Toho - Region 2 - NTSC vs. Arrow Video - Region FREE - Blu-ray
Big thanks to Eric Cotenas for the Toho Screen Caps!
(Toho - Region 2 - NTSC - LEFT vs. Arrow Video - Region FREE - Blu-ray - RIGHT)
Box Covers

Distribution

Toho

Region 2 - NTSC

Arrow Video
Region FREE - Blu-ray
Runtime
1:10:54
1:11:01.340
Video

2.53:1 Original Aspect Ratio

16X9 enhanced
Average Bitrate: 7.57 mb/s
NTSC 720x480 29.97 f/s

Disc Size: 24,522,283,563 bytes

Feature Size: 20,789,076,864 bytes

Average Bitrate:

34.95 Mbps

Single-layered Blu-ray MPEG-4 AVC Video

NOTE: The Vertical axis represents the bits transferred per second. The Horizontal is the time in minutes.

Bitrate:

Toho

Bitrate:

Arrow Video Blu-ray

Audio
Japanese Dolby Digital 1.0

LPCM Audio Japanese 1152 kbps 1.0 / 48 kHz / 1152 kbps / 24-bit

Subtitles
Japanese, none
English, none
Features
Release Information:
Studio: Toho

Aspect Ratio:
Widescreen anamorphic - 2.53:1

Edition Details:
• Audio Commentary by actress Yukiko Kobayashi, moderated by Tetsu Nakamura
• Theatrical Trailer (2:04)

DVD Release Date:
Amaray

Chapters 12

Release Information:
Studio: Arrow

Disc Size: 24,522,283,563 bytes

Feature Size: 20,789,076,864 bytes

Average Bitrate:

34.95 Mbps

Single-layered Blu-ray MPEG-4 AVC Video

Edition Details:
•

Kim Newman on The Bloodthirsty Trilogy, a new video appraisal by the critic and writer (16:03)
• Stills gallery
• Original trailers
• Reversible sleeve featuring original and newly commissioned artwork by Matt Griffin
• FIRST PRESSING ONLY: Collector's booklet featuring new writing on the film by Japanese film expert Jasper Sharp

Blu-ray Release Date: May 21st - 22nd, 2018
Transparent Blu-ray case inside cardboard slipcase

Chapters: 10
Comments

NOTE: The below Blu-ray captures were taken directly from the Blu-ray disc.

ADDITION: Arrow - Region FREE - Blu-ray (May 2018):

Arrow Video bring us Michio Yamamoto's The Bloodthirsty Trilogy with two Blu-ray discs. Vampire Doll, Evil of Dracula and Lake of Dracula is not sold individually at this time and are only available in this set.

NOTE: As Michael Brooke informs us in our Facebook Group in regards to Day of Anger: 'As the producer of Arrow's release, I can confirm first hand that the UK and US discs are absolutely identical... The booklets are also identical, but there are minor cosmetic differences on the disc labels and sleeve to do with differing copyright info and barcodes, and the US release doesn't have BBFC logos. 'The Bloodthirsty Trilogy' is the same situation.

The first Blu-ray has "The Vampire Doll" on a single-layered disc. The 1080P is in the 2.30:1 aspect ratio (quite different from the 2.53:1 SD) and we lose some information on the edges as compared to the DVD. It has grain support, contrast is richer and colors warm. It has a max'ed out bitrate and looks quite film-like in-motion. I had no issues with my viewing - no artifacts or damage to be seen.

Arrow use a linear PCM mono track (24-bit) in the original Japanese. There are horror effects and a spooky score by Riichirō Manabe (Cruel Story of Youth).

It sounds weak but probably accurate to the original production and a strong representation via the lossless. There are optional English subtitles on the Region FREE Blu-ray disc.

Extras on this first disc include Kim Newman on The Bloodthirsty Trilogy, as a new 16-minute video appraisal by the excellent critic and writer. There is also a stills gallery, original trailer and the package has a reversible sleeve featuring original and newly commissioned artwork by Matt Griffin and for the first pressing consumers get a collector's booklet featuring new writing on the film by Japanese film expert Jasper Sharp.

I LOVE this stuff and can't wait to get the second disc to fully review the set. It has fabulous atmosphere and is edgy with some harsh violence. Recommended!

-Eric, Colin and Gary
---
Menus
Toho - Region 2 - NTSC
| | |
| --- | --- |
| | |
| | |
Arrow Video - Region FREE - Blu-ray
---
CLICK EACH BLU-RAY CAPTURE TO SEE ALL IMAGES IN FULL 1920X1080 RESOLUTION
Subtitle Sample - Arrow Video - Region FREE - Blu-ray
(Toho - Region 2 - NTSC - TOP vs. Arrow Video - Region FREE - Blu-ray - BOTTOM)
---
(Toho - Region 2 - NTSC - TOP vs. Arrow Video - Region FREE - Blu-ray - BOTTOM)
---
(Toho - Region 2 - NTSC - TOP vs. Arrow Video - Region FREE - Blu-ray - BOTTOM)
---
(Toho - Region 2 - NTSC - TOP vs. Arrow Video - Region FREE - Blu-ray - BOTTOM)
---
(Toho - Region 2 - NTSC - TOP vs. Arrow Video - Region FREE - Blu-ray - BOTTOM)
---
(Toho - Region 2 - NTSC - TOP vs. Arrow Video - Region FREE - Blu-ray - BOTTOM)