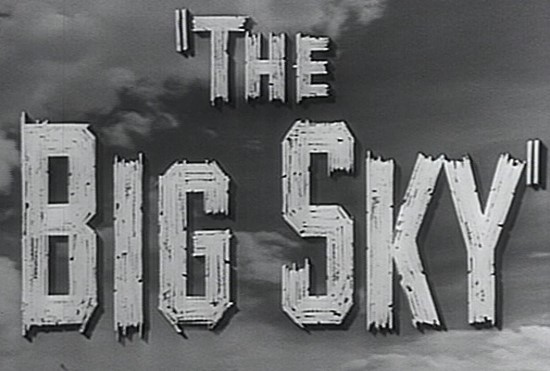 Directed by Howard Hawks
USA 1952
Hawks's adventure movie, featuring Douglas and Martin as Kentucky frontiersmen on an expedition up the Missouri river to deliver a shipment of furs to Blackfoot Indians, is flawed but has a pleasing Saturday matinee feel to it that makes it great fun to watch. Along the way, the pair have to negotiate hostile Indian territory, but the action sequences are tempered with some nicely judged, knowing comedy that suggests the film isn't taking itself too seriously, while Douglas's romance with Sioux princess Threatt (which later spilled over off screen) adds an extra dimension to proceedings.
Excerpt from Channel 4 located HERE
While not up to the standard of Hawks' best Westerns (Red River, Rio Bravo), still an evergreen delight. Douglas and Martin are the two Kentuckians who join a pioneering trading expedition up the Missouri River to buy furs from the Blackfoot Indians. Problems are many, what with the dangers of the landscape and the hostility of certain Indians. But Hawks is less concerned with the adventurous aspect of the odyssey than with the relationship between the two men, who slowly discover a deep mutual respect, only to have it threatened by their both loving the same woman (an Indian they capture as a hostage against trouble). Episodic, rambling and very amiable, with a nice line in black humour (most evident in the marvellous sequence where Douglas has his finger amputated, only to lose it in the undergrowth).
Excerpt from TimeOut Film Guide located HERE
Posters
Theatrical Release: August 6th, 1952
Reviews More Reviews DVD Reviews
DVD Review: Editions Montparnasse - Region 2 - PAL
DVD Box Cover

CLICK to order from:

There is a kind of 'Special Edition' DVD, also by Montparnasse - a double disc set - with many extras such as interviews (with Hawks and Douglas). It includes the original cut (140 odd minutes) which was restored for E.Mont. by Bill Krohn a few years ago. This complete print only exists in 16mm, thus the three additional restored sequences and bits and pieces show a jump in quality from 35mm to 16mm sources...

Distribution
Editions Montparnasse - Region 2 - PAL
Runtime
2:01:40
Video
1.33:1 Aspect Ratio
Average Bitrate: 8.1 mb/s
PAL 720x576 25.00 f/s

NOTE: The Vertical axis represents the bits transferred per second. The Horizontal is the time in minutes.

Bitrate:

Audio
English (Dolby Digital 1.0), DUB: French (Dolby Digital 1.0)
Subtitles
French, None
Features

Release Information:
Studio: Editions Montparnasse

Aspect Ratio:
Original Aspect Ratio 1.33:1

Edition Details:

• Serge Bromberg Intro (1:39) in French only

DVD Release Date: September 21st, 2004 (re-issue)
Transparent Slim Keep Case
Chapters: 8
Comments:

A rarity from the usually frugal Montparnasse in that this is a dual-layered DVD transfer - appearing to be progressive although the 'combing' that I see is very fine and virtually invisible to the naked eye. It may have been taken from a viable analog source. Hence the image is still only tube-worthy showing itself to be very thin with obvious contrast manipulation producing prevalent edge-enhancements. Digital noise and artifacts are also rife. Damage is visible in the form of light-to-heavy scratches and marks. Audio is similarly weak with hiss and a few pops. No extras save Bromberg's usual intro-praise (in French only).

I don't have any information that the 2-disc (also by Montparnasse) has an improved image, but my guess would be that it does not. This appears to be the 'only game in town' for the film on digital at the moment.... and it is a shame. I suggest that the more patient wait out a Region 1 release that, frankly, should have been out by now.
---

DVD Menus
---
Screen Captures
---
DVD Box Cover

CLICK to order from:

There is a kind of 'Special Edition' DVD, also by Montparnasse - a double disc set - with many extras such as interviews (with Hawks and Douglas). It includes the original cut (140 odd minutes) which was restored for E.Mont. by Bill Krohn a few years ago. This complete print only exists in 16mm, thus the three additional restored sequences and bits and pieces show a jump in quality from 35mm to 16mm sources.

Distribution
Editions Montparnasse - Region 2 - PAL