| | |
| --- | --- |
| | S E A R C H D V D B e a v e r |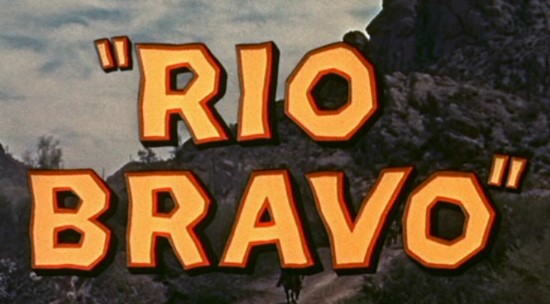 directed by Howard Hawks
USA 1959
Arguably Hawks' greatest film, a deceptively rambling chamber Western made in response to the liberal homilies of High Noon. Here the marshal in need of help is Wayne, desperately fending off a clan of villains determined to release the murderer he's holding in jail until the arrival of the state magistrate. Unlike Cooper, however, he rejects rather than courts offers of help, simply because his supporters are either too old (Brennan), too young (Nelson), female (Dickinson) or alcoholic (Martin). Thus the film becomes an examination of various forms of pride, prejudice and professionalism, as the various outcasts slowly cohere through mutual aid to form one of the director's beloved self-contained groups. Little of the film is shot outdoors, with a subsequent increase in claustrophobic tension, while Hawks peppers the generally relaxed and easy narrative - which even takes time out to include a couple of songs for Dino and Ricky - with superb set pieces: Dino's redemptory shooting of a fugitive villain; the explosive finale in which Duke realises he needs all the help he can get. Beautifully acted, wonderfully observed, and scripted with enormous wit and generosity, it's the sort of film, in David Thomson's words, which reveals that 'men are more expressive rolling a cigarette than saving the world'.
Excerpt from TimeOut Film Guide located HERE
***
This is a great film and I'd be a fool to convince you of the contrary. However, as far as the penultimate western goes, I have many on my list exceeding this one. I am unsure of my ambivalence in rating it higher - it could be the excessive star-power of the film - stuffing Wayne, Dino, Ricky Nelson, Walter Brennan (steals every scene he is in) and the radiant Angie Dickinson. It seemed like overkill. It could also be its narrative, which seemed so contrived by similar era western standards - everyone seemed to have a nickname - Dude, Colorado, Feathers, Stumpy - was this a film or a playhouse? I think my big trouble with any suspension of disbelief was its ever present studio association - it seemed to lose its edge and be excessively contrived. I never felt a true conflict with the 'good' characters (as in say, Red River, Forty Guns, The Naked Spur, The Searchers etc.). Perhaps I am getting jaded in my old age. This is a well crafted film by a master tactician. It proposes the idea of heroism to such a positive ideal. Characters are flawed and redeemed. Truly in the top 20 westerns of all time if not the top 10. I have to say that for me, Angie Dickenson remains such a strong part of the viewing experience. I almost anticipate when her next scene will be...

out of

Posters
Theatrical Release: March 18th, 1959 - USA
Reviews More Reviews DVD Reviews
---
Recommended Reading for Western Genre Fans (CLICK COVERS or TITLES for more information)
The Crowded Prairie: American National Identity in the Hollywood Western (Cinema and Society)
by Michael Coyne
The Invention of the Western Film : A Cultural History of the Genre's First Half Century (Genres in American Cinema S.)
by Scott Simmon
The Western Genre
by John Saunders

Westerns: Films through History (AFI Film Readers)
by Janet Walker

The Encyclopedia of Westerns (The Facts on File Film Reference Library)
by Herb Fagen, Tom Selleck
Gunfighter Nation: The Myth of the Frontier in Twentieth-Century America
by Richard Slotkin
Rio Bravo (BFI Film Classics)

By Robin Wood

Red River (Bfi Film Classics)
by Suzanne Liandrat-Guigues
Check out more in "The Library"
---
DVD Comparison:
Warner - Region 1 - NTSC vs. Warner (2-disc Special Edition) - Region 1, 2, 3, 4 - NTSC
(Warner - Region 1 - NTSC LEFT vs. Warner (2-disc Special Edition) - Region 1, 2, 3, 4 - NTSC RIGHT)
DVD Box Cover

Distribution
Warner Home Video - Region 1- NTSC
Warner Home Video - Region 1, 2, 3, 4 - NTSC
Runtime
2:20:55
2:20:45
Video
1.78:1 Original Aspect Ratio
Average Bitrate: 5.56 mb/s
NTSC 720x480 29.97 f/s
1.78:1 Original Aspect Ratio
Average Bitrate: 6.43 mb/s
NTSC 720x480 29.97 f/s

NOTE: The Vertical axis represents the bits transferred per second. The Horizontal is the time in minutes.

Bitrate:

Original

Bitrate:

2-disc Special Edition

Audio
English (Dolby Digital 2.0)
English (Dolby Digital 2.0), DUB: French (Dolby Digital 2.0)
Subtitles
English, French, Spanish, Portuguese, None
English, French, Korean, Portuguese, None
Features

Release Information:
Studio: Warner Home Video

Aspect Ratio:
Original aspect Ratio 1.78:1

Edition Details:

• Cast and Crew (text screens)
• Trailer (2:47)

DVD Release Date: May 2001
Snapper Case
Chapters: 41

Release Information:
Studio: Warner Home Video

Aspect Ratio:
Original aspect Ratio 1.78:1

Edition Details:

• Commentary by John Carpenter and film critic Richard Schickel
• Wayne trailer gallery
Disc 2

• "The Men Who Made the Movies: Howard Hawks" (1973 documentary)
• Two all-new featurettes: "Commemoration: Howard Hawks' Rio Bravo," and "Old Tucson: Where the Legends Walked"

• 6 post-card sized Polaroid's from the film production

DVD Release Date: May 22nd, 2007
Standard Keep Case inside cardboard box
Chapters: 41
Comments:

ADDITION: 2-disc Special edition - May 2007:

NOTE: I'll assume that the transfer of the 2-disc SE is the same as the Two-Disc Ultimate Collector's Edition available HERE. I've been in the woods before with these advanced editions (released the same date as the SE) and I'll wager there won't be anything significantly improved digitally, but may probably add some trinket or toy model or something. I could very well be proven wrong but I'm not interested in this case as the price is actually double. No sale unless they are giving us an inflatable 'Feathers' doll.

I was always very comforted with the pale skin tones of the original release. With no extravagant signs of contrast boosting it made me feel that the other colors of the film were accurate. But that now may be a mistake. Although I *think* the new Special Edition may have been a bit heavy-handed in the dark boosting but I can say with no degree of assuredness that I am correct - it really boils down to a personal preference. This red/black boosting is utilized to bring up detail but if over-used it can alter colors and bring out damage marks from a less visible state. I suspect that this is the case. It is not drastic (in most cases) and it may actually be reporting more realistic colors (as far as I know - I never thought Wayne's shirt was supposed to be that pink!). So bottom line is that I'll say it is a personal decision which edition's color scheme you are more willing to accept. To most the difference will be inconsequential. Anyway the new SE is a bit darker.

The new SE removes a Spanish subtitle option and replaces it with a Korean one. On the audio front the new SE includes a French DUB.

The supplements really encourage purchasing the new SE. On the feature disc we have a wonderful John Carpenter and Richard Schickel commentary. Hawks, western and John Wayne fans will listen with pleasure to the brimming knowledge exported by these two. Professional and prepared Schickel really knows his stuff and Carpenter gives production insights that most will find unique and refreshing.

Single-layered disc 2 offers 3 featurettes - first a 1973 documentary - almost an hour lone - "The Men Who Made the Movies: Howard Hawks". It covers the director very thoroughly focusing on some personal and professional details. Fans will be rewarded. There are two other, shorter ones - "Commemoration: Howard Hawks' Rio Bravo," is about 30 minutes and includes interview bites with Peter Bogdanovich and others. It focuses more on the film Rio Bravo. Finally, looking like an afterthought we have "Old Tucson: Where the Legends Walked" it runs about 8 minutes discussing the famous western studio at Tucson and some of the greats of the genre that were filmed there (including Winchester '73). It tells us that Hawks revitalized its usage. It includes some nice sepia photography. Also included are 6 post-card sized Polaroid reproduction prints from the film production.

For $15 this is a great deal. Worth the commentary alone. It's a nice package at a very reasonable price. We strong recommend regardless if you own the original release.

***

We have lost some film grain in this image. It actuality it is not soft, but can look pasty at times. Don't get me wrong - this is another fabulous disc by Warner - progressive and tight with excellent colors and contrast. A little damage at the beginning. Original audio and well-appointed subtitles. A Robin Wood commentary would be appropriate after his splendid BFI book on the film, but extras only include a trailer and cast and crew bios. Again, this DVD is dirt cheap and really there is no excuse for not owning it. The studio system at it max! out of
---
DVD Menus
(Warner - Region 1 - NTSC LEFT vs. Warner (2-disc Special Edition) - Region 1, 2, 3, 4 - NTSC RIGHT)
Disc 2 of the 2-disc Special Edition
---
Subtitle Sample
(Warner - Region 1 - NTSC TOP vs. Warner (2-disc Special Edition) - Region 1, 2, 3, 4 - NTSC BOTTOM)
Screen Captures
(Warner - Region 1 - NTSC TOP vs. Warner (2-disc Special Edition) - Region 1, 2, 3, 4 - NTSC BOTTOM)
---
(Warner - Region 1 - NTSC TOP vs. Warner (2-disc Special Edition) - Region 1, 2, 3, 4 - NTSC BOTTOM)
---
(Warner - Region 1 - NTSC TOP vs. Warner (2-disc Special Edition) - Region 1, 2, 3, 4 - NTSC BOTTOM)
---
(Warner - Region 1 - NTSC TOP vs. Warner (2-disc Special Edition) - Region 1, 2, 3, 4 - NTSC BOTTOM)
---
(Warner - Region 1 - NTSC TOP vs. Warner (2-disc Special Edition) - Region 1, 2, 3, 4 - NTSC BOTTOM)
---
(Warner - Region 1 - NTSC TOP vs. Warner (2-disc Special Edition) - Region 1, 2, 3, 4 - NTSC BOTTOM)
---
(Warner - Region 1 - NTSC TOP vs. Warner (2-disc Special Edition) - Region 1, 2, 3, 4 - NTSC BOTTOM)
---
(Warner - Region 1 - NTSC TOP vs. Warner (2-disc Special Edition) - Region 1, 2, 3, 4 - NTSC BOTTOM)
---
| | | |
| --- | --- | --- |
| DVD Box Cover | | |
| Distribution | Warner Home Video - Region 1- NTSC | Warner Home Video - Region 1, 2, 3, 4 - NTSC |





| | |
| --- | --- |
| | S E A R C H D V D B e a v e r |