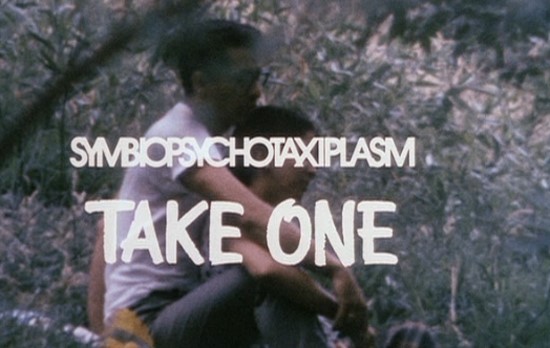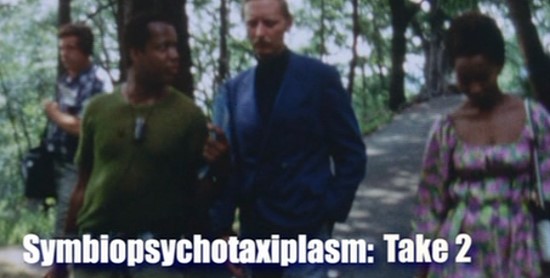 Directed by William Greaves
USA 1968 (2005)
In his one-of-a-kind fiction/documentary hybrid Symbiopsychotaxiplasm Take One, director William Greaves presides over a beleaguered film crew in New York's Central Park, leaving them to try to figure out what kind of movie they're making. A couple enacts a break-up scenario over and over, a documentary crew films a crew filming the crew, locals wander casually into the frame: the project defies easy description. Yet this wildly innovative sixties counterculture landmark remains one of the most tightly focused and insightful movies ever made about making movies.
***
Seeing this singular 1968 American experimental feature by William Greaves a second time (on video; the first time was in 1980, in its original 35-millimeter format) has led me to value it more, though arguably the fact that it loses relatively little impact on video constitutes one of its limitations. Greaves, a pioneering black actor whose career stretches back to postwar films made for black audiences as well as the underrated Hollywood feature Lost Boundaries, went on to direct over 200 documentaries, host and executive produce NET's Black Journal, and teach acting at the Lee Strasberg Theatre Institute. For this eccentric venture, he got two white actors to play a quarreling couple in Central Park and proceeded to film not only them (in both rehearsal and performance) but also himself and his camera crew and various other people in the vicinity, often juxtaposing two or three camera angles simultaneously in split screen in the final edit. The crew's own doubts and speculations about the film being made were also recorded later and edited into the mix. The couple's quarrel is vitriolic and singularly unpleasant, the acting variable, the collective insight into what Greaves is up to mainly uncertain. The title modifies a term coined by political scientist and philosopher Arthur Bentley that refers to the interactions between people and their environment, and the notion of a shifting center is what gives this experiment much of its interest and also limits it from going very far in any single direction.
Excerpt from Jonathan Rosenbaum's review at the Chicago Reader located HERE
Poster
Theatrical Release: January 1968
Reviews More Reviews DVD Reviews
DVD Review: Criterion (2-disc) - Region 1 - NTSC
DVD Box Cover

CLICK to order from:

Distribution
Criterion Collection - Spine # 360 - Region 1 - NTSC
Runtime
1:15:15 + 1:39:33
Video
1.33:1 Aspect Ratio
Average Bitrate: 7.3 + 7.52 mb/s
NTSC 720x480 29.97 f/s

NOTE: The Vertical axis represents the bits transferred per second. The Horizontal is the time in minutes.

Bitrate:

Audio
English (Dolby Digital 2.0)
Subtitles
English, None
Features

Release Information:
Studio: Criterion

Aspect Ratio:
Original Aspect Ratio 1.33:1

(for 2 1/2)

Edition Details:

DISC ONE: Symbiopsychotaxiplasm Take One
• Discovering William Greaves, a new documentary on Greaves's career, featuring Greaves, his wife and coproducer Louise Archambault, actor Ruby Dee, filmmaker St. Clair Bourne, and film scholar Scott MacDonald
• Theatrical trailer

DISC TWO: Symbiopsychotaxiplasm Take 2 1/2
• New video interview with actor Steve Buscemi (12:40)
• PLUS: A booklet featuring a new essay by critic Amy Taubin and production notes by Greaves for Take One

DVD Release Date: December 5th, 2006
Keep Case
Chapters: 17 (+ 22)
Comments:

I wish I could phrase this film experiment's appeal with one word... but I can't. 'Unconventional' seems to leave out so much. Criterion offer this long-unreleased auteur gem in a special two-disc edition, along with its sequel, Take 2 1/2, made thirty-five years later with executive producers Steven Soderbergh and Steve Buscemi. Take One is progressive and probably looks about as good as it ever has. It has a few blemishes and some visible digital noise - I suspect the screen captures give a fair representation. Criterion offer optional subtitles, which is appreciated as the audio can be as 'independent' as the image production appearance. Unfortunately Take 2 1/2, on the 2nd disc, is not transferred progressively and shows visible 'combing' (come on Criterion - cut this out). It maintains a healthy pragmatic fun feel.

For the extras there is a new documentary on Greaves's career called Discovering William Greaves, it features Greaves, his wife and co-producer Louise Archambault, actor Ruby Dee, filmmaker St. Clair Bourne, and film scholar Scott MacDonald. A fascinating supplement to further appreciate the man and this film. There is also a theatrical trailer. On Disc 2 is a 12 minute interview with Buscemi and there is a 34-page liner notes booklet with color photos and an essay by critic Amy Taubin, also some production notes by Greaves prior to, and during, the filming of Take One.

It's great to see Criterion go out on a limb to offer this, probable weak seller, for release. Although it may have quite a niche appeal, hopefully some will open their minds to it and reap the benefits.
---

DVD Menus
Disc 2 - Symbiopsychotaxiplasm: Take 2 1/2
---
Subtitle Sample
Screen Captures