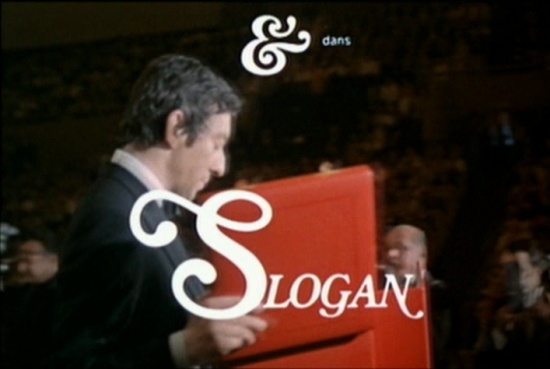 (aka "L'amour et l'amour" )
directed by Pierre Grimblat
France/Italy 1969
Commercial director Serge Faberge (Serge Gainsbourg) is having an affair with Evelyne (Jane Birkin, mother of Lou Doillon and Charlotte Gainsbourg), the 18 year old fiancee of friend Hugh (James Mitchell). His own pregnant wife Francoise (Andréa Parisy) usually does not mind his dalliances until he actually walks out on her and their newborn to move in with Evelyne but the lovers' relationship but the shoe is on the other foot when dashing stuntman Dado (Gilles Millinaire) catches Evelyne's eye. Juliet Berto (CELINE AND JULIE GO BOATING) also appears as Serge's secretary. SLOGAN manages to be bubbly and superficial yet retains a very French senses of jaded complicity (Serge's wife doesn't mind if he cheats so long as he doesn't fall in love) and fatalism (Hugh likens the as-yet-unformed triangle between himself, Evelyne, and Serge to JULES ET JIM and is resolute in his passivity (even as Evelyne who has come to England to marry him calls Serge and begs him to come get her) and Evelyne threatens suicide unless Serge comes for her. There are also some pretentious touches of magic realism as Serge makes annoying characters disappear - in jump cuts - at the snap of a finger. The film feels more like an emulation of French New Wave films than an outgrowth of them (Grimblat was a director of TV commercials like his protagonist who himself aspires to make a feature film). That said, Gainsbourgs' great score (including a theme song sung with Birkin) is almost nonstop and carries the action smoothly (from the ironic cuts to the endless montages of Evelyne and Serge romping along the beach, through the woods, through the streets, etc) and the pop art production design is always interesting (dig Serge's desk with the built-in telephone).
Theatrical Release: 27 July 1969 (France)
Reviews More Reviews DVD Reviews
DVD Review: Cult Epics (Two Disc Special Edition) - Region 0 - NTSC
Big thanks to Eric Cotenas for the Review!
DVD Box Cover

CLICK to order from:

Distribution

Cult Epics

Region 0 - NTSC

Runtime
1:26:45 (4% PAL speedup)
Video

1.50:1 Original Aspect Ratio
Average Bitrate: 5.98 mb/s
NTSC 720x480 29.97 f/s

NOTE: The Vertical axis represents the bits transferred per second. The Horizontal is the time in minutes.

Bitrate

Audio
French (Dolby Digital 2.0 mono)
Subtitles
English, none
Features
Release Information:
Studio: Cult Epics

Aspect Ratio:
Widescreen letterboxed - 1.50:1

Edition Details:
• DISC ONE:
• Theatrical Trailer (4:3; 1:30)
• DISC TWO:
• 2007 interview with actress Jane Birkin and director Pierre Gimblat (4:3; 28:44)
• 2007 interview with Pierre Grimblat (4:3; 24:03)
• 2007 interview with writer/commentator Frédéric Belgbeder (4:3; 10:09)
• Vintage TV promo interviews with Serge Gainsbourg, Jane Birkin, and Pierre Grimblat (4:3; 5:08)
• Sixties/seventies commercials directed by Pierre Grimblat (4:3; 11:55)

DVD Release Date: September 30, 2008
Double Sized Amaray

Chapters 12
Comments

Cult Epics' initially released SLOGAN in a single-disc edition with a single-layer, non-anamorphic PAL-converted master (although PAL-converted, I think the original master adjusted for correct pitch as Birkin sounds ridiculously high-pitched in the clips during the disc 2 extras) with optional yellow English subtitles and a theatrical trailer as the only extra. A year later, they released this two-disc special edition. The first disc was exactly the same as the original issue (so a comparison is unnecessary) while the second DVD5 featured three 2007 interviews (the first with Birkin and Grimblat, the second with only Grimblat, and the third with commentator Belgbeder on SLOGAN and the world of commercials) along with some vintage promo interviews with Birkin, Gainsbourg, and Grimblat and 12 minutes of Grimblat's real commercials.

The film and extras probably could have fit on a single DVD9 but the extras may not have been available at the time the original was produced and it may have been more cost-effective to reuse the first disc contents and create a 2nd disc of extras (and it probably looks more tempting as a 2 disc set rather than a single disc reissue with extras). The new interview with Jane Birkin and Pierre Grimblat is augmented with strange comic artwork depicting some of their recollections. Among the interesting tidbits is that Marisa Berenson also auditioned for Jane Birkin's role. The 2 disc set is only $4 more than the single disc version if purchased new (used copies of the 2 disc are not much more than the single version used either).
---

DVD Menus

---
Screen Captures
Subtitle sample
---
DVD Box Cover

CLICK to order from:

Distribution

Cult Epics

Region 0 - NTSC