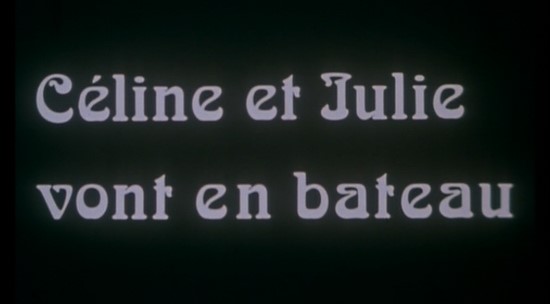 (aka 'Celine and Julie Go Boating' or 'Phantom Ladies Over Paris')
Directed by Jacques Rivette
France 1974
Rivette's rarely seen yet biggest commercial hit, is an exhilarating combination of the themes of theatricality, paranoia and la vie Parisienne, all wrapped up in an extended and entrancing examination of the nature of filmmaking, and film-watching.

Celine (Juliet Berto), a magician, and Julie (Dominique Labourier), a Librarian, meet in Montmartre and wind up sharing the same flat, bed, finance, clothes, identity and imagination. Soon, thanks to a magic sweet, they find themselves spectators, then participants, in a Henry James-inspired 'film-within-the-film' - a melodrama unfolding in a mysterious suburban house with the 'Phantom Ladies Over Paris' (Bulle Ogier and Marie-France Pisier), a sinister man (Barbet Schroeder) and his child. The atmosphere, however, is more Lewis Carroll, with Juliet Berto and Dominique Labourier as twin Alices. The four main actresses improvised their own dialogue in collaboration with Rivette and scriptwriter Eduardo de Gregorio.

Acknowledged by director Susan Seidelman as a huge influence on her own hit film Desperately Seeking Susan (1985), Celine and Julie Go Boating was Rivette's greatest commercial and critical success - its freewheeling, playful spirit still capturing the imagination of new audiences today.
Posters
Theatrical Release: September 1974
Reviews More Reviews DVD Reviews
DVD Review: BFI Video (2-disc) - Region 2- PAL
DVD Box Cover

CLICK to order from:

Distribution
BFI Video - Region 2 - PAL
Runtime
3:05:36
Video
1.33:1 Aspect Ratio
Average Bitrate: 5.57 mb/s
PAL 720x576 25.00 f/s

NOTE: The Vertical axis represents the bits transferred per second. The Horizontal is the time in minutes.

Bitrate:

Audio
French (Dolby Digital 2.0)
Subtitles
English, None
Features

Release Information:
Studio: BFI Video

Aspect Ratio:
Original Aspect Ratio 1.33:1

Edition Details:

Disc 2
• Introduction by Jonathan Romney on Rivette and Celine and Julie Go Boating (18:32)
• Toute la memoire du monde (Alan Resnais, 1956, 20 mins, English subtitles)
• The Haunted Curiosity Shop ( R W Paul, 1901, 2 mins, silent)
• Illustrated booklet including a review by Tom Milne; interviews with Dominique Labourier, Juliet Berto and Jacques Rivette; Susan Seidelman's reflections on her Rivette-inspired Desperately Seeking Susan; director biography.

DVD Release Date: September 25th, 2006
Transparent double standard Keep Case
Chapters: 15
Comments:

Following its release on a new print by BFI Distribution in May 2006, during the major Jacques Rivette retrospective at the NFT, BFI Video have released his magical 70s favorite CÚline and Julie Go Boating onto a dual layered, progressive DVD with a 2nd disc of extras. It looks better than I was anticipating. Sharpness is as good as the restored source as are colors which are a shade dull. Certainly for a limited production (although his greatest commercial success) made over 30 years ago - this looks very good. Subtitles are competently rendered and audio, although understandably weaker than state-of-the-art, is clear and consistent enough to enjoy the magic.

BFI have added a 2nd disc (single-layered - only 2.66 Gig - less than 45 minutes) which was a nice gesture, but content is slightly lacking. The, roughly, 18 minutes of Jonathan Romney - called an 'Introduction' - is quite good. He discusses how Rivette is so un-categorize-able as well as giving a brief history of his work and personal tastes and how his cinema relates to art. It really is just an 'introduction' of such an interesting and enigmatic director. He also begins an explanation of Celine and Julie... I enjoyed his voice (British accent flawlessly pronouncing occasional French) and his rather brisk pace. With the film being over 3 hours this isn't a bad replacement for a commentary - although I'd have preferred his comments to go on much longer. Also included is Resnais' 20-minute short Toute la memoire du monde (All the World's Memory) which I had never seen - very intense and artsy, but genuinely enjoyable. There is a 2 minute silent film from 1901 - called The Haunted Curiosity Shop - keeping pace with the enchanting mystery element of Celine and Julie... The included liner notes booklet has been bound with care - there are a lot of color photos and an essay by Tom Milne and interview with Rivette.

Overall, BFI should be commended for bringing this film to the digital light as fans have waited for years. Outside of Criterion, this is as good as it was going to get. I think they did a great job and the DVD ranks among the 'essential' for cinema fans everywhere.
---



DVD Menus

Disc 2
---
Subtitle Sample
Screen Captures