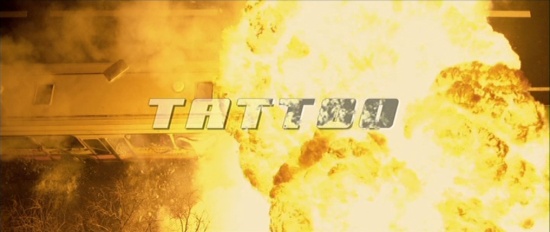 directed by Robert Schwentke
Germany 2002
Newly graduated police officer Marc Schrader (August Diehl) finds himself being blackmailed into working under gritty, seasoned homicide detective Minks (Christian Redl) who recovered the younger man's police jacket and ID during a raid of a techno club where drugs were being exchanged. Although Schrader applied and was accepted in the photo processing division, Minks thinks Schrader's street smarts and connections might be useful in helping him find his daughter Marie who ran away when he became too smothering following the hit and run death of his wife. Their first case involves the badly charred corpse of a nude woman who was chased into the path of a bus which exploded after hit another vehicle. They are able to get the killer's prints as she managed to bite one of his fingers off while he was strangling her. Raiding the killer's house, they discover in the basement, a preserved piece of skin bearing an ornate Japanese tattoo as well as the buried remains of two other mutilated victims. Maya (Nadeshda Brennicke), a gallery owner friend of the first victim tells Schrader that the tattoo was one of only twelve done by a deceased Japanese artist. An encounter with a junkie who sold one of his tattoos to a collector causes Schrader to look into the business of skin collecting; discovering that the Japanese artist's work fetches high prices among collectors and that the 12 people who got the tattoos are either missing or dead and that most of their tattoos been won at online auction by the mysterious Irezumi (Japanese for tattoo). When Maya discovers that her friend was killed for her tattoo, she reveals to Schrader that she bears the dead artist's unknown 13th tattoo – his masterpiece – which means that she may be the next victim.

Though not quite the "darkest chiller since" the overrated SE7EN, TATTOO is clearly modeled after that film complete with the bleak setting (although Jan Fehse's pleasing scope cinematography has more saturation than Darius Khondji's ENR-enhanced work on the former film), incriminating prints from a severed body part, a stealthy chase scene, and a gruesome surprise in a box. Although the attraction between Schrader and femme fatale/potential victim Maya seems obligatory and underdeveloped (and Schrader's girlfriend drops out of the picture entirely after seeing them together and Schrader does not seem to notice), its execution feels organic to the film's aesthetics. Diehl is quite good in the lead (though the script doesn't really distinguish his special street smarts from any other of the clubbers who thrash about in slow motion in scenes that seem lifted from Claude Chabrol's DR. M and suggest that the club scene in Germany hasn't changed since the eighties) and Brennicke cuts a fine figure but isn't given much to do. Redl gives the most dimensional performance as the hardboiled cop with the tragic past and, in a nice change, Monica Bleibtreu's commissioner is initially introduced as a shrieking harridan but turns out to be a sympathetic character. The ending is not surprising and a bit anti-climatic since the discovery of the killer is not based on deduction but on delayed case data from America though most of us will have already guessed the identify of Irezumi. Additionally, Schrader's fiery confrontation is with a character we have known to be a red herring. Despite this, TATTOO is a nice diversion that speaks well of German-born, American-educated TV writer Schwentke's abilities as a director.
Theatrical Release: 4 April 2002 (Germany)
Reviews More Reviews DVD Reviews
DVD Review: Palisades Tartan (Euro Killers Essential Collection) - Region 2 - PAL
Big thanks to Eric Cotenas for the Review!
DVD Box Cover

CLICK to order from:

Distribution

Palisades Tartan

Region 2 - PAL

Runtime
1:44:24 (4% PAL speedup)
Video

2.37:1 Original Aspect Ratio

16X9 enhanced
Average Bitrate: 6.5 mb/s
PAL 720x576 25.00 f/s

NOTE: The Vertical axis represents the bits transferred per second. The Horizontal is the time in minutes.

Bitrate

Audio
German DTS; German Dolby Digital 5.1; German Dolby Digital 2.0 stereo
Subtitles
English, none
Features
Release Information:
Studio: Palisades Tartan

Aspect Ratio:
Widescreen anamorphic - 2.37:1

Edition Details:
• Director Interview (16:9; 32:37)
• Theatrical Trailer (16:9; 01:49)
• Trailers for TESIS (4:3; 1:34), VISITOR Q (4:3; 2:01), RED SIREN (4:3; 1:36), DARK WATER (16:9; 1:11), and
• HOUSE OF 1000 CORPSES (16:9; 1:39)

DVD Release Date: 5 October 2009
Amaray

Chapters 16
| | |
| --- | --- |
| Comments | Palisade Tartan's repackaging of the Tartan UK release offers a solid anamorphic and progressive transfer with strong DTS and Dolby 5.1 audio (and a 2.0 stereo down conversion). Although the Tartan release lacks the audio commentary and multiple featurettes of the German 2 disc set (also with DTS), it features a 30 minute English language talk with the American-accented director in which he talks about his education, TV career, his dissatisfaction with other directors' treatment of his writing, and directing TATTOO (since Tartan did not sub the commentary from the German disc, it is too bad they did not get the director to do an English one). A trailer for the film and trailers for other Tartan releases round out the extras. The only other English-friendly releases are an Italian disc which features English subtitles but only German 2.0 surround and Italian 5.1 audio and a possibly PAL-converted barebones Chinese DVD. As such, Tartan is the better purchase with DTS and exclusive director interview (not on the German set). |
---

DVD Menus

---
Screen Captures
Subtitle sample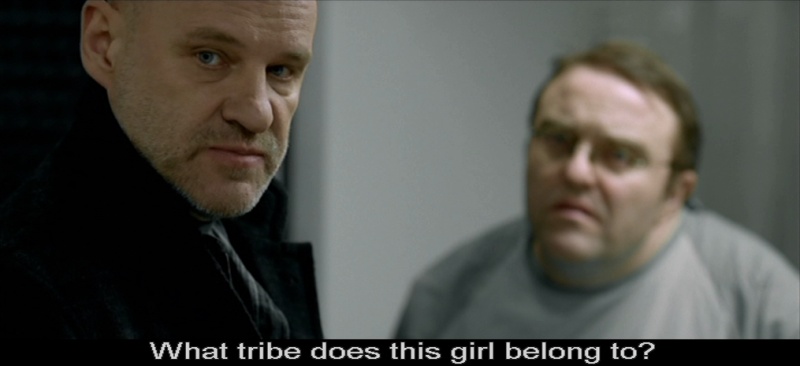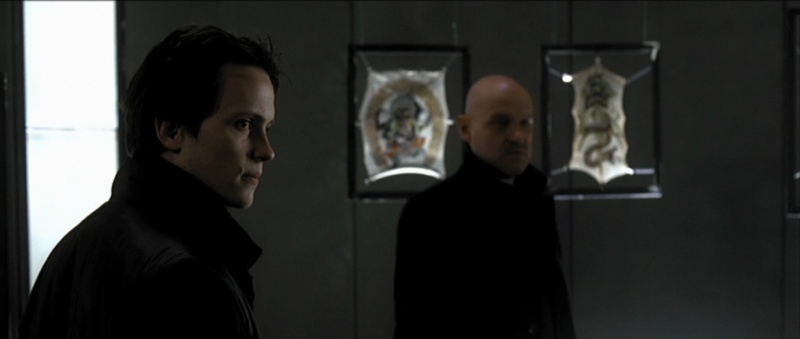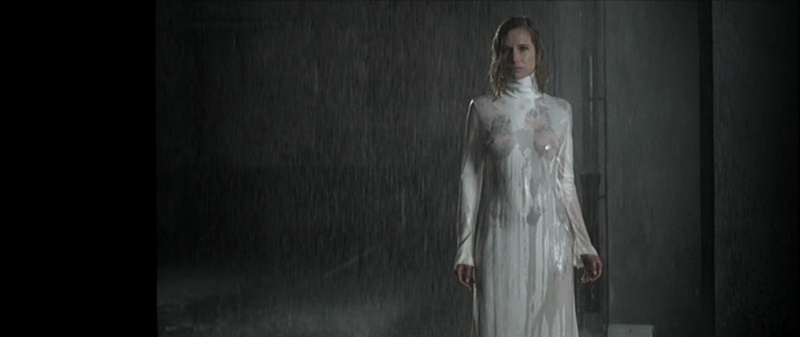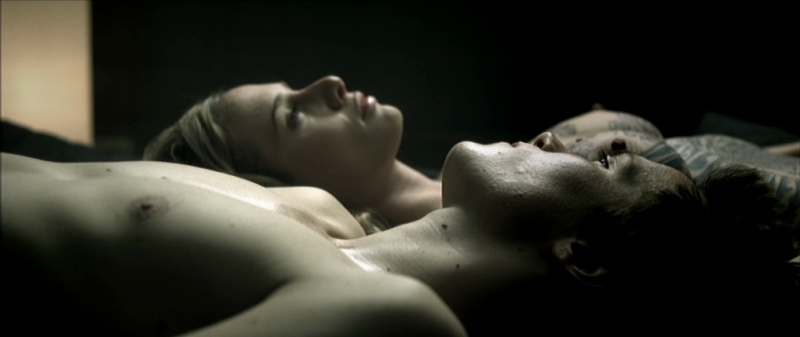 ---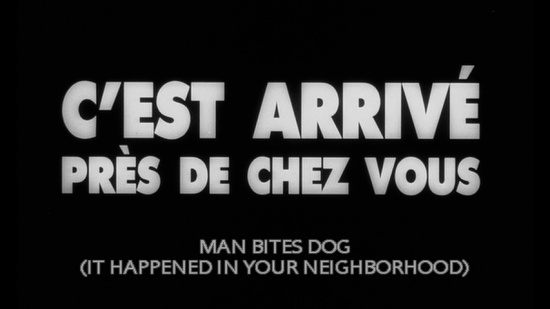 (aka "Man Bites Dog" or "C'est arrivé près de chez vous" or "It Happened in Your Neighborhood")
directed by Rémy Belvaux/André Bonzel/Benoît Poelvoorde
Belgium 1992
MAN BITES DOG is a fictional documentary following the exploits of serial killer Ben (co-writer/director Benoît Poelvoorde) at home with his dotty family, accompanying his flutist girlfriend on the piano, transacting with an aged hooker, killing a postman at the beginning of every month, waxing poetically (once while dancing nude on the beach), shooting or strangling random passersby, disposing of their bodies, and prowling suburbia. The captivated/greedy/predatory filmmakers cross the line from observing to assisting Ben to eventually participating in the sadistic rape and murder of a couple while dealing with rival killers, rival documentary film crews, and the law when one of Ben's victims gets away (which simply provides the documentary with another interesting angle).

MAN BITES DOG's satire of the media is fairly shallow. The transition from observers/enablers to participants is pretty quick and Ben may have delusions of grandeur but seems too smart – despite his pretentious poetry – to not only put evidence of his crimes on film but to draw attention to himself in general with the film crew following him all over the place nor does it seem that the police suspect any involvement by the filmmakers or attempt to use the footage against Ben. Poelvoorde's performance is energetic; making the genial-seeming Ben frighteningly unpredictable (even his sulky reaction to the filmmakers rebuff of his invitation to dinner has the potential to explode into violence). Besides Poelvoorde, his two co-writers (including Remy Belvaux, brother of actor/director Lucas Belvaux) play the sound and camera people but are fairly underdeveloped despite being the surrogate viewers. Although the film's violent and sexual content might get an R these post-HOSTEL days, it certainly earned its NC-17 rating in the nineties and it is surprising that the film passed without cuts in England theatrically and on video (though it could be that even though the filmmakers within the film glamorize Ben's acts, the film itself does not glamorize the acts of rape and violence).
Posters
Theatrical Release: 15 January 1993 (USA)
Reviews More Reviews DVD Reviews
DVD Comparison:
Palisades Tartan (The Euro Killers Essential Collection) - Region 2 - PAL vs. Criterion Collection - Region 0 - NTSC
Big thanks to Eric Cotenas for all the Screen Caps!
(Palisades Tartan (The Euro Killers Essential Collection) - Region 2 - PAL - LEFT vs. Criterion Collection - Region 0 - NTSC - RIGHT)
DVD Box Covers

Distribution

Palisades Tartan

Region 2 - PAL

Runtime
1:32:00 (4% PAL speedup)
Video

1.54:1 Original Aspect Ratio
Average Bitrate: 4.92 mb/s
PAL 720x576 25.00 f/s

NOTE: The Vertical axis represents the bits transferred per second. The Horizontal is the time in minutes.

Bitrate:

Palisades Tartan (The Euro Killers Essential Collection)

Audio
French Dolby Digital 2.0 Mono
Subtitles
English (optical print subtitles)
Features
Release Information:
Studio: Palisades Tartan

Aspect Ratio:
Widescreen letterboxed - 1.54:1

Edition Details:
• NO C4 FOR DANIEL-DANIEL Short Film (4:3; 12:01)
• Actor/Director Benoît Poelvoorde Filmography
• MAN BITES DOG Film Review (scrolling text)
• Still Gallery

DVD Release Date: 5 October 2009
Double Size Amaray

Chapters 12
Comments

COMMENTS FROM THE COMPARISON VS. THE CRITERION EDITION HERE.

The DVD of MAN BITES DOG contained in THE EURO KILLERS ESSENTIAL COLLECTION is a repackaging of the 2000 Tartan UK DVD and is a non-anamorphic transfer with subtitles on the print which are sometimes hard to read due to the intentionally contrasty image combined with the rapid pace of the dialogue. MAN BITES DOG made a splash in the US as one of the few arthouse NC-17 releases ensuring its success on VHS (Fox Lorber issued PAL-converted VHS NC-17 and "unrated edited" versions). Criterion's 2002 DVD is also single layer but sports a sharper anamorphic and progressive transfer with superior contrast and the optional subtitles are easier to read than Tartan's print subtitles against the blending backgrounds.

The main extra of both discs is the short film NO C4 FOR DANIEL-DANIEL which is in fake Cinemascope. Both presentations of the short are 4:3 widescreen with borders on all sides of the image (the Criterion version has better color but is a PAL-NTSC transfer unlike the feature fortunately). Both discs feature still galleries - with the Criterion's subdivided by captions - but while the Tartan features a text filmography for the lead/co-director and a text review of the film, the Criterion features an interview with the 3 directors which was produced for their 1993 laserdisc release. Criterion's DVD also features the film's theatrical trailer identified in the menu under the literal English translation of the French title.
---

DVD Menus


| | |
| --- | --- |
| | |
| | |
---
Screen Captures

Subtitle sample