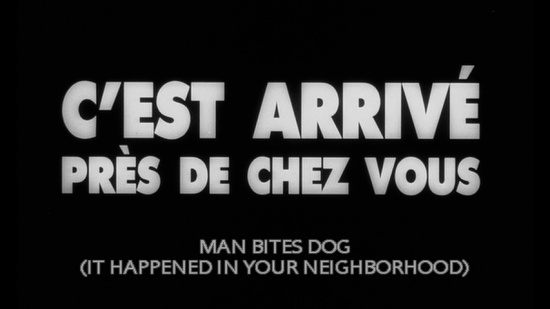 (aka "Man Bites Dog" or "C'est arrivé près de chez vous" or "It Happened in Your Neighborhood")
directed by Rémy Belvaux/André Bonzel/Benoît Poelvoorde
Belgium 1992
MAN BITES DOG is a fictional documentary following the exploits of serial killer Ben (co-writer/director Benoît Poelvoorde) at home with his dotty family, accompanying his flutist girlfriend on the piano, transacting with an aged hooker, killing a postman at the beginning of every month, waxing poetically (once while dancing nude on the beach), shooting or strangling random passersby, disposing of their bodies, and prowling suburbia. The captivated/greedy/predatory filmmakers cross the line from observing to assisting Ben to eventually participating in the sadistic rape and murder of a couple while dealing with rival killers, rival documentary film crews, and the law when one of Ben's victims gets away (which simply provides the documentary with another interesting angle).

MAN BITES DOG's satire of the media is fairly shallow. The transition from observers/enablers to participants is pretty quick and Ben may have delusions of grandeur but seems too smart – despite his pretentious poetry – to not only put evidence of his crimes on film but to draw attention to himself in general with the film crew following him all over the place nor does it seem that the police suspect any involvement by the filmmakers or attempt to use the footage against Ben. Poelvoorde's performance is energetic; making the genial-seeming Ben frighteningly unpredictable (even his sulky reaction to the filmmakers rebuff of his invitation to dinner has the potential to explode into violence). Besides Poelvoorde, his two co-writers (including Remy Belvaux, brother of actor/director Lucas Belvaux) play the sound and camera people but are fairly underdeveloped despite being the surrogate viewers. Although the film's violent and sexual content might get an R these post-HOSTEL days, it certainly earned its NC-17 rating in the nineties and it is surprising that the film passed without cuts in England theatrically and on video (though it could be that even though the filmmakers within the film glamorize Ben's acts, the film itself does not glamorize the acts of rape and violence).
Posters
Theatrical Release: 15 January 1993 (USA)
Reviews More Reviews DVD Reviews
DVD Comparison:
Palisades Tartan (The Euro Killers Essential Collection) - Region 2 - PAL vs. Criterion Collection - Region 0 - NTSC
Big thanks to Eric Cotenas for all the Screen Caps!
(Palisades Tartan (The Euro Killers Essential Collection) - Region 2 - PAL - LEFT vs. Criterion Collection - Region 0 - NTSC - RIGHT)
DVD Box Covers

Distribution

Palisades Tartan

Region 2 - PAL

Criterion Collection - Spine # 165
Region 0 - NTSC
Runtime
1:32:00 (4% PAL speedup)
1:36:15
Video

1.54:1 Original Aspect Ratio
Average Bitrate: 4.92 mb/s
PAL 720x576 25.00 f/s

1.67:1 Original Aspect Ratio

16X9 enhanced
Average Bitrate: 4.72 mb/s
NTSC 720x480 29.97 f/s

NOTE: The Vertical axis represents the bits transferred per second. The Horizontal is the time in minutes.

Bitrate:

Palisades Tartan (The Euro Killers Essential Collection)

Bitrate:

Criterion Collection

Audio
French Dolby Digital 2.0 Mono

French Dolby Digital 1.0 Mono

Subtitles
English (optical print subtitles)
English, none
Features
Release Information:
Studio: Palisades Tartan

Aspect Ratio:
Widescreen letterboxed - 1.54:1

Edition Details:
• NO C4 FOR DANIEL-DANIEL Short Film (4:3; 12:01)
• Actor/Director Benoît Poelvoorde Filmography
• MAN BITES DOG Film Review (scrolling text)
• Still Gallery

DVD Release Date: 5 October 2009
Double Size Amaray

Chapters 12

Release Information:
Studio: Criterion Collection

Aspect Ratio:
Widescreen anamorphic - 1.67:1

Edition Details:
• NO C4 FOR DANIEL-DANIEL Short Film (4:3; 11:58)
• 1993 Video Interview with Filmmakers (4:3; 8:58)
• Theatrical Trailer (16:9; 1:43)
• Still Gallery


DVD Release Date: September 24, 2002
Amaray

Chapters 24
Comments

The DVD of MAN BITES DOG contained in THE EURO KILLERS ESSENTIAL COLLECTION is a repackaging of the 2000 Tartan UK DVD and is a non-anamorphic transfer with subtitles on the print which are sometimes hard to read due to the intentionally contrasty image combined with the rapid pace of the dialogue. MAN BITES DOG made a splash in the US as one of the few arthouse NC-17 releases ensuring its success on VHS (Fox Lorber issued PAL-converted VHS NC-17 and "unrated edited" versions). Criterion's 2002 DVD is also single layer but sports a sharper anamorphic and progressive transfer with superior contrast and the optional subtitles are easier to read than Tartan's print subtitles against the blending backgrounds.

The main extra of both discs is the short film NO C4 FOR DANIEL-DANIEL which is in fake Cinemascope. Both presentations of the short are 4:3 widescreen with borders on all sides of the image (the Criterion version has better color but is a PAL-NTSC transfer unlike the feature fortunately). Both discs feature still galleries - with the Criterion's subdivided by captions - but while the Tartan features a text filmography for the lead/co-director and a text review of the film, the Criterion features an interview with the 3 directors which was produced for their 1993 laserdisc release. Criterion's DVD also features the film's theatrical trailer identified in the menu under the literal English translation of the French title.
---

DVD Menus
(Palisades Tartan (The Euro Killers Essential Collection) - Region 2 - PAL - LEFT vs. Criterion Collection - Region 0 - NTSC - RIGHT)

| | |
| --- | --- |
| | |
| | |
| | |
| | |
| | |
---
Screen Captures
(Palisades Tartan (The Euro Killers Essential Collection) - Region 2 - PAL - TOP vs. Criterion Collection - Region 0 - NTSC - BOTTOM)
Subtitle sample
---
(Palisades Tartan (The Euro Killers Essential Collection) - Region 2 - PAL - TOP vs. Criterion Collection - Region 0 - NTSC - BOTTOM)
---
(Palisades Tartan (The Euro Killers Essential Collection) - Region 2 - PAL - TOP vs. Criterion Collection - Region 0 - NTSC - BOTTOM)
---
(Palisades Tartan (The Euro Killers Essential Collection) - Region 2 - PAL - TOP vs. Criterion Collection - Region 0 - NTSC - BOTTOM)