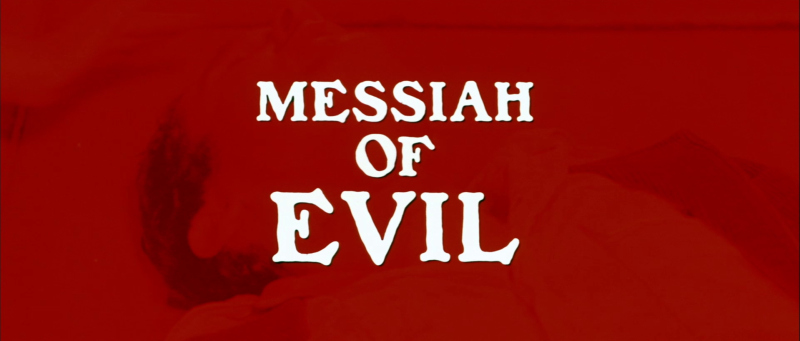 (aka "Messiah of Evil: The Second Coming" or "Dead People" or "Revenge of the Screaming Dead" or "The Second Coming" or "Return of the Living Dead" )
directed by Willard Huyck
USA 1973
The DVD of Messiah of Evil is compared to the Blu-ray HERE
Arletty (Marianna Hill, THE GODFATHER II) travels to dying coastal village Point Dune looking for her artist father but finds that he has disappeared. When she makes inquiries at a gallery, she learns that two women and a man have also been asking about him. She meats the beatnik trio (Michael Greer, Anitra Ford, and Joy Bang) as they are interviewing a tramp (Elisha Cook, Jr.) relating the grisly legend of Point Dune foretelling the return of "The Stranger" when the moon turns blood red. Thrown out of their motel, the trio shack up with Arletty at her father's seaside house and form a foursome of sexual tension. As they delve into Arletty's father's disappearance, the townspeoples' eyes have started bleeding and they've developed a taste for raw meat. Although it has its share of gore and zombie action, MESSIAH OF EVIL is an underrated horror film with a laid-back 70's semi-arthouse atmosphere. Huyck and Katz cite Antonioni's L'AVVENTURA as an influence which is believable as they claim not to have seen horror films similar to MESSIAH like CARNIVAL OF SOULS, NIGHT OF THE LIVING DEAD, and LET'S SCARE JESSICA TO DEATH but cite shot references to PIERROT LE FOU and the heroine being named after a character from Pagnol's CHILDREN OF PARADISE. The film's horror themes draw less from horror films than from literature, specifically Lovecraft with references to "the old gods." Although not well-received by critics at the time of its release (first as RETURN OF THE LIVING DEAD for which it was served with a lawsuit and the title changed to DEAD PEOPLE and then MESSIAH OF EVIL - the title seen in the L.A. montage of Woody Allen's ANNIE HALL) - with the exception of Sight and Sound critic Robin Wood - MESSIAH OF EVIL has achieved a cult following through pan-and-scan video prints and more recent repertory screenings in scope. Fans of off-beat horror and arthouse pretense will enjoy this admirable little sleeper.
Posters
Theatrical Release: 1973 (USA)
Reviews More Reviews DVD Reviews
DVD Review: Code Red - Region 0 - NTSC
Big thanks to Eric Cotenas for the Review!
DVD Box Cover

CLICK to order from:

Distribution

Code Red

Region 0 - NTSC

Runtime
1:29:42
Video

2.34:1 Original Aspect Ratio

16X9 enhanced
Average Bitrate: 7.36 mb/s
NTSC 720x480 29.97 f/s

NOTE: The Vertical axis represents the bits transferred per second. The Horizontal is the time in minutes.

Bitrate

Audio
English (Dolby Digital 2.0 mono)
Subtitles
none
Features
Release Information:
Studio: Code Red

Aspect Ratio:
Widescreen anamorphic - 2.34:1

Edition Details:
• Audio commentary by Willard Huyck and Gloria Katz, moderated by Lee Christian
• REMEMBERING MESSIAH OF EVIL documentary by Lee Christian (4:3; 21:41)
• Audio interview with actress Joy Bang (8:52)
• THE BRIDE STRIPPED BARE short film (16:9; 7:38)
• DOWN THESE MEAN STREETS short film (4:3; 13:52)
• THE STATUE trailer (16:9; 2:27)
• BRUTE CORPS TV spot (16:9; 0:33)
• CHOKE CANYON trailer (16:9; 2:01)
• NIGHT OF THE DRIBBLER trailer (4:3; 2:24)
• RITUALS trailer (16:9; 1:58)
• STUNT ROCK trailer (16:9; 2:25)
• FAMILY HONOR TV spot (16:9; 0:31)

DVD Release Date: October 27, 2009
Amaray

Chapters 18
Comments

The DVD of Messiah of Evil is compared to the Blu-ray HERE

After years of bad pan-scan videos and a compromised 1.85:1 Greek-sourced version, MESSIAH OF EVIL is finally available in its correct Techniscope (2.35:1) aspect ratio and is hellishly beautiful. Anamorphic, progressive, and dual-layer, the transfer retains natural grain and sometimes-intense colors. Seen in widescreen, the compositions are consistently interesting (particularly when live characters are posed against the mural backgrounds of the studio).

Sadly, Code Red did not include as a bonus the theatrical opening and closing sequences where are the same as here but scored with the Raun McKinnon song "Hold On To Love" (added by the producer). Audio has a little hiss but the dialogue and music is always clear. Director Willard Huyck and co-writer Gloria Katz (who collaborated on AMERICAN GRIFFITI) provide an entertaining commentary - moderated by Code Red regular Lee Christian - which conveys both their enthusiasm for the low budget project as well as their disappointment about its obscurity. The documentary features input from director Huyck, co-writer Gloria Katz, editors Morgan Fischer and Billy Weber, mural painter Joan Mocine, and cinematographer Stephan Katz. Actress Joy Bang provides a telephone interview (the audio has been cleaned up but is still poor given the source). Two short films by Huyck and Katz and the usual bunch of Code Red trailers round out the extras. A very satisfying release.
---
DVD Menus

---
Screen Captures
Future director Walter Hill
---
DVD Box Cover

CLICK to order from:

Distribution

Code Red

Region 0 - NTSC