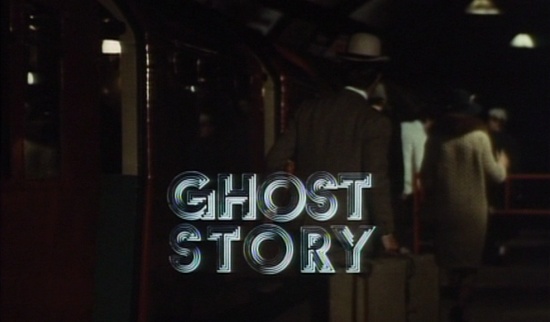 (aka "Madhouse Mansion (US video title)" or "Asylum")
directed by Stephen Weeks
United Kingdom 1974
In 1930's England, three university acquaintances - fey McFadyen (Murry Melvin), snobby Duller (Vivian Mackerrell), and awkward Talbot (Larry Dann) - head out to a long-uninhabited country estate for a weekend of shooting. Through the influence of a creepy Victorian doll, Talbot - already feeling isolated by the class-conscious cattiness of the other two men - witnesses events from the house's tragic past in which greedy Robert (Leigh Lawson of Polanski's TESS) commits his incestuously-obsessed sister Sophie (singer Marianne Faithful) to an asylum run by the unscrupulous Dr. Borden (Anthony Bate). When Sophie's former governess (Penelope Keith) tries to take Sophie away with her, she accidentally sets the inmates free and they overrun the asylum and Sophie escapes back to Robert. The past and the present begin to merge for Talbot and he is sucked into the tragedy as it nears its inevitable end and even the oblivious McFadyen and Duller may not be safe from the house's ghostly presence.

Described by Cinema Today as being like "a vintage P.G. Wodehouse story as it might have been ghosted by Edgar Allen Poe" GHOST STORY resembles not so much its Hammer, Tigon, Tyburn, and Amicus horror contemporaries so much as the shot-on-film BBC TV M.R. James "Ghost Story for Christmas" adaptation. Peter Hurst's stately cinematography creates a believable portrait of rural England in the thirties (even though the film was shot in India) and Ron Geesin's experimental score adds to the off-kilter atmosphere. Although the film's cult appeal is due to the presence of Marianne Faithful, the performances are excellent all around; specifically the lead trio (including Mackerrell who was the inspiration for the Withnail character in Bruce Robinson's WITHNAIL AND I). Deliberately paced and understated, GHOST STORY will prove rewarding to patient and attentive viewers.
Theatrical Release: 19 March 1974 (UK)
Reviews More Reviews DVD Reviews
DVD Review: Nucleus Films - Region 0 - PAL
Big thanks to Eric Cotenas for the Review!
DVD Box Cover

CLICK to order from:

Distribution

Nucleus Films

Region 0 - PAL

Runtime
1:23:21 (4% PAL speedup)
Video

1.71:1 Original Aspect Ratio

16X9 enhanced
Average Bitrate: 6.19 mb/s
PAL 720x576 25.00 f/s

NOTE: The Vertical axis represents the bits transferred per second. The Horizontal is the time in minutes.

Bitrate

Audio
English (Dolby Digital 2.0 mono)
Subtitles
none
Features
Release Information:
Studio: Nucleus Films

Aspect Ratio:
Widescreen anamorphic - 1.71:1

Edition Details:
• DISC ONE:
• Audio Commentary with director Stephen Weeks moderated by Sam Umland
• Theatrical Trailer (16:9; 4:23)
• DISC TWO:
• GHOST STORIES (16:9; 1:12:03) - retrospective documentary
• OWEN'S WAR short film (1965; 4:3; 4:44); DESERTED STATION short film (1965; 4:3; 5:27); THE CAMP
• short film (1965; 4:3; 4:22); MOODS OF A VICTORIAN CHURCH short film (1967; 2.35:1; 16:9; 9:18)
• TWO AT THURSDAY short film (1968; 4:3; 10:12); 1917 short film (1968; 2.35:1; 16:9; 32:47)
• FLESH short film (1968; 2.35:1; 16:9; 2:31)
• CHELSEA COBBLER store commercial (4:3; 0:42)
• MADHOUSE MANSION U.S. video title sequence (16:9; 1:52)
• PDF Files - Press Book and Making of GHOST STORY
• Trailers for THE UGLIEST WOMAN IN THE WORLD (16:9; 1:29); BLOODBATH AT THE HOUSE OF DEATH
• (16:9; 2:34); DEATH SHIP (16:9; 2:45); LONDON VOODOO (16:9; 2:00); VARIETEASE (4:3; 1:41), and
• TEASERAMA (4:3; 2:10)

DVD Release Date: November 9th, 2009
Amaray

Chapters 12

Comments

The anamorphic widescreen presentation utilized BBC's master for the film and looks sharper and more colorful that the US videotape (which was the only available release of the film - apart from some BBC broadcasts in the eighties during their limited licensing term - up until this DVD release.) Shot open-matte for 1.85:1 theatrical matting, the 1.72:1 aspect ratio is a good compromise (the open-matte version tape and TV broadcasts also looked well-balanced). The mono audio is loud (though free of distortion) and clear. The DVD represents Stephen Weeks' director's cut which features a different opening sequence to the one seen on the US tape (which featured an alternate opening title sequence - both versions featured the same end titles montage).

The only extras on the first disc are the informative and entertaining commentary and the film's rarely-seen theatrical trailer (the film had very limited engagements in 1974). The second disc's main extra is the 72 minute retrospective documentary GHOST STORIES featuring input from director Stephen Weeks, actors Larry Dann, Murray Melvin, and Barbara Shelley along with composer Ron Geeson and critic Kim Newman. Seven of Weeks' short films are also present on the second disc including the first Tigon production 1917 and the spooky MOODS OF A VICTORIAN CHURCH which seems like a forerunner for GHOST STORY's atmospherics. A commercial shot by Weeks for London's Chelsea Cobbler store is included along with the alternate title sequence for the US video release MADHOUSE MANSION, DVD-ROM PDF files of the press book and a making of essay by Weeks (the PDF extras were not available on the review disc but will be present on the final pressed disc), and trailers for other Nucleus Films releases round out the package. This two disc set not respectfully represents the film with its commentary and documentary, it also gives the underrated director Weeks his due (especially since the US and UK DVDs of his I, MONSTER are barebones as is MGM's horribly cropped DVD of SWORD OF THE VALIANT; neither of which Weeks was happy with due to production and post-production interference).
---
DVD Menus

---
Screen Captures
---
DVD Box Cover

CLICK to order from:

Distribution

Nucleus Films

Region 0 - PAL