Review by Gary Tooze
Production:
Theatrical: Renn Productions
Video: BFI
Disc:
Region: 'B' (as verified by the Momitsu region FREE Blu-ray player)
Runtime: 2:51:17.142
Disc Size: 45,189,584,408 bytes
Feature Size: 44,325,525,504 bytes
Video Bitrate: 29.92 Mbps
Chapters: 9
Case: Standard Blu-ray case
Release date: March 18th, 2012
Video:
Aspect ratio: 2.40:1
Resolution: 1080p / 23.976 fps
Video codec: MPEG-4 AVC Video
Audio:
LPCM Audio English 2304 kbps 2.0 / 48 kHz / 2304 kbps / 24-bit
Dolby Digital Audio English 640 kbps 5.1 / 48 kHz / 640 kbps
Subtitles:
English (SDH), English, none
Extras:
On the Blu-ray:
• Costume Designs (2013, 2 mins): Anthony Powell's award-winning designs

•
Trailer (1:48)
On the DVD:
• Tess: From Novel to Screen (Laurent Bouzereau, 2004, 29 mins, DVD only): Polanski on the adaptation of Hardy's classic novel, with contributions from Hardy scholars and cast and crew
• Filming Tess (Laurent Bouzereau, 2004, 26 mins, DVD only): cast and crew discuss the technical challenges they faced
• Tess: The Experience (Laurent Bouzereau, 2004, 20 mins, DVD only): those who worked on • Tess discuss their experiences

• Fully illustrated booklet with essays and credits
Bitrate:
Description: Roman Polanski's (Chinatown, The Pianist) critically acclaimed adaptation of Thomas Hardy's novel stars Nastassia Kinski as the ill-fated peasant girl whose beauty is both her fortune and her undoing. Exquisitely photographed and brilliantly acted, Tess explores the painful cruelty of love to create a modern masterpiece.
The Film:
In Roman Polanski's adaptation of Thomas Hardy's Tess of the D'Urbervilles, Nastassja Kinski plays Tess, a poor British peasant girl sent to live with her distant and wealthy relatives, the D'Urbervilles. Though Tess' father had hoped that the girl would be permitted a portion of the D'Urberville riches, he is in for a major disappointment: Tess' new housemates are not D'Urbervilles at all, but a social-climbing family that has bought the name. Tess won three Oscars, including a "Best Cinematography" statuette for the late Geoffrey Unsworth and his successor Ghislain Cloquet. The film also served to catapult Nastassja Kinski to stardom.
Excerpt from MRQE located HERE
Roman Polanski's "Tess" is a love song with a tragic ending -- the best kind of love song of all, just so long as it's not about ourselves. He tells the story of a beautiful young girl, innocent but not without intelligence, and the way she is gradually destroyed by the exercise of the male ego. The story is all the more touching because it is not an unrelenting descent into gloom, as it might have been in other hands, but a life lived in occasional sight of love and happiness. Tess is forever just on the brink of getting the peace she deserves.
Excerpt from Roger Ebert at the Chicago Sun-Times located HERE

Image : NOTE: The below Blu-ray captures were taken directly from the Blu-ray disc.
Tess gets a 'new 4K digital restoration' Blu-ray from the BFI in the UK. The 3-hour film is solidly in dual-layered territory and has a strong bitrate. The image quality seems to match the earthy theatrical appearance. There are strong golden hues in the farmer's fields. The 1080P supports the painterly Victorian visuals in the 2.4:1 frame. Ghislain Cloquet's cinematography maintains the formal feel of Geoffrey Unsworth's camera work. The film is never pristinely sharp but exports its film-like thickness. Depth is not readily apparent which may be a function of the style and period 'look'. Much of Tess is shot outdoors where the skies are frequently grey but indoor lit scenes showcase some deft black levels where contrast is more impressive. This Blu-ray does its job quite well providing a strong replication of the original appearance.
CLICK EACH BLU-RAY CAPTURE TO SEE ALL IMAGES IN FULL 1920X1080 RESOLUTION
Audio :
We get the choice of a pure lossless linear PCM 2.0 channel track at 2304 kbps or a Dolby Digital 5.1 surround. The latter had a few notable separations - although nothing as crisp as an uncompressed could have produced. I preferred the stereo which produced some seething depth and improved high-end. Tess has original music by Philippe Sarde (
Alice and Martin
,
Quest For Fire
). He is a thoughtful composer and the restrained score benefits the film experience. There are optional English subtitles and my
Momitsu
has identified it as being a region 'B'-locked.

Extras :
The Blu-ray disc only has a new 2-minute piece on Anthony Powell's award-winning costume designs and a trailer. But being Dual-Format we also get a DVD which has more extras. Tess: From Novel to Screen is from 2004 and has 30-minutes with Laurent Bouzereau discussing Polanski on the adaptation of Hardy's classic novel, with contributions from Hardy scholars and cast and crew. Filming Tess has Bouzereau again with the cast and crew discuss the technical challenges they faced and the third piece is Tess: The Experience with those who worked on Tess discussing their experiences. The package includes a fully illustrated booklet with essays and credits.
| | |
| --- | --- |
| | |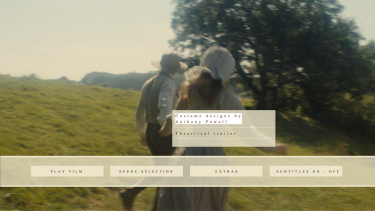 BOTTOM LINE:
Even at 3-hours Polanski's Tess misses a lot of the classic novel. But as far as adaptations go - this seems the best I have seen so far. The important attributes are included and the entire film has a gracious Victorian presence while still melding with the director's style. Nastassja Kinski is wonderful and the BFI Blu-ray gave me an engrossing and consistent presentation. Recommended!
Gary Tooze
February 26th, 2012