Review by Leonard Norwitz
Studio:
Theatrical: Working Title & Big Talk Productions
Blu-ray: Universal Studios Home Entertainment
Disc:
Region: FREE! (as verified by the Momitsu region FREE Blu-ray player)
Runtime: 100 min
Chapters: 37
Size: 50 GB
Case: Standard Blu-ray Case
Release date: September 22nd, 2009
Video:
Aspect ratio: 2.35:1
Resolution: 1080p
Video codec: AVC @ 34 Mbps
Audio:
English DTS HD Master Audio 5.1; DUB: Spanish & French DTS 5.1
Subtitles:
English SDH, French & Spanish
Extras:
• Audio Commentary with Actor & Co-Writer Simon Pegg & Director & Co-Writer Edgar Wright
• Audio Commentary with Actors Simon Pegg, Nick Frost, Dylan Moran, Kate Ashfield & Lucy Davis
• Audio Commentary with Bill Nighy & Penelope Wilson
• Audio Commentary with The Zombies
• Missing Bits: Extended Scenes (13:28), Outtakes (10:47), The Man Who Would Be Shaun (0:35), Funky Pete (2:04) & Plot Holes (3:27)
• Raw Meat: Video Diaries, et al (11:50)
• TV Bits (4:21)
• Zombie Gallery
• Storyboard Gallery
• Trailers
• U-Control: Zomb-O-Meter
• U-Control: Storyboards
• BD-Live 2.0
The Film: 8
You'd a thought there wasn't much more that be said for the zombie genre. I mean, what are these films but a bunch of humanoids with a serious case of psychomotor retardation dragging themselves about until they find the living who are too panicked or accidentally cornered to find high ground. The Romero films center themselves on a small group of individuals who with and/or against one another while slugging it out with the dead. That's about it.

Imagine my surprise, then, when I found myself thoroughly enjoying and admiring this movie from one end to the other. Did others, I wondered? Sure enough, the critical press was similarly gobsmacked, at least about the first hour or so of the film. Anthony Lane, writing in the New Yorker in September, 2004, had this to say:

There is one scene in "Shaun of the Dead" that tells you more, in a couple of minutes, than any movie I have seen this year. It is a Sunday morning on a quiet London street, and Shaun (Simon Pegg) leaves his house, walks to the corner shop, buys a Diet Coke and an ice cream, and goes back home. That's it. A few details snag your attention: a smashed windshield, the yelp of a car alarm, torn sacks of trash, and a guy who shambles toward Shaun and stretches out his arms, but, still, nothing out of the ordinary. What Shaun doesn't yet realize is that the dead have returned to life and are stalking the streets, that civil society has crumbled, and that the man reaching for him is not begging but trying to gorge on human flesh. "No, I haven't got any change," Shaun says, brushing him aside, and that's the comic miracle of the sequence, which was shot in a single take. Go down most London streets any day and there will indeed be spilled garbage and a hole in a car window, with the occasional drunk or junkie, routing for help or cash. If Shaun fails to notice that England is swarming with zombies, it's because England is like that all the time. – Anthony Lane

There's a character in this story, Ed (Nick Frost), who has been Shaun's best friend since God knows when. Ed, like Seth Rogan in Knocked Up, is stuck in front of the tele, drinking beer, farting and playing video games. Shaun's other friends urge him to get on with his life or else . . . I suppose the "or else" is that he would become a zombie of sorts, just as Ed is already. Shaun's girlfriend of three years, Liz (Kate Ashfield), has given him an ultimatum. Shaun is unresponsive. It's just too much work. Ed is the complete self-involved, irresponsible male and worse – in the face of the zombies, his behavior can even be life threatening- but Shaun can't help keeping him on.

I was reminded of two very different movies, but quite similar relationships: Fred Asatire and Victor Moore in Swing Time and Jeff Bridges and John Goodman in The Big Lebowski. Exasperation-under-siege doesn't quite describe the breadth of it. But it was not until Nick and Simon, especially Nick, put their unique handle on their characters that I was able to respond sympathetically as well as with understanding. A remarkable achievement for any film, let alone a zombie movie. And this is not the only relationship in the film that gets fleshed out compassionately. Shaun has a habit of always speaking dismissively about his stepfather of some 16 years as "He's not my dad. He's my step-dad." There is a touching, yet ambiguous scene where Philip (Bill Nighy) tells Shaun about how he tried to be a father. It could have been maudlin or just silly, but instead it serves to add to both the emotional confusion and terror of the moment. I should mention that the entire supporting cast, zombies, included, are ab fab.
Excerpt of review from The New Yorker located HERE
Image: 9/9 NOTE: The below Blu-ray captures were taken directly from the Blu-ray disc.
The first number indicates a relative level of excellence compared to other Blu-ray video discs on a ten-point scale. The second number places this image along the full range of DVD and Blu-ray discs.

Curiously, Universal's Blu-ray image is somewhat pictureboxed (their Blu-ray for Hot Fuzz is not); the aspect ratio of the image itself is 1:2.29, not 1:2.35 as indicated on the box. Most irregular (and therefore I took a point off the score.) Shaun of the Dead is a sometimes glossy presentation, but still manages to look more filmic than digital, which is a good thing, since it was shot on film. Pretty much most, if not all of the zombie effects are prosthetic, rather than CG, so there's not so much a need for post processing. There's a fine grain that persists. Flesh tones are correct. Textures lack refinement. Things get a trifle dicey in the darkest scenes at the pub, where a certain amount of black crush is perhaps inevitable, but even when the shadows are upon us, but noise is kept at bay. Bit rates are high, hovering around 34.
CLICK EACH BLU-RAY CAPTURE TO SEE ALL IMAGES IN FULL 1920X1080 RESOLUTION
Audio & Music: 9/8
The high score for the audio mix should not be understood as a whacking good time, but instead a masterful soundscape, rich with detail, texture, music, effects. Turning off the video and attending only to the audio heightened my appreciation of this subtle pastiche. Much of the time, I was unable to tell what the ingredients were, with it sudden whooshes of bass – bass that had tone and texture, not just whomp and thud. And just when things quiet down we are aware of distant police and ambulance sirens, or the tele in the next room, almost inaudibly, we wonder if they were there all the time. Dialogue, always clear - though being in a foreign language, subtitles can come in handy – corresponds to the location of the actors: outdoors, in a car, a pub, an apartment, a cellar. The music, mostly by artists I've never heard of, is always on the mark – and Shaun of the Dead might just have the best opening title sequence of any movie of its kind – musically and visually. Love that Zombie Drag.

Operations: 7
The menu is laid out like other Universal Blu-rays. Arrows tell you which way to direct your remote, and the bonus feature instructions are detailed and intuitive. The chapter menu includes buttons for U-Control in case you want to approach those functions from that point.
Extras: 9
For those of us who need – or appreciate – the need for translation in depth, Universal offers four audio commentaries, sensibly grouped and, in one case, rather unexpected. And it is about that one that I want to offer a few thoughts: I'm sure my age has something to do with it, but I found that once I turned to the commentary of Penelope Wilson & Bill Nighy, who play Shaun's mother and stepfather, just to see how long were the gaps in their commentary, and stuck around for the duration. It was only well into the movie that brief gaps did appear, but for the most part these two provided a perspective unlike any I've encountered on similar tracks. I thought it brave of Universal to include it at all. Bill & Penelope are relatively quiet, as expected, and they offer comments unabashedly from the perspective of their age, as expected, but there is also a spontaneity that makes their appreciative remarks about all manner of details in the film that much more credible than the usual remarks by directors and producers on audio tracks elsewhere. I liked how they brought this or that detail to one another's attention, how they offered speedy comment over the credits, and how they ejaculated with genuine surprise – even disgust – at various nasty bits. Bill says about Simon and Edgar at one point: "These guys are so sick, that if they weren't making movies they couldn't hold jobs."

The other extra features, though titled in cleverly distracting ways, are familiar in intention but in the hands of Simon & Edgar, everything has a peculiarly English sense of humor. My favorite is the segment titled "Plot Holes" where various actors in character anticipate critical response to a few plot discontinuities. They relate how it all works out for the scene in question. Of course, the explanation is even more ludicrous than the plot hole they try to repair.

The U-Control: Zomb-O-Meter doesn't, as you might guess, measure the relative scare of zombies, but operates pop-ups with all manner of production details. All of the extra features are in 480i/p, and look fair to good.
| | |
| --- | --- |
| | |
| | |
| --- | --- |
| | |
| | |
| --- | --- |
| | |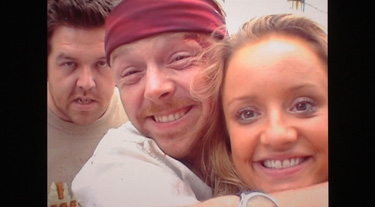 Bottom line: 10
Shaun of the Dead, in my opinion, is the best zombie movie by some way. It's smarter, has some of the best music, prosthetics, and has a brilliant final twenty seconds. Add to this an excellent image and outstanding sound mix, several commentaries and an assortment of entertaining bonus features, and Shaun of the Dead gets Thumbs Way Up.
Leonard Norwitz
September 7th, 2009
January 2010