Review by Leonard Norwitz
Studio:
Theatrical: Universal Pictures & Relativity Media
Blu-ray: Universal Studios Home Entertainment
Disc:
Region: ALL (as verified by the Momitsu region FREE Blu-ray player)
Runtime: 2:05:08.709
Disc Size: 24,148,767,640 bytes
Feature Size: 23,524,380,672 bytes
Average Bitrate: 17.82 Mbps
Chapters: 20
Case: Standard Blu-ray Case
Release date: August 25th, 2009
Video:
Aspect ratio: 2.40:1
Resolution: 1080p
Video codec: VC-1
Bitrate:
Audio:
DTS-HD Master Audio English 3863 kbps 5.1 / 48 kHz / 3863 kbps / 24-bit (DTS Core: 5.1 / 48 kHz / 1536 kbps / 24-bit)
DTS Audio French 768 kbps 5.1 / 48 kHz / 768 kbps / 24-bit
DTS Audio Spanish 768 kbps 5.1 / 48 kHz / 768 kbps / 24-bit
Dolby Digital Audio English 192 kbps 2.0 / 48 kHz / 192 kbps / Dolby Surround
Subtitles:
English SDH, Spanish, French, none
Extras:
• Audio Commentary by Writer/Director Tony Gilroy & Editor/Co-Producer John Gilroy
• BD-Live 2.0
The Film: 6
Seeing Tony Gilroy's name as writer should be reassuring, his having given us the three Bourne movies and Michael Clayton. We should also credit the filmmakers for a spy movie without guns, car chases or explosions – unless we count explosions of temper and passion – of which Duplicity has many. Until the end, when, like Ben and Elaine at the back of the bus, all is spent. Meanwhile, this romantic, comedic thriller spins itself into quite the little cobweb of suspicion, plotting and thievery.

Ray Koval (Clive Owen) and Claire Stenwick (Julia Roberts) are professional spies who meet in Dubai several years before the main action of the story. Unbeknownst to him, Ray is Claire's assignment, and she lifts the requisite documents after bedding and drugging the poor sap. They meet again a couple years later when their passion for each other takes hold and realize they aren't ever going to meet someone else who has the understanding of their peculiar temperament – viz., paranoid. They decide they need to stop meeting like this and settle down to a life of fine living. To do this they need to set up a multi-million dollar score.

Enter: Howard Tully (Tom Wilkinson) and Richard Garsik (Paul Giamatti). To describe them as rivals of their respective consumer products companies is the gross understatement of the year. Armand d'Hubert and Gabriel Féraud have nothing on them. How Ray and Claire set up these two companies while each looking over their shoulder to see if the other is pulling a fast one is most of the substance of this movie, told with much time-shifting of events, as if to throw our attention off guard – not that we actually know what we're looking for. And that's either the beauty or the irritant of Duplicity for many critics. Add to this that Claire is nearly always positioned as one-up on her boyfriend, a deliberately unbalanced state of affairs that leads us to believe – well, you know. Being the smart asses that writers are these days we must also entertain the possibility that this imbalance is just another ruse. And so it goes.
Image: 8/9 NOTE: The below Blu-ray captures were ripped directly from the Blu-ray disc.
The first number indicates a relative level of excellence compared to other Blu-ray video discs on a ten-point scale. The second number places this image along the full range of DVD and Blu-ray discs.

Universal's VC-1 image is quite strong, but given the relative absence of extra features, is satisfied with a single-layered disc. Shot on HD video, the image is sharp, artifact-free, with saturated color and somewhat pumped up contrast, slightly crushing the blacks.
CLICK EACH BLU-RAY CAPTURE TO SEE ALL IMAGES IN FULL 1920X1080 RESOLUTION
Audio & Music: 6/9
Whatever misgivings I have about the audio mix, James Newton Howard's rollicking music score and its presentation is one of the high points of this Blu-ray. However, while the great majority of the audio track is clear, dynamic and involving, with dialogue always crisp and clear, there is at least scene when the ambiance is dead wrong. When Ray spies Claire in Rome he's sitting in a small plaza (in front of the Pantheon I believe). The crowd noise is horrific, like Manhattan during holiday shopping. This is not Rome, at least not at the plaza where Ray is enjoying a relaxing cup of java. Worse yet, when he follows her through the byways and alleys, the crowd noise follows them like locusts. It astonishes me that such an obvious slip could have gotten past Mr and Mr Gilroy, but so it did. Even so, this mistake could have been moderated for the Blu-ray, where the home theatre audience is more likely to notice such things.

Operations: 7
The menu is laid out like other Universal Blu-rays. Arrows tell you which way to direct your remote. No U-Control on this one; the audio commentary can be accessed from the menu or the remote.

Extras: 4
The Extra Features are limited to the audio commentary brought to us in entertaining and informative fashion by the Gilroys: Tony & John (Tony's younger brother, who also did the editing honors for Tony's only other directed film to date, Michael Clayton.) Tony dominates, as we would expect. They explore how the movie came to be, having started as a project years ago intended for Spielberg. Its later gestation, by way of George Clooney and Clive Owen, is a smile. The usual attention is paid to casting, locations, editing and scripting. There are also some additional features accessible via BD-Live 2.0 that I did not explore.

| | |
| --- | --- |
| | |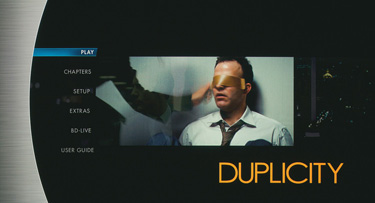 Bottom line: 6
Duplicity is one of those "things are not as they seem" plots that has the advantage of a very funny script (Ray to Claire, declaring how much he loves her: "I think about you all the time. I think about you even when you're with me") that serves to divert our attention while the pea is being shuffled from one pod to the other. If you like this movie you will no doubt want to watch it a second time to find out how you were duped. More important, you will want to find out if the characters are playing their parts for the sake of the plot or to fool you. The image is very nice, the audio a mixed bag, though the music score is awesome. Tony & John have fun with the commentary.