Review by Leonard Norwitz
Studio:
Theatrical: 20th Century Fox
Blu-ray: 20th Century Fox Home Entertainment
Disc:
Region: A
Runtime: 1:43:41.506
Disc Size: 33,025,288,601 bytes
Feature Size: 32,157,284,352 bytes
Total Bitrate: 41.34 Mbps
Chapters: 33
Case: Standard Blu-ray case
Release date: February 24th, 2009
Bitrate: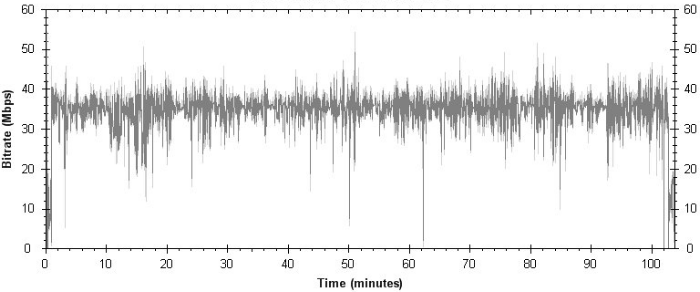 Video:
Aspect ratio: 1.85:1
Resolution: 1080p
Video codec: MPEG-4 AVC
Audio:
DTS-HD Master Audio English 2199 kbps 5.1 / 48 kHz / 2199 kbps / 24-bit
(DTS Core: 5.1 / 48 kHz / 1509 kbps / 24-bit)
Dolby Digital Audio English 448 kbps 5.1 / 48 kHz / 448 kbps
DUBs: Dolby Digital Audio French 448 kbps 5.1 / 48 kHz / 448 kbps
Dolby Digital Audio Spanish 448 kbps 5.1 / 48 kHz / 448 kbps
Commentaries: Dolby Digital Audio English 224 kbps 2.0 / 48 kHz / 224 kbps
Dolby Digital Audio English 224 kbps 2.0 / 48 kHz / 224 kbps
Dolby Digital Audio English 224 kbps 2.0 / 48 kHz / 224 kbps
Dolby Digital Audio English 224 kbps 2.0 / 48 kHz / 224 kbps / Dolby Surround
Subtitles:
English, Chinese (traditional), French, Spanish, none
Extras:
• Disc 1: William Friedkin Introduction to The French Connection in HD (1:16)
• Commentary by William Friedkin
• Commentary by Gene Hackman and Roy Scheider
• Trivia Track
• Isolated 5.1 Score Track
• Disc 2: BBC Documentary: The Poughkeepsie Shuffle (53:38)
• Making the Connection: The Untold Stories of The French Connection (56:33)
• Featurette: Anatomy of a Chase in HD (20:20)
• Featurette: Gene Hackman on Popeye Doyle in HD (10:49)
• Featurette: Friedkin and Grosso Remember the Real French Connection in HD (19:12)
• Featurette: Scene of the Crime in HD (5:14)
• Featurette: Color Timing The French Connection in HD (13:15)
• Featurette: Cop Jazz-The Music of Don Ellis in HD (10:04)
• Featurette: Rogue Cop-The Noir Connection in HD (13:47)
• William Friedkin Discusses 7 Deleted Scenes (11:37)
The Film: 9
Considering how long William Friedkin has been around, he has directed surprisingly few projects, but he will always be remembered for two movies: The French Connection from 1971, and The Exorcist from 1973. The French Connection won Oscars for Best Picture, Acting, Direction, Writing and Editing. It gave the cop procedural movie an incredible shot in the arm. While no movie quite like it has fared as well with the Academy - before or since - its noirish style gave rise to a host of thrillers, great and small – not least, Chinatown (1974).

Friedkin's movie is a fictionalized account of New York City's largest drug bust. But at the same time it is about blurring the line between good guys and bad guys (now default in your typical crime thriller) and the gritty, yet often boring pursuit of narcotics crime. Gene Hackman is the relentlessly obsessive Jimmy Doyle, certain of his hunches as he is unmindful of the line that separates cop from criminal. He bears down on international drug smuggler Charnier (Fernando Rey) in one of cinema's most dizzying chase sequences, then follows this failure with a quite literally scene-chewing chase under the "L".

The French Connection is unusual in that it is self-consciously not a melodrama: there is no romantic subplot, no family life, no heroic actors or actions. It is spare, cold, and generally unpleasant. It is also masterful.
Image: 5/7 NOTE: The below Blu-ray captures were ripped directly from the Blu-ray disc.
The first number indicates a relative level of excellence compared to other Blu-ray video discs on a ten-point scale. The second number places this image along the full range of DVD and Blu-ray discs.

As we learn in the bonus feature on color timing, Friedkin wanted a new look for his film for this Blu-ray release. He doesn't go so far as to say that this the look he always wanted but never was able to achieve (pace: Mr. Lucas), but rather it is both possible and works better on video. Think of it as something like the color we see on Fox's Five Star DVD, then desaturate it some and make it cooler, and you have some idea of how this new video looks. Pretty much gone is the noise inherent in the dark scenes like the club Doyle and Russo visit in the beginning of the movie, but don't expect all that grain to magically disappear – which is a good thing, considering it was intentional to start with. Of course, the usual benefits of Blu-ray – dimensionality and resolution still pertain. But keep in mind this was never a high-resolution film to begin with. Friedkin insists this is better than his movie has ever looked, and once you accept its alternating film stocks, tight and heavy film grain, high and moderate contrast as all being in keeping its faux-documentary look, you'll be just fine.
CLICK EACH BLU-RAY CAPTURE TO SEE ALL IMAGES IN FULL 1920X1080 RESOLUTION
Audio & Music: 4/9
Fox offers three audio tracks in English as well as a French dub in 5.1. To my ear, none of these are very satisfying, perhaps least of all: the DTS-MA 5.1. True, the new mix does create (perhaps a better word is "invent") a huge soundstage for just about everything from Doyle & Russo's capture and interrogation of the perp at the beginning of the movie that sounds more like an indoor stadium than a vacant lot, to the club scene where the singers completely overwhelm the venue, to the car chase under the elevated train where the squeals of the train wheels outscream Doyle's repeated car crashes, to the final shoot out where the handgun fire is nearly indistinguishable from some of the rifle fire. None of this strikes me as remotely realistic, to say nothing of how they distort the "feel" of the movie. Dialogue is so "enhanced" it loses focus. The best solution would have been uncompressed mono – the mono being the choice I ended up feeling least unhappy about.
Operations: 8
Just about perfect, if uninteresting.
Extras: 9
In addition to the two audio commentaries, two big documentaries (still in SD) and deleted scenes found on the 2-disc DVD editions, Fox has added seven new featurettes – all in HD for Blu-ray disc #2. Not content with this, there is a now a Trivia Track on disc #1, (which is not so much random factoids as a running commentary in its own right), an Isolated Film Score option (in 5.1 audio) and, for those with the ability to bring it to life: D-Box Motion Control. Still not finished, there is a newly recorded intro by the 73-year old Friedkin to the movie (on disc 1); and on disc 2, his comments about the deleted scenes and, most important, his guiding presence for a considerable amount of the bonus material.

The so-called Isolated Film Score is not what we ordinarily think of as such: that is, it is not the score isolated from the rest of the audio mix, but a different scoring altogether much of the time – sometimes where there is no score at all on the soundtrack – Quelle strange!
NOTE: Email from Neil Bulk:
"There's nothing strange about it. Mike Matessino and I worked on this track for the Blu-ray and we had access to the original paperwork for the film. What the isolated track does is present the score as composer Don Ellis intended. In the film much of his music was edited, used in different places or just not used at all. Instead of replicating all of the edits and leaving music off of the track (to match the film), it was decided that presenting all of the music composed by Don Ellis would make for a more pleasurable listening experience and would add another dimension into the making of this film. The isolated score track helps the viewer understand the scoring process and in this case we can compare what the composer planned for the film and how it was ultimately used in the movie.

I hope I was able to clear up any questions you and your readers had about this track. We're very proud with how it turned out, since I can remember sitting with two remote controls and the CD in one player and the DVD in another player, trying to get the Ellis score to sync to the picture. Thanks to Fox Home Video and producer Nick Redman, now everyone can experience this!" (Thanks Neil!)


The new content, recorded in excellent high def, is, for the most part, hosted by Friedkin himself. Perhaps of most interest to DVDBeavers is the superb primer on color timing (ever wonder what that was, exactly?) with Friedkin and color timing expert Bryan McMahan. In "The Anatomy of a Chase" Friedkin returns to the scene of the crime to tell us a little about how it was done. A ten-minute segment, hosted by John Burlingame, about Don Ellis and how he and Friedkin sorted out the score for the movie is worthwhile, as is the piece, guided by film historians Alain Silver and James Ursini, about how The French Connection fits in with the noir genre. Excerpts from such classics as I Wake Up Screaming and Where the Sidewalk Ends are shown in stunning quality.
| | |
| --- | --- |
| | |
| | |
| | |
| | |
Bottom line: 9
Once we get past the misguided idea that The French Connection is ever going to look like L.A. Confidential we can accept that this is as good as this movie is going to look for some while to come. And even though the audio is at best problematic, I doubt that this area of the reproduction will be revisited anytime soon. The new extra features and the two previously engaged hour-long documentaries make this an important must own.
Leonard Norwitz
February 17th, 2009