Review by Leonard Norwitz
Studio:
Theatrical: 20th Century Fox
Blu-ray: 20th Century Fox Home Entertainment
Disc:
Region: A
Runtime: 1:59:18.151
Disc Size: 36,854,392,609 bytes
Feature Size: 29,680,730,112 bytes
Total Bitrate: 33.17 Mbps
Chapters: 33
Case: Standard Blu-ray case
Release date: February 24th, 2009
Bitrate: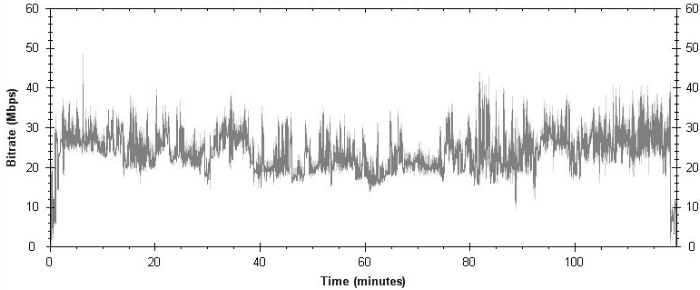 Video:
Aspect ratio: 1.85:1
Resolution: 1080p
Video codec: MPEG-4 AVC
Audio:
DTS-HD Master Audio English 3324 kbps 5.1 / 48 kHz / 3324 kbps / 24-bit
(DTS Core: 5.1 / 48 kHz / 1509 kbps / 24-bit)
DTS-HD Master Audio English 2829 kbps 5.1 / 48 kHz / 2829 kbps / 24-bit
(DTS Core: 5.1 / 48 kHz / 1509 kbps / 24-bit)
Dolby Digital Audio English 224 kbps 2.0 / 48 kHz / 224 kbps
Dolby Digital Audio English 224 kbps 2.0 / 48 kHz / 224 kbps
Dolby Digital Audio English 224 kbps 2.0 / 48 kHz / 224 kbps
Dolby Digital Audio French 224 kbps 2.0 / 48 kHz / 224 kbps
Dolby Digital Audio Spanish 224 kbps 2.0 / 48 kHz / 224 kbps
Subtitles:
English, Chinese (traditional + simplified), French, Spanish, none
Extras:
• Commentary by Actor Gene Hackman & Producer Robert Rosen
• Commentary by Director John Frankenheimer
• Featurette: Frankenheimer in Focus in HD (25:13)
• Featurette: A Conversation with Gene Hackman in HD (7:06)
• Wardrobe & Storyboard Stills Gallery in HD
• Isolated 5.1 Score Track
• D-Box Motion Control
The Film: 6
In his commentary for the video, director John Frankenheimer gives an indication of what turned out to be this sequel's difficulty: a script. The original movie had something of a perfect ending, and cried out for no footnotes beyond those provided before the credits (and even those footnotes might have been done without), so why a sequel. Well, the idea is that Doyle is sent to Marseille to continue his chase of the international drug smuggler Charnier (Fernando Rey), who, you will remember, was based there. On arrival Doyle wastes no opportunity to insult his host and the French in general. He doesn't speak the language (no surprise) and makes no effort to learn so much as a simple phrase or two just to navigate his way about. Not that he sees it that way, but his helplessness only seems to enrage him all the more. The idea of Doyle being dependent on another human being is not exactly in his repertoire.

The movie has an engaging second act, brimming with the sort of irony that filmmakers enjoy: Doyle (Gene Hackman) is captured by the people he is looking for and, over a period of weeks, is injected with enough heroin to get him seriously hooked. (Couldn't have happened to a nicer guy, eh.) Except for our knowledge of Doyle's misadventure with Charnier in New York, there is little in the sequel's first act that sets this up. His unwillingness to be dependent on anyone is spelled out too broadly to make a connection. Ditto this re the last act. His force-feeding and addiction just sort of sits there – a tough look at his predicament, yes, but it has no narrative significance for that which comes before or after. Worse yet is that almost everything that happens vis-a-vis Doyle and the French police in the first 30 minutes feels forced and pretty much not credible.

Perhaps the biggest mistake is moving the action from New York to Marseilles. The locales are interesting, but the fish-out-of-water scenario doesn't have sufficient substance to support a development of the character, which seems to be the intention. It confuses us to envision Doyle, even in such hands as Hackman's, as foil for such pseudo-comic gestures. Bernard Fresson is savvy and uncomfortable by turns as the French narcotics cop who has to tend with Hackman's rudeness on the one hand and his actual work as a policeman on the other. And it was nice to see Cathleen Nesbitt (then 87 years old!) playing a dope addict trying to cozy up to Hackman in his stupor. I hadn't seen her in movies since her Grandmother Janou in the 1957 An Affair to Remember. What a treat.
Image: 7/8 NOTE: The below Blu-ray captures were ripped directly from the Blu-ray disc.
The first number indicates a relative level of excellence compared to other Blu-ray video discs on a ten-point scale. The second number places this image along the full range of DVD and Blu-ray discs.

Frankenheimer retained some of Friedkin's visual style (the use of zoom lensing, hand held photography and some of the editing moves) but the look of the film is quite different. Once we're past the opening shot of the Marseilles harbor, which is quite dreadful, gone is that grainy, contrasty documentary appearance, and in its place: a much more routine film. Color is more full blooded, film stocks more consistent. Blacks are very good here: noiseless and solid. Image quality is probably close to the theatrical experience. It's never exquisitely resolved, but it's far from soft, typical of 1970s movies – if anything, better than most.
CLICK EACH BLU-RAY CAPTURE TO SEE ALL IMAGES IN FULL 1920X1080 RESOLUTION
Audio & Music: 6/8
My complaints about the audio for the first movie are similar, but not the same extent, perhaps because there aren't as many set pieces that invite fooling around with the soundstage or surrounding directional cues. Even so, I found the DTS-MA mix to be too unfocused for good dialogue rendering. As I did for the first movie, I prefer the mono, and would have enjoyed an uncompressed version of same even more.

Don Ellis returns to score the sequel, which is not nearly as radical as his work for the first Connection. Not wanting to repeat himself, he invents a pretty good, if occasional score – with fragments of recognizable French tunes from time to time - for what is, after all,
a different movie in a very different, with different agenda.
Operations: 7
Same menu design as for the Blu-ray of The French Connection. One thing that puzzled me was the absence of English subtitles for the scenes where Doyle is not present, of which there was quite a bit.
Extras: 6
The Hackman/Rosen commentary was recorded in 2002, I assume for the DVD, which was not available to me for review. Once it gets under way, Hackman adds very little except for the occasional reminiscence. The two commentaries offer different perspectives on the filmmaking process, especially in respect to how this movie came into being out of the legacy of Friedkin's movie. The important new feature is "Frankenheimer in Focus" – a warm and reverential retrospective on this extraordinary director's career by those people – actors, crew, friends and family – that worked with him. There are frequent cuts to an old style television console with Frankenheimer speaking profile that are a bit peculiar. As for the Isolated Film Score on this Blu-ray (as opposed to the IFS for the original movie) the operant word here is "isolated." We are talking few and far between here. Like the feature for the first movie, the IFS was not necessarily included on the final movie track, very likely what was presented to Friedkin before editing into the movie.
| | |
| --- | --- |
| | |
| | |
| | |
| | |
Bottom line: 5
It puzzles me a little that Fox would price the single-disc sequel the same as the two-disc original, especially given its relative lack of bonus features. The sequel is neither necessary – the first movie having ended matters just where they should be – nor a very good movie on its own terms. The Blu-ray image is good, but won't win any awards. The audio less problematic than the first movie. The new Frankenheimer featurette is worthwhile but that aside there's not a whole lot to recommend the purchase.
Leonard Norwitz
February 18th, 2009