Review by Leonard Norwitz
Studio:
Theatrical: Universal Pictures, Relativity Media & Davis Entertainment
Video:
Universal Studios Home Entertainment
Disc:
Region: FREE
Runtime: 1:51:22
Disc Size: 43,577,916,472 bytes
Feature Size: 36,214,241,280 bytes
Average Bitrate: 37.23 Mbps
Chapters: 20
Case: Standard Blu-ray case
Release date: January 20th, 2009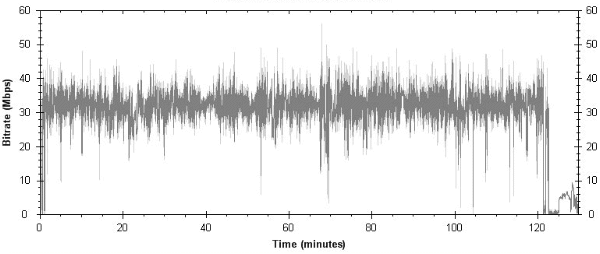 Video:
Aspect ratio: 2.40:1
Resolution: 1080p
Video codec: VC-1 Video
Audio:
D
TS-HD Master Audio English 4037 kbps 5.1 / 48 kHz / 4037 kbps / 24-bit (DTS Core: 5.1 / 48 kHz / 1536 kbps / 24-bit)
DTS Audio Spanish 768 kbps 5.1 / 48 kHz / 768 kbps / 24-bit
Dolby Digital Audio French 192 kbps 2.0 / 48 kHz / 192 kbps / Dolby Surround
Subtitles:
English SDH, French, Spanish, none
Extras:
• Making of The Express (13:57)
• Making History: The Story of Ernie Davis (13:18)
• Inside the Playbook: Shooting the Game (7:00)
• From Hollywood to Syracuse: The Legacy of Ernie Davis (5:17)

Additional Extras (SD)
• Feature Commentary by Director Gary Fleder
• 3 Deleted Scenes w/ Optional Commentary by Gary Fleder (7:37)

Exclusive to Blu-ray:
• 50th Anniversary of the 1959 Syracuse National Championship (16:23) in SD
• BD-Live 2.0
Description: The true story of Ernie Davis, two-time All-American running back for Syracuse University who led his team to the national championship in 1960. In 1961, he became the first black man to win the Heisman Trophy.
Comment:
Though the title clearly states "The Ernie Davis Story," in director Gary Fleder's hands, this really is the Ernie Davis story. I'm not saying that it's especially close to the facts, but that when Ernie takes the field, or when his coach is working out plays and strategies, there doesn't seem to be anyone else of consequence in the game. I understand the impulse, but it sure goes some way to undermine the concept of teamwork. The coach gives rousing speeches to the team about the game and their place in history, but once we get into a game, the camera and script forgets that the game is a team effort.

That said, The Express is not just a football story, it's front and center about racism in the early years of the American civil rights movement. It's a story of how young Ernie, his college coach, his school and his mostly white teammates dealt with it and moved beyond it. Stereotypes are less in evidence than we might expect. On the other hand, if the behavior of the fans and opposing teams that Fleder shows us is even half true, then things must have been pretty scary. Jackie Robinson had already cracked professional baseball ten years earlier (though major league baseball didn't play in the South back then), but college athletics were a pretty sorry state in regards integration. The image of a continuous volley of cans and bottles thrown from the stands as Ernie and his team enter the field in West Virginia is likely to stick with you for a long time to come.

Fleder acquits himself well in his development of the relationship between Ernie (played by Rob Brown, whom you may remember as the basketball player from Finding Forrester nearly ten years ago. Brown was only 16 then) and his coach (Dennis Quaid, who seems to be making a habit of appearing in heroic sports movies.) Coach Schwartzwalder is presented as more accepting of blacks than most in his time and place, and though a generally good fellow, he was as likely motivated by the necessity of assembling a winning team. Syracuse wasn't the only college interested in Davis. Whatever it takes, I say. Like many whites in the northeast, Schwartzwalder's racism is so subtle, he is hardly aware of it himself. So while he trains Ernie to be a better player, Ernie teaches him something about how his passivity supports the system. (It's a lesson that is explored effectively in Elia Kazan's Oscar-winning Gentleman's Agreement at a time when Jews were trying to break into a glass ceiling of their own.) Quaid is superb here as he gives away very little to an audience that isn't paying attention, so keep your eyes and ears open.

As for the football segments, I can't say that the progress of any given game is evident, but once the ball starts moving we're pretty clear what's what and who's going where and why. Still, highlights don't amount to much of a game, so it's nice that we get to dwell on the Cotton Bowl championship game itself.
The Movie : 7
The movie dramatizes the life of Ernie Davis, the first black man to win the Heisman Trophy. Ernie, who was a stuttterer, was raised with other children by his grandparents in rural New York. When he was about ten his mother returned to claim him and move to Elmira, where the boy took his athletic gifts to the playing field. He excelled in several high school sports, especially football, where hardly anyone could lay a finger on him. He was spotted by a scout and picked up by Syracuse who needed someone to fill the shoes – and jersey, it turns out - vacated by Jim Brown, recently drafted by the Cleveland Browns.

When he was only a sophomore, the Elmira Express, as Ernie Davis came to be known, would help spur the Syracuse Orangemen to their first and, so far, only national championship in 1959. He won the Heisman in 1961 and was drafted by Cleveland, like his idol, Jim Brown. But before he was able to take the field, Ernie was diagnosed with leukemia. Despite the blow, Ernie's spirits remained high and he became an inspiration to all, regardless of color.

Image : 8/8 NOTE: The below Blu-ray captures were ripped directly from the Blu-ray disc.
The first number indicates a relative level of excellence compared to other Blu-ray video discs on a ten-point scale. The second number places this image along the full range of DVD and Blu-ray discs.

Words that might describe the overall color deign of the movie are ripe, unrestrained, and "stoned" - as in Oliver. There are multimedia stretches right from the outset that manipulate grain, contrast, saturation and color. But for the most part, the image is just a little more saturated, a little more contrasty than is natural – something that helps this heroic story leap off the screen. When it suits the desires of the director, the image is decisively sharp, so we have reason to believe that the picture in general looks as intended.
CLICK EACH BLU-RAY CAPTURE TO SEE ALL IMAGES IN FULL 1920X1080 RESOLUTION
Audio & Music:
9/8

Huge. Enveloping. Dynamic. Punchy. Crisp. Whether it's the ambient environmentals of the locker room or the roar of the crowd, the crunch of a block or tackle (pumped up to the weight of contemporary standards to be sure), or the music of an unseen jukebox, this DTS HD-Master Audio 5.1 mix rocks and socks.
Operations: 5
The menu is laid out like other Universal Blu-rays. Arrows tell you which way to direct your remote, and the bonus feature instructions are detailed and intuitive. One thing I came across I hadn't noticed on other Blu-rays (though I may not have simply overlooked it) is that the feature film audio commentary could not be accessed directly by my remote. I was only able to get to it via the menu, which, on a Universal Blu-ray, is several clicks away. Not cool.

Extras: 7
Except for the deleted scenes and the documentary film by Roger Springfield of the 50th Anniversary of the 1959 Syracuse National Championship, the remaining bonus features are all in very good quality HD. "The Story of Ernie Davis" is a collection of present day remembrances by people who knew Ernie, including football great, Jim Brown. One has the feeling that Fleder didn't go quite far enough in his portrayal of Davis as an all around good guy. But it's the 50th Anniversary film that puts things in a fresh perspective. While Fleder's movie makes it look like the 1959 Syracuse team was mostly a matter of Davis catching, running and scoring, eight members of that team recall the season that brought them to the Cotton Bowl – and they see their season quite differently. Not that Davis wasn't awesome (his name is mentioned a half dozen times - no more than others), but the reason this team was so successful, they observe, was that they had talent in depth. As one guy said, the opposition would be advised that they shouldn't try too hard to hurt the first string team because the second string players were even better. Vintage highlights of their season are liberally melded into the documentary.
Bottom line: 7
In the telling, there is hardly a sports cliché that isn't invoked for all it's worth. On the other hand, predictability comes with heroic territory. The racism angle is the meat of the film, and I found it to be mixed bag. The good parts have to do with Ernie and his coach. But Ernie's adult relationship with his brother, Will, who introduces him to the politics of racism struck me as forced onto a movie already ripe with the Jackie Robinson story. Acting kudos to Quaid, Charles S. Dutton as Ernie's supportive and socially aware grandfather, and Omar Benson Miller as Jack Buckley, Ernie's good humored teammate who shows him the ropes and rules of being black in a white town. The visuals are good, the audio even better.
Leonard Norwitz
January 16th, 2009