Review by Leonard Norwitz
Studio:
Theatrical: Altamira Pictures
Video: Toho (Toei Video)
Disc:
Region: ALL
Runtime: 1:44:47.281
Disc Size: 38,781,973,736 bytes
Feature Size: 36,924,143,616 bytes
Average Bitrate: 46.98 Mbps
Chapters: 30
Case: Custom Blu-ray case
Release date: October 24th, 2008
Video:
Aspect ratio: 1.85:1
Resolution: 1080p
Video codec: MPEG-4 AVC Video
Bitrate: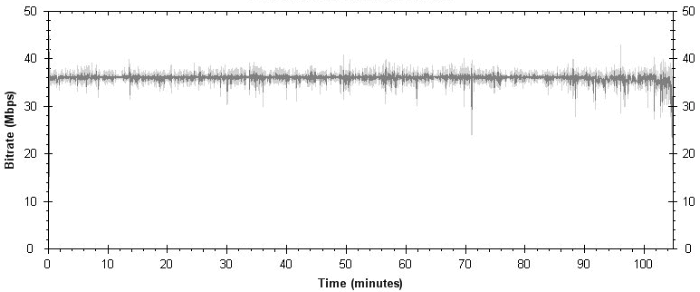 Audio:
LPCM Audio Japanese 4608 kbps 5.1 / 48 kHz / 4608 kbps / 16-bit
Dolby TrueHD Audio Japanese 2197 kbps 5.1 / 48 kHz / 2197 kbps / 16-bit (AC3 Core: 5.1 / 48 kHz / 640 kbps)
Subtitles:
English, Japanese, none
Extras:
• Teasers & Trailers for Swing Girls and Happy Flight - in SD (0:31~4:15)
• Inserts
Comment:
It may be about life in Japan, but it's not Ozu; and it may be about slacker high school students, but it's not Batttle Royale. No, it's Shinobu Yaguchi returning to the scene of the crime to exploit another collection of slackers who find their way from a pointless existence to meaning and fame. In 2000, it was Waterboys where 16- and 17-year old boys with little more than girls on their minds find meaning in the most unlikely water sport – not coincidentally, one generally reserved for the other sex. And now, four years later, it's Swing Girls where at Yamakawa High School, a dozen or so girls whose idea of happiness is checking themselves out in the mirror, discover swing music and start a band, not coincidentally, where girls normally fear to show their faces.
It's make-up summer school, where our collection of vacant girls applies their make up and stare vacantly out the window during their make up math class. Their teacher, Mr. Ozawa (Naoto Takenaka in a similar role as he had in Waterboys), is almost as bored as the girls. In any case everyone suffers from the heat. Outside, the school band prepares to board the bus for the baseball game in a distant town. So as not to be late, they leave without their lunches, which arrive only minutes after the bus departs. The girls, led by Tomoko (Juri Ueno), get the bright idea to persuade their teacher to let them take the lunches to the game – school spirit and all that – thus killing the proverbial two birds with one stone.
Needless to say the girls can't resist at least one of the meals, and they fall asleep as their train passes through their stop. So they get off at the next stop and walk back through the heat. They manage to get to the game, and the band gets their lunches – all but one – the only one that doesn't get violently sick from the spoiled food – there's a lesson in here somewhere about eating sushi. This leaves the school without a band for the foreseeable future.
Takuo (Yuta Hiraoka), the one boy who didn't get sick feels it's his responsibility to organize a substitute band at least for the next game. The girls, for their part, feel more a duty to get out of class than a sense of obligation to make up for their carelessness, and try out for the band, even though not one of them can play. And do they suck! And they can't blow either – not a note. It's all they can do to get into shape to find their wind. But just as they have a rehearsal where the vaguest impressions of "Take the A Train" waft through the air, the original band recovers, and the girls get the wind knocked out of their sails proper.
This is where Mr. Ozawa takes the stage. It is soon discovered that he's a jazz aficionado, and the girls coax him into being their mentor, which he reluctantly accepts. Reluctantly, because it is his secret that he really can't play any instrument – and that his knowledge of music comes entirely from his record collection, which he conducts furiously in the privacy of his living room. What he lacks in knowledge, however, he makes up for in infectious enthusiasm. With unspoken echoes of Harold Hill's "Think Method" the girls eventually come to believe they're good enough to enter a battle of the band festival to pay off the cost of their instruments.
A magical feat in its own right, Swing Girls, for all its fluff and nonsense and absence of sex, is infectious, charming, engaging and, occasionally demonstrative of actual movie making technique – as when an LP falls out of its sleeve and rolls down the hallway, connecting the girls to their destiny. There's very little character development as such, and it all ends abruptly, yet somehow we are taken in. In large measure this is due to the fact that we are convinced that girls are actually learning to play as the movie goes along. The sound doesn't appear to be looped, so what we see and hear is what there is. Thankfully, just as we've had about all we can take of the "A Train" about to derail, the girls find their way through "Moonlight Serenade" and "Sing Sing Sing" at the Festival. Makes you want to revisit Hollywood Hotel to listen to Goodman and Krupa tear into it. The girls aren't half bad.
The Movie: 7
Image: 8/8 NOTE: The below Blu-ray captures were ripped directly from the Blu-ray disc.
The first number indicates a relative level of excellence compared to other Blu-ray video discs on a ten-point scale. The second number places this image along the full range of DVD and Blu-ray discs.
Entirely serviceable as it is unremarkable, the image is defect-free and without noticeable glaring artifacts or enhancements. The color is natural, yet rich, with good skin tones. The brass instruments are properly golden or dull as per their age. The feature is dual-layered with a soaring bitrate leading me to believe this is a strong and accurate representation of the theatrical visuals.
CLICK EACH BLU-RAY CAPTURE TO SEE ALL IMAGES IN FULL 1920X1080 RESOLUTION
Audio & Music: 8/9
The surrounds come into play during the rehearsals and at the festival concert. This where we can judge just how faithful the audio rendering is. We should be able to hear a progression from monstrously out of tune, to very closely in tune, but still not professional – and we do. The ambience of each venue is sorted out nicely. There are two lossless mixes. I found the Linear PCM 5.1 marginally more satisfying, but both were lacking in low mid-range body. I think it's a Japanese preference.
Operations: 8
The BIG plus here is the packaging. This is how Blu-rays should have been offered in the first place – not those chintzy plastic affairs, but a solid, simple book that opens to an easily removable disc. Major kudos. The menu is in Japanese and partly in English – the part that isn't is the Index of extra features, which all turn out to be promos and trailers. English subtitles are only on the feature film. Curiously, what we would call "scenes" or "chapters" they call "Bonus Tracks".
Extras: 1
Sadly there is nothing about the making of the movie nor anything about how the girls learned to play. I feel this seriously devalues the set, given its price.
Recommendation: 6
I would have given this Blu-ray an unqualified Thumbs Up if it weren't for the absence of a supportive bonus feature of any kind about the movie.
Leonard Norwitz
March 16th, 2009