Review by Leonard Norwitz
Studio:
Theatrical: Warner
Video:
Warner Home Video
Disc:
Region: A
Runtime: 1:54:19.561
Disc Size: 23,226,892,916 bytes
Feature Size: 20,338,464,768 bytes
Average Bitrate: 23.72 Mbps
Chapters: 28
Case: Standard Blu-ray case
Release date: January 27th, 2009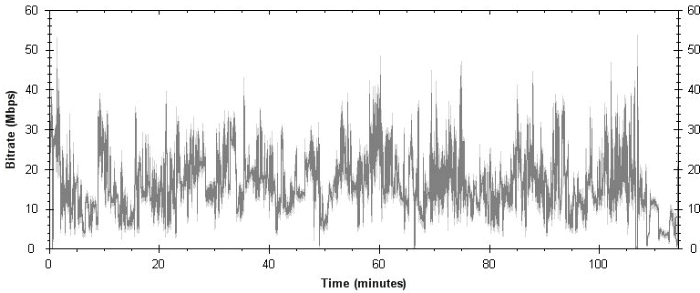 Video:
Aspect ratio: 2.4:1
Resolution: 1080p
Video codec: VC-1 Video
Audio:
Dolby TrueHD Audio English 1537 kbps 5.1 / 48 kHz / 1537 kbps / 16-bit (AC3 Core: 5.1 / 48 kHz / 640 kbps)
Dolby Digital Audio English 640 kbps 5.1 / 48 kHz / 640 kbps
Dolby Digital Audio French 640 kbps 5.1 / 48 kHz / 640 kbps
Dolby Digital Audio Portuguese 640 kbps 5.1 / 48 kHz / 640 kbps
Dolby Digital Audio Spanish 640 kbps 5.1 / 48 kHz / 640 kbps
Dolby Digital Audio English 192 kbps 2.0 / 48 kHz / 192 kbps / Dolby Surround
Dolby Digital Audio English 192 kbps 2.0 / 48 kHz / 192 kbps / Dolby Surround
Subtitles:
English, Dutch, French, Portuguese, Spanish, none
Extras:
• Commentary by Writer/Director Guy Ritchie & Actor Mark Strong
• Additional Scene in SD (2:00)
• Featurette: Blokes, Birds & Backhanders: Inside RocknRolla in HD (15:03)
• Featurette: Guy's Town: The Director reflects on his fascination with ever-evolving London (8:32)
• Disc 2: Digital Copy
Description: "I own this town." But owning is getting expensive for old-school London gangster Lenny Cole (Tom Wilkinson). A wealthier foreign mob is moving in with a riverfront property swindle. A small-timer (Gerard Butler) and his crew think they can play both sides and become big time. Now add a hard-as-ice accountant (Thandie Newton), a rocker playing dead to boost sales, wannabe music moguls (Jeremy Piven and Chris Bridges), a missing painting and a mad mosh of money and muscle, and youve got this funny, smash-mouth smackdown of sexthugs&rocknroll from writer/director Guy Ritchie (Lock, Stock and Two Smoking Barrels and Snatch).
Comment:
The Movie:
7
As the credits unfold, the graphics and music immediately put me in mind of Sin City. I wondered if we would suffer the slings and arrows of Ritchie's recent Swept Away and Revolver or revel in the darkly comic perturbations of the director's earlier delights, Snatch and Lock, Stock and Two Smoking Barrels. I think it's safe to say that the effects of his later films are nowhere to be seen. On the other hand, the new movie does tend to be a little overwrought – a bit too much cleverness for its own good, while the subplot about the rat is insufficiently described. That said, I confess I enjoyed the movie and expect to on to repeated viewings where, some day, I hope to be able to watch it without subtitles. The characters, who kept rolling out of the movie like clowns from a Volkswagon; the script – more accurately, the language, which, while I didn't actually understand all of, tickled my funny bone; and the many set pieces that appeared from behind Ritchie's vaudevillian curtain put a smile on my face for the duration.
The title refers to a genre of person who wants it all… sex, drugs, money and the life it can buy. In a way rocknrolla refers to most of the characters here, but it is Johnny Quid, the crackhead son of mover and shaker, Lenny Cole, who epitomizes the idea and around whom things revolve. Johnny is the one true philosopher in the movie, and he's the one with a death wish. The plot is a constantly intertwining, evolving series of small and large cons and heists. And in the middle of it all is a rat, someone that has been working behind the scenes to put each of these guys in prison for various stretches.
Wanting to move up into ownership of serious property are the members of the street gang known as "The Wild Bunch": "One Two" (Gerard Butler – yep, the guy from both 300 and Phantom of the Opera), "Mumbles" (Idris Elba – whom you might remember as Stringer Bell from The Wire) and "Handsome Bob" (Tom Hardy.) But they need to grease the wheels of those in charge of permits and the like. Enter Lenny Cole (Tom Wilkinson) who can get anything done – for a price. Lenny has designs of his own and wants to be part of a huge real estate deal for the Russians – mainly a guy named Uri (Karel Roden). The Russians also require some backhanding – to the tune of some 7,000,000 Euros, for which price Lenny would be happy to arrange things, even though he is kilometers out of his league here. The problem is that Uri's accountant, the lovely and talented but bored Stella (Thandie Newton), enjoys throwing monkey wrenches – like employing The Wild Bunch to steal the money before it gets to Uri. Meanwhile, there's Uri favorite painting, which he loans out to Lenny for good luck, but ends up in the possession of – you guessed it – Johnny Quid. And this is just the set-up!
Image : 8/9
NOTE: The below Blu-ray captures were ripped directly from the
Blu-ray disc.
The first number indicates a relative level of excellence compared to other Blu-ray video discs on a ten-point scale. The second number places this image along the full range of DVD and Blu-ray discs.
After going on and on about the problems inherent in image scoring in my last review on The Bourne Trilogy I am punished with whatever this video might be: I have to say that I really like this image, but I don't know exactly what it is. It has the highly finished look of polished marble, which I can't imagine can be achieved without post processing. At the same time, I feel that the transfer process is not involved in any untoward way. Considering the movie is shot in HD Video, I can see how that choice makes it easy to arrive at the look we see here. In any case, I am in accord with the decision to create an almost grainless, very sharp, yet deliberately smoothed picture – after all, the characters and situations are gritty, but the comic aspects are strong and the intimate mayhem that threatens at every turn are so not in your face. This and the high contrast, desaturated color all support the dramatic intentions.
CLICK EACH BLU-RAY CAPTURE TO SEE ALL IMAGES IN FULL 1920X1080 RESOLUTION
Audio & Music: 8/8
For all the good it does, the uncompressed audio track enables a level of clarity for the dialogue such that we non-Londoners can hear the words even if we can't make much sense of them. The menu provides the option for standard DD 5.1 so we can tell what we're missing. Effects and music are properly rendered, with surrounds providing environmental ambience and the requisite noises during the big chase scene. The music track is rendered differently and appropriately for each venue, as is voice reproduction, especially Mark Strong's reverberant voiceover – an important and often overlooked touch.
Operations: 7
I felt the need for subtitles in RocknRolla even more than in Trainspotting. Even so, this movie is going to take some research to sort out some of the language. I figure there ought to be a subtitle option that also translates the text, just as if it were a foreign language. In more mundane matters, there was the peculiar effect of going direct to the special features page when the top menu button was pressed after loading. Haven't come across that behavior before.

Extras: 6
The Warner
Blu-ray offers two short featurettes in 1080i plus a rambling, but occasionally informative and always entertaining commentary track with Guy Ritchie and Mark Strong (the narrator and one of the key players in this melodrama). Blokes, Birds & Backhanders: Inside RocknRolla is little more than an extended promotional piece in which we lean very little about the making of the movie. In Guy's Town, Ritchie and Thandie Newton (who makes her home in London) along with the film's producer, Steve Clark-Hall, David Higgs, the cinematographer, and other members of the crew, take us on a tour of the movie's London locations and its well known buildings and neighborhoods in various states of repair or not. They note the enormous amount of construction that has taken place over the past 10-15 years and the sorts of people and money that this has attracted, the impetus for our little play here. As this is much the better featurette and, given that most of what is interesting about Inside RocknRolla is incorporated in this all too short segment, I'd recommend giving the longer piece a pass altogether
.
Bottom line: 7
It will take a second viewing, which I expect to enjoy, to sort out whether this is a very good movie, but it is enormous fun for the duration. The picture quality is excellent as is the Dolby TrueHD mix. The extra features are weak, but not at all insulting. I liked it.
Leonard Norwitz
January 21st, 2009