Review by Gary Tooze
Studio:
Theatrical: Paramount Studios
Video: Paramount
Home Video
Disc:
Region: FREE
Runtime: 2:10:27.820
Disc Size: 46,037,089,397 bytes
Feature Size: 37,150,230,528 bytes
Average Bitrate: 37.97 Mbps
Chapters: 26
Case: Standard Blu-ray case
Release date: March 10th, 2009
Video:
Aspect ratio: 2.35:1
Resolution: 1080p
Video codec: MPEG-4 AVC Video
Audio:
Dolby TrueHD Audio English 3182 kbps 5.1 / 48 kHz / 3182 kbps / 24-bit (AC3 Core: 5.1 / 48 kHz / 640 kbps)
DUBs: Dolby Digital Audio French 640 kbps 5.1 / 48 kHz / 640 kbps
Dolby Digital Audio Spanish 640 kbps 5.1 / 48 kHz / 640 kbps
Commentary: Dolby Digital Audio English 224 kbps 2.0 / 48 kHz / 224 kbps
Subtitles:
English, English (SDH), French, Portuguese, Spanish, none
Extras:
• Commentary by director Gregory Hoblit, writer Ann Biderman, Producer Gary Lucchesi, Executive producer Hawk Koch and casting director Deborah Aquila
•
'Primal Fear: The Final Verdict (17:59 in HD!)
• Primal Fear - Star Witness: Casting Edward Norton (17:56 in HD!)
• The Psychology of Guilt (13:35 in HD)
• Theatrical Trailer
Bitrate: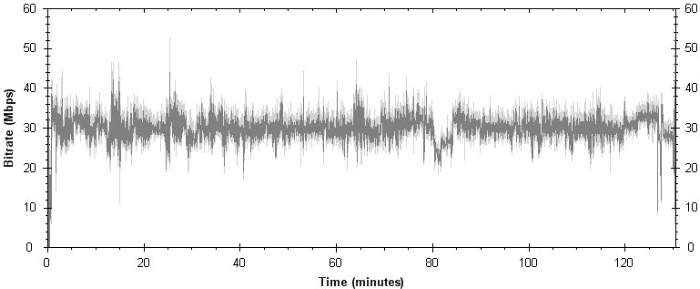 Description: A high-profile slaying becomes the case of an ambitious attorney's career in this legal thriller based on the novel by William Diehl. Richard Gere stars as Martin Vail, a famed defense lawyer who volunteers his services to Aaron Stampler (Edward Norton), a Kentucky teenager charged with the murder of a Chicago archbishop. Covered with blood, Aaron was captured after a foot chase broadcast live on TV, making a gleeful Vail certain that he could raise his profile by defending the obviously guilty suspect. Assigned to prosecute is Assistant District Attorney Janet Venable (Laura Linney), who is Vail's ex-girlfriend. Vail's case becomes more complicated than he expected when a psychologist, Dr. Molly Arrington (Frances McDormand) concludes that Stampler suffers from multiple personality disorder. Vail also uncovers evidence that the archbishop was involved in a corrupt land scheme and may have molested young parishioners. Now the cynical, opportunistic attorney is faced with a daunting prospect, a client who may actually deserve his best defense. Its shocking, twist ending made Primal Fear (1996) a big box office hit and earned Norton, in his screen debut, an Oscar nomination for Best Supporting Actor.
The Film:
The story develops against a backdrop of Chicago politics and corruption. The archbishop, we learn, was involved in land deals that created a lot of unhappiness among powerful Chicagoans who lost millions of dollars. He has received many death threats. And his relationship with some of the members of the boys' choir was not strictly pastoral. A Hispanic alderman, who defends the building of a clinic on land intended to be "upscaled,'' gets into hot water. And Martin Vail seems to be at the center of all of these events. Is it possible that young Aaron is a fall-guy for a much larger, more sinister plot? The plot is as good as crime procedurals get, but the movie is really better than its plot because of the three-dimensional characters. Gere is given several quiet scenes, including a half-drunken conversation with a journalist, to develop the complexities of his character. Laura Linney makes more of her fairly standard character than we might expect. And the supporting performances--from John Mahoney as the hard-bitten DA and McDormand as the psychologist, to Alfre Woodard, who plays the judge and presides over a key scene in chambers--are strong and convincing. Edward Norton, as the ``Butcher Boy,'' creates a character that is, as you will see, completely convincing in more ways than one.

The best crime movies and novels are not about who did it, or why. They are about how the characters feel about what happened. The screenplay for "Primal Fear,'' by Steve Shagan and Ann Biderman, knows that and uses the labyrinthine plot details as backdrop to issues of the identity. Because this movie has a commercial destiny, of course the crime is sensational and the revelations are startling. But the character of Martin Vail is so well done that it could have supported a smaller, more plausible movie.
xcerpt from Roger Ebert at The Chicago Sun Times located HERE
Image :
NOTE: The below Blu-ray captures were ripped directly from the
Blu-ray disc.
The image on Paramount's Blu-ray of Primal Fear has a softness to it that I find unusual even considering the film being made over 12-years ago. It appears to show some grain and I don't suspect DNR is the culprit for the lack of pristine sharpness. The image quality gives a decent presentation, superior to SD-DVD, but far from ideal benefiting this new format and is weaker in that capacity than I anticipated. I have no evidence to support that the film looked any better theatrically - in terms of detail. Technically it seems competent being dual-layered with the feature taking up over 37 Gig. Bitrate is strong - being well over 30 Mbps. Daylight scenes are more impressive and colors seem rendered faithfully with nothing looking overly exuberant. This Blu-ray image has a passive feel that seems to work for a lot of the film but, on my system, it never looked exceptional. It is consistent with decent contrast but those expecting dramatic 'Wow'-factor realistic visuals on this Blu-ray may be disappointed.
CLICK EACH BLU-RAY CAPTURE TO SEE ALL IMAGES IN FULL 1920X1080 RESOLUTION
Audio :
We are given TrueHD 5.1 which sounded sharp with some minor separations noted. James Newton Howard's original score produced some tense moments cascading to the rear speakers. There isn't an immense amount of effect noises prevalent, but what exists seems decent with some depth. This is basically a court-room drama and dialogue is primary. While the mix isn't exceptional or dynamic - I found no extensive flaws with it either. There are 2 foreign language DUBs and subtitles offered. This disc is reported to be region free.
Extras :
Solid supplements are offered with a group commentary including director Gregory Hoblit, writer Ann Biderman, producer Gary Lucchesi, executive producer Hawk Koch and casting director Deborah Aquila each giving some input where they have decent recollections of production details. There are three featurettes - all in HD - 'Primal Fear: The Final Verdict' runs 18-minutes and has sound bytes from multiple cast and crew, Primal Fear - Star Witness: Casting Edward Norton is also 18 minutes and focuses on an unknown Norton obtaining the role from 2500 auditions. The Psychology of Guilt is 13.5 minutes looking at the legal side of pleading insanity with discussion from judges and lawyers. There is also a theatrical trailer.
BOTTOM LINE:
Although I recall seeing this many years ago - it was very enjoyable to revisit. This is an entertaining film with Norton's strong performance being the cornerstone to my interest. Gere and Linney are always excellent. The Blu-ray won't blow your socks off visually but is surely ahead of its DVD counterpart and the extras are welcome and viable. It's hard not to recommend this but purchasers should beware that the transfer is not up to more modern standards. This is one review where comparing images to the SD would have been more revealing.
Gary Tooze
February 26th, 2009