Review by Leonard Norwitz
Studio:
Theatrical: Touchstone Pictures
Blu-ray: Walt Disney Studios Home Entertainment
Disc:
Region: A
Runtime: 1:59:37.003
Disc Size: 40,939,712,649 bytes
Feature Size: 36,355,061,760 bytes
Total Average Bitrate: 40.52 Mbps
Chapters: 19
Case: Standard Blu-ray case
Release date: February 10th, 2009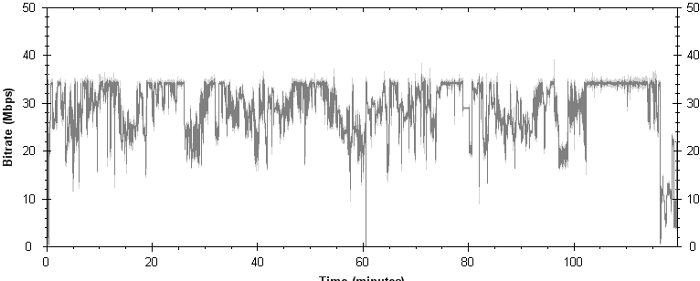 Video:
Aspect ratio: 1.85:1
Resolution: 1080p
Video codec: MPEG-4 AVC Video
Audio:
LPCM Audio English 6912 kbps 5.1 / 48 kHz / 6912 kbps / 24-bit
Dolby Digital Audio English 640 kbps 5.1 / 48 kHz / 640 kbps
Dolby Digital Audio English 192 kbps 2.0 / 48 kHz / 192 kbps / Dolby Surround
Dolby Digital Audio French 256 kbps 2.0 / 48 kHz / 256 kbps / Dolby Surround
Dolby Digital Audio Portuguese 256 kbps 2.0 / 48 kHz / 256 kbps
Dolby Digital Audio Spanish 256 kbps 2.0 / 48 kHz / 256 kbps / Dolby Surround
Dolby Digital Audio Thai 256 kbps 2.0 / 48 kHz / 256 kbps / Dolby Surround
Subtitles:
English, French, Spanish, none
Extras:
• Feature Commentary by Director Garry Marshall
• 1990 Production Featurette (3:47)
• LA: The Pretty Woman Tour (9:11)
• Live from the Wrap Party (4:05)
• Wild Women Do Performed by Natalie Cole (4:13)
• Blooper Reel (2:36)
• Theatrical Trailer
Description: Vivian (Roberts) is a spirited, streetwise diamond in the rough when she meets shrewd, no-nonsense billionaire Edward Lewis (Gere). It s a chance encounter that turns a weeklong business arrangement into a timeless rags-to-riches romance. Fall in love all over again as this contemporary Cinderella story unfolds before your eyes in the sparkling clarity of high definition- up to six times the resolution of DVD! Savor every word, every laugh, and every unforgettable song as the magnificently enhanced audio quality embraces you. Experience all the comedy, charm and passion of this beloved classic as never before on Blu-ray Hi Def!.
Comment:
The Movie:
6
It may be hard for some of us to wrap our minds around but Pretty Woman came out almost 20 years ago. It was Pretty Woman that established the image of Julia Roberts as the title character in the public's mind for years to come. Not yet a star perhaps, Ms. Roberts would remain the "Pretty Woman" actress, despite several dramatic roles, until Erin Brockovich (though my favorite performance and the one I feel is her strongest remains Julianne Potter in My Best Friend's Wedding). So adversely did I react to the manufacture of what I felt was a media event – not the movie – but her image, that it was a long time before I gave myself permission to watch Pretty Woman. Though I still despise the title for other reasons, and believe it's not really a very good film, I've seen and enjoyed it a few times since. The Blu-ray is welcome, especially as my 10th Anniversary DVD copy - crisp, but a bit dirty - is not anamorphic. The 15th Anniversary edition from 2005 cleaned up the image and made it anamorphic as well.

Pretty Woman is a classic instance of how much an original concept can get turned on its head as it moves from pitch to final script, casting, shoot and edit. The original idea, titled 3000 after Ms. Roberts's character's purchase price, was far more cynical in its treatment of prostitution. Instead, what we have at the drop of a video disc, is a rags-to-riches Cinderella tale about a na´ve hooker (Julia Roberts) who is transformed into a woman of elegance by a cavalier, multi-millionaire (Richard Gere) - with the help of the manager of the Regent Beverly Wilshire Hotel (Hector Elizondo). In turn, Roberts brings true romance into Gere's life.

Pretty Woman is a likeable enough movie, but hardly an exceptional one. It is peopled with instant characters rather than credible ones, with one-liners determined to provoke a smile rather than dialogue that grows naturally out of the situation. To take the first example that pops into my mind, Vivian (Roberts), who wrangles her way into Edward's (Gere) borrowed Lotus cleverly enough, somehow knows where the Regent Beverly Wilshire Hotel is but is completely flabbergasted at its opulence - yet she thinks that Edward, whom she can see enjoys a permanent penthouse apartment, wouldn't be able to afford $300 for her to spend the night with him.

At the other end of the spectrum is just about everything Lewis' attorney, Stuckey (Jason Alexander), says and does to Vivian, which really belongs in the movie Marshall rejected. Stuckey's attempted rape of Vivian is not only repulsive in itself, it is repulsive for being out of place. But do we for one moment really see Julia Roberts as the character she describes herself? I didn't then and still can't. Maybe that's not the point of it all. Maybe the movie is only supposed to function as a kind of cinematic dim sum. Working Girl, on the other hand, turns Melanie Griffith and Harrison Ford into a much more convincing, compelling, amusing and maybe even more romantic Cinderella-story odd couple!
Image : 7/8
NOTE: The below Blu-ray captures were ripped directly from the
Blu-ray disc.
The first number indicates a relative level of excellence compared to other Blu-ray video discs on a ten-point scale. The second number places this image along the full range of DVD and Blu-ray discs.
Grainy and a bit noisy but faithful to the film no doubt. Detail is at the lower end of the scale while colors, textures and contrast appear adequate. There is not a lot of depth to the image but I don't believe this to be a fault of the transfer which utilizes over 40GIg of the dual-layered disc. Suffice to say it doesn't hold a candle to more modern 1080P renderings but it reports the film grain structure fairly accurately. I don't see DNR but noise in black backgrounds is apparent. The bitrate is high and the image seems un-manipulated - not much more fans could ask for - you can't make it look better than it is.
CLICK EACH BLU-RAY CAPTURE TO SEE ALL IMAGES IN FULL 1920X1080 RESOLUTION
Audio & Music: 5/8
Since I discovered the benefits of uncompressed audio I have been an urgent proponent of its inclusion on every Blu-ray regardless of the vintage of the movie. I want the dialogue as crisp as possible for Casablanca and Korngold's music to be given half a chance for his Adventure of Robin Hood. Pretty Woman is just chock full of friendly tunes and even tosses in some abbreviated excerpts from La Traviata. All the same, the original music soundtrack must be uniquely flat to be hardly benefited by the "bump" to Dolby Digital 5.1 Uncompressed. Dialogue is a wee bit clearer, but it's still not a worthy specimen. On the other hand, I had no trouble making out what was being said. There's more there there, but not much – not enough to warrant a purchase.
Operations: 9
The menu design is exemplary: full of summary information about what you might click on to watch. Navigation is just as easy.

Extras: 3
These are the same extra features that appeared on the 15th Anniversary Edition. In his commentary, Gary Marshall is the uncle (yeah, I know, he's not really my uncle) narrating a family home movie. He's warm and cuddly, full of tidbits about this and that, but nothing all that helpful about production. The other bonus features are even less pertinent – and still all in 480p. The 1990 Production featurette amounts to nothing more than a studio promo for the film. Natalie Cole's Wild Women Do has plenty of sass, but the image quality ain't any too good. But that's nothing compared to the embarrassment of "Live from the Wrap Party" which sports both an incredibly bad image and the worst audio I've ever heard on a Blu-ray bonus feature
.
Bottom line: 7
For fans of the movie, this has to be the best looking and sounding version out there, though the uncompressed audio doesn't really help all that much – which shows how weak it was to start with. It's hard to point fingers at the transfer which appears consistent and competent. Those who know the film will see the improvement but other should temper their expectations in direct proportion to the age of the film.
Leonard Norwitz
January 27th, 2009