Review by Leonard Norwitz
Studio:
Theatrical: Regency
Video: 20th Century Fox Home Entertainment
Disc:
Region: A
Runtime: 1:51:22
Disc Size: 36,509,587,155 bytes
Feature Size: 24,926,932,992 bytes
Average Bitrate: 29.84 Mbps
Chapters: 28
Case: Standard Blu-ray case
Release date: January 13th, 2009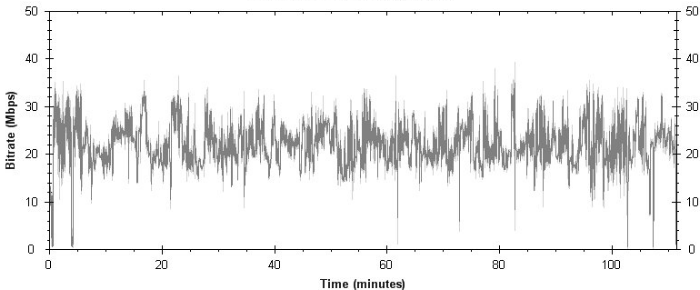 Video:
Aspect ratio: 2.35:1
Resolution: 1080p
Video codec: MPEG-4 AVC
Audio:
DTS-HD Master Audio English 3800 kbps 5.1 / 48 kHz / 3800 kbps / 24-bit (DTS Core: 5.1 / 48 kHz / 1536 kbps / 24-bit)
Dolby Digital Audio French 448 kbps 5.1 / 48 kHz / 448 kbps
Dolby Digital Audio Spanish 448 kbps 5.1 / 48 kHz / 448 kbps
DTS Express English 192 kbps 2.0 / 48 kHz / 192 kbps / 24-bit
Subtitles:
English SDH, Chinese (traditional + Simplified), French, Korean, Spanish, none
Extras:
• Theatrical & Unrated Cuts
• Reflections: The Making of Mirrors Shockumentary (48:40)
• Anna Esseker Hospital Footage (5:33)
• Behind the Mirror Featurette (18:22)
• Animated Storyboard Sequence (1:19)
• Deleted Scenes & Alternate Ending with Director's Commentary (15:37)
• Bonus-View: Mirror Images: Picture-in-Picture with commentary by Alexandre Aja and Gregory Lavasseur; Storyboard-to-scene comparison
• Enhanced for D-Box Motion Control
• Disc 2: Digital Copy
Description: Attempting to pick up the shattered pieces of his life, a disgraced former cop (Sutherland) takes a routine security job guarding the charred ruins of the once-famous Mayflower department store in New York. But the terrifying ominous images he sees in the building's ornate mirrors will send him on a pulse-pounding mission to unravel the secrets of the store's past...before they destroy his entire family!.
Comment:
The Movie: 4
We are assured right out of the gate that Alexandre Aja's remake of Kim Sung Ho's 2003 comparatively restrained horror film, Into the Mirror, is going to be not the slightest bit restrained. In the Making-of featurette we learn how this new film came about, and how it started life as a rethink of Kim's film and migrated to a remake of The Shining, by which was meant that the horrors in the mirror come to be understood as a reflection of the inner pathos of the onlooker. Ah, if only that's where Aja wanted to take us.
When a hapless night watchman is seen running desperately to escape a basement corridor only to wind up watching his reflection slit his throat, we know this is going to be a bloody movie. What chance there might have been at subtlety is cast aside when the camera reverse angles from the reflection to the victim as we see his throat being cut by an unseen hand. Subtle – and much more effective, in my opinion - would have been for the camera to remain on the reflection as the victim's blood splatters the mirror. Aja would have none of it – and for the next 108 minutes he doggedly pursues none of it. Worse still, a painfully labored and pedestrian script makes certain the movie never rises above itself.
It's too bad, really, because Mirrors is a photographic tour de force about solving the creative problems of reflective photography - and not only in mirrors, since there are ample pools of standing water waiting to terrorize the DP. The set design, too, is awesome – cavernous and claustrophobic by turns. But without subtlety there is no horror, there are no ghosts – only shock and gore, which gets pretty impressive in the movie's climactic scenes.
What Mirrors shares with its predecessor is a department store with a ghostly history, a psychologically damaged security officer, and a strange woman who holds the key to the puzzle. The Korean original, which isn't so much scary as it is sly, resuscitates the store for its grand opening after a fire gutted it some while back. The deaths in the Korean store put us in mind of Spielberg's Jaws where the terror is unseen for half the movie and kind of creeps up on hoards of people who have suspended disbelief in favor of a commercial outing, whereas the deaths and threats of detah in Aja's film leap out of the mirror from frame one. The killings are as intimate in their way as they are creepy. And the only audience to speak of is us.
Keifer Sutherland is both the star and executive producer. I guess 24 was getting too much for him and he needed a diversion from an alternate reality. Like Sutherland's character, Ben Carson, Woo Young Min also accidentally shot a fellow officer and now feels that nothing more than a security guard is good enough, nor would likely result in another accidental death. While Woo's position is actually head of security in the new store, Ben's is that of night watchman to a derelict building. Ben, who devolved into alcoholism after the shooting is so pitiful that when things begin to unravel, which they do almost from day one – make that, night one – he can only respond to his sister who urges him to consider a day job, "It's not that simple." Really!?! Ben is compulsively curious and more than a little suicidal. Call me a wimp, but the moment I saw my reflection catch fire and I thought it was me, I'd have myself committed or look for a new job.
The Movie : 8

Image : 7/8 NOTE: The below Blu-ray captures were ripped directly from the Blu-ray disc.
The first number indicates a relative level of excellence compared to other Blu-ray video discs on a ten-point scale. The second number places this image along the full range of DVD and Blu-ray discs.

A good deal of this movie takes place more or less in the shadows. I'm not sure how to judge the result from the intent in respect to shadow detail, but suffice to say that it seemed right. Black levels are bold and noiseless. Grain is frequently apparent but I assumed it was intended to be so. Color is natural for the given lighting.
CLICK EACH BLU-RAY CAPTURE TO SEE ALL IMAGES IN FULL 1920X1080 RESOLUTION
Audio & Music:
8/8

What would a shocker be with out realistic effects. When a demonic scream emerges from behind, we want to turn our heads; when glass shatters we want it to sound like glass, not plastic. I wish I could say the same for the sound of a newspaper page turning or folding, which is entirely too crisp, but aside from this and a few minor quibbles, high marks on this one. The uncompressed audio mix presents a dynamic edge to all the effects. The dialogue, which is often subdued, is clear and appropriately shaped and staged. The music often folds into the soundscape, supporting the freaky effects.
Operations: 4
The menu operations carry this reflection thing to it logical, but irrational conclusion. I dare you to try to find your way about in these unruly title cards: the menu designers are so busy being clever they forgot that readability is actually helpful in this context.

Extras: 7
I thought "Reflections: The Making of Mirrors Shockumentary" was fascinating – considerably more interesting than the feature film – as it walks us through aspects of production, such as how the filmmakers transformed an existing building in Bucharest into their set, how they sorted out the challenges of photographing into mirrors (this is not really a CGI movie!) and the scary prosthetics. Also of some interest is "Behind the Mirror" in which the historical and cultural psychology of mirrors is discussed. A BonusView Picture-in-Picture look at production, storyboarding (which Aja excels at), and other aspects covered in the making-of featurette is covered by the director and co-conspirator/writer, Gregory Lavasseur.
Bottom line: 6
You might want to rent this one for the making of documentary, then watch Into the Mirror. On the other hand it is entirely possible that shock is your cup of blood – with or without popcorn - in which case you will not be disappointed with this Blu-ray: the image and audio are guiltless. By the way, the difference between the Theatrical and Unrated cuts is 10 seconds. Draw your own conclusions.
Leonard Norwitz
January 16th, 2009