Review by Leonard Norwitz
Studio:
Theatrical: Touchstone Pictures
Blu-ray: Touchstone Home Entertainment
Disc:
Region: A
Runtime: 2:40:27.618
Disc Size: 47,725,549,222 bytes
Feature Size: 36,535,093,248 bytes
Total Bitrate: 30.36 Mbps
Chapters: 17
Case: Standard Blu-ray case
Release date: February 10th, 2009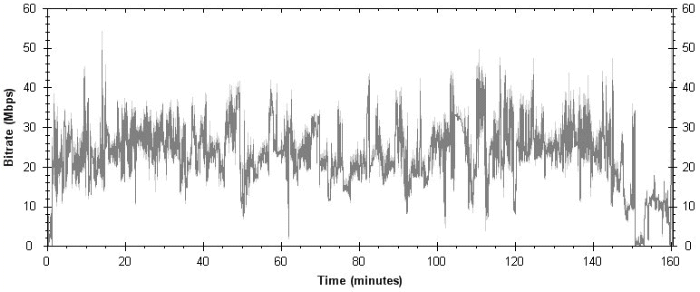 Video:
Aspect ratio: 2.4:1
Resolution: 1080p
Video codec: MPEG-4 AVC
Audio:
DTS-HD Master Audio English 4262 kbps 5.1 / 48 kHz / 4262 kbps / 24-bit
(DTS Core: 5.1 / 48 kHz / 1509 kbps / 24-bit)
Dolby Digital Audio French 640 kbps 5.1 / 48 kHz / 640 kbps
Dolby Digital Audio Spanish 640 kbps 5.1 / 48 kHz / 640 kbps
Subtitles:
English, French, Spanish, none
Extras:
• Deeds Not Words Featurette (17:07 in HD!)
• The Buffalo Soldier Experience Documentary (19:53 in HD!)
• Deleted Scenes (5:26 in HD!)
• Extended Scenes (15:30 in HD!)
Description: From award-winning filmmaker Spike Lee comes Miracle At St. Anna, the story of four black American soldiers who are members of the US Army as part of the all-black 92nd Buffalo Soldier division stationed in Tuscany, Italy during WWII. They experience the tragedy and triumph of war as they find themselves trapped behind enemy lines and separated from their unit after one of them risks his life to save an Italian boy. Praised as The best war movie since Saving Private Ryan (Pat Collins, WWOR TV) and One of the year s best (Ben Lyons, E!), and filled with epic battle sequences and action, the film explore deeply inspiring, powerful story drawn from true history, that transcends national boundaries, race and class to touch the goodness within us all. Now even more revealing with exclusive Blu-ray bonus features that bring you even deeper into the world of these unsung heroes.
Comment:
The Movie: 6
A prologue set in Harlem in 1983 shows Hector Negron (Laz Alonzo) watching John Wayne on his TV rally his troops in The Longest Day. Negron comments, "Pilgrim, we fought for this country, too.") In the next scene Negron is working as a postal clerk. He seems to be in something of a trance until a man that he recognizes approaches his window asking for a stamp, whereupon Negron shoots him dead. We cannot fail to notice that he has evidently been waiting for this man and that he shoots him with a Luger.
A cub news reporter (Joseph Gordon-Levitt) tries to coax his story from him while awaiting trial. Besides the motive for the murder, the reporter is fascinated by the fact that the police found a priceless relic in a shopping bag in Negron's closet. For the next two and a half hours we are transported back to the Allied invasion of Italy in 1944, and specifically an attack across the German-held Serchio River, where casualties among the Negro Buffalo Soldiers of the 92nd Division are absurdly high. Four men manage to cross the river and become trapped behind enemy lines. One of them, Sam "Sniper Bait" Train (Omar Benson Miller) continually strokes his good luck charm - the aforementioned relic. Train's inclinations to religiosity and spirituality iare given quite a kick in the pants when he comes across a boy (Mateo Sciabordi) injured by a cave-in who sees visions, speaks only Italian and doesn't make a great deal of sense in his own language.
Where this thread leads would have made an interesting story of itself, but not content with that possibility, McBride and Lee over- and underlay multiple pieces of plot that involve Italian fascists, local guerrillas, rivalries for the attentions of an attractive Italian villager, the German high command's search for a specific soldier, flashbacks to training for the black soldiers and to the incident for which the title of the movie is named.
Comment:
With the help – some would say, hindrance – of a screenplay by James McBride, based on his book, Spike Lee has fashioned a story about the experience of the American Negro soldier in WWII. As expected, Lee's take on racism is unflinching in its bitterness, especially as it focuses on the segregationist thinking of white field officers and policies of our military. That dialogue infects black soldiers as well, who can hardly be expected to take the notion of loyalty seriously. Yet they do. Perhaps this is the real miracle.
Spike Lee's movie is filled with memorable moments of all stripes, but it is also layered with a few too many ideas, plotlines and characters that never quite gel. Different folks will come away with different images and scenes that will likely remain in their consciousness, but may not be able to feel a sense of wholeness about it. And perhaps they don't need to. I, for one, find the title particularly odd. If what is described is considered a "miracle" I'm not sure I want to be around for the mindless killing of scores of innocent civilians.
Come to think of it, there are a number of peculiar directorial decisions that bug me, not least is the offering of a gun to the wounded American soldier at the end, adding "Defend yourself." Spike, have you forgotten that your movie begins with John Wayne urging his troops! The opportunity missed here aches the heart: The soldier should have been given a cigarette without additional comment, and nothing else. It's the perfect John Wayne gesture, and brings the point back home.
By the way, there is a continuity error in that a newspaper dates Negron's arrest as December 19, 1983, but the court date as January 24, 1983.
Image : 8/9
NOTE: The below Blu-ray captures were ripped directly from the
Blu-ray disc.
The first number indicates a relative level of excellence compared to other Blu-ray video discs on a ten-point scale. The second number places this image along the full range of DVD and Blu-ray discs.
Just as there are a couple too many lines of thought in this movie, much the same can be said for the image as shot and processed for the theatrical experience – not the transfer, I'm guessing. Why, for example, do we see Negron watching The Longest Day on his 4:3 TV, then cut to a scene from that movie in cinemascopic proportions but manipulated to make it appear that it is a televised video, then back to Negron commenting about the movie? And when we first see the soldiers walking across a field approaching the river, the same group of soldiers appear to be encased in a smoky fog at one moment, and a clear, if hazy day in the next. What's the point, I ask? Things eventually settle down for the most part, so now I have to ask: why settle down? Why not invoke Ollie Stone since that's where you started?
That rant done, the movie is never what we would consider solid or strong. In addition to the aforementioned processed noise, especially noticeably in the sky, there is the faint specter of edge enhancement – rarely observed on Blu-ray.
CLICK EACH BLU-RAY CAPTURE TO SEE ALL IMAGES IN FULL 1920X1080 RESOLUTION
Audio & Music: 7/7
The audio mix in uncompressed DTS-HD is clear, crisp, and chock full of authentic sounding weapons fire, yet often the sound, especially the dialogue, fails to consider the environment. There are conversations that take place outdoors that sound like indoors, and vice-versa. There are moments where the audio is pumped up strictly for emotional effect, like when the black soldiers prepare their weapons after they decide to return to the Louisiana café. It might have made sense in close up, but the camera is positioned yards away.
Operations : 9
The menu design is exemplary: full of summary information about what you might click on to watch. Navigation is just as easy.
Extras : 7
The two major bonus features are presented in superb high definition (except for much of the vintage documentary footage which is not, probably because material about the 92nd wasn't as well preserved as – well, you know.) Both features are very good: Deeds not Words is a round table discussion with Spike Lee and James McBride (who kept reminding me of Ed Norton for some reason) and several veterans of the 92nd and Tuskegee Airmen Groups. I wasn't happy with what seemed inappropriate jazz background music, but otherwise, the segment was entertaining and enlightening. Enlightenment is really what The Buffalo Soldier Experience Documentary is all about. It's a historical look at the how the black man was used and abused in his efforts to serve his country since after the Civil War. I particularly liked the interviews with Italians who met these soldiers in the area where the movie's story occurs. The point was well made, if not a little often.
Bottom line: 7
Except for the edge enhancement – which is minor – the image is likely representative of the theatrical intention, peculiar as it is. The audio is gangbusters, if indiscriminately so. On one of the bonus features Spike Lee expresses his wish that his movie, to some extent, redresses the wrongs caused by the treatment of the black American soldier. I wasn't convinced that this was the right movie to make the case (as did Glory for example). In purely cinematic terms, the movie feels like strands that want to come together, but can't or won't. That said, there are memorable moments, and it's worth a viewing.
(Ed. With a stack of unseen discs right beside me, it's not often I choose to see a film twice in a row. But I did with Miracle at St. Anna. Great films stem from great stories - hopefully evolving to brilliant story-telling. I believe Miracle at St. Anna has this quality. I'll agree with Leonard in that the film is imperfect; the ending seems somehow forced and incongruous but I still enjoyed the narrative as much the second time as I did in my initial viewing. Expanding to new genre's, Spike Lee continues to be an impressive filmmaker and this is very much worth seeing in my opinion. Re: the image - I didn't notice any strong edge-enhancements and the use of heavier grain for the flashback seemed perfectly appropriate. I can appreciate that this film may not be for everyone but I can hope that some get the same, very positive, reaction that I had. That is a recommendation on my part. - Gary Tooze)
Leonard Norwitz
January 30th, 2009