Review by Leonard Norwitz
Studio:
Theatrical: Focus Features & Axion Films & Groundswell
Blu-ray: Universal Studios Home Entertainment
Disc:
Region: FREE
Runtime: 2:08:18.691
Disc Size: 42,948,677,864 bytes
Feature Size: 34,050,342,912 bytes
Total Bitrate: 35.38 Mbps
Chapters: 20
Case: Standard Blu-ray case
Release date: March
10th, 2009
Video:
Aspect ratio: 2.35:1
Resolution: 1080p / VC-1
Bitrate: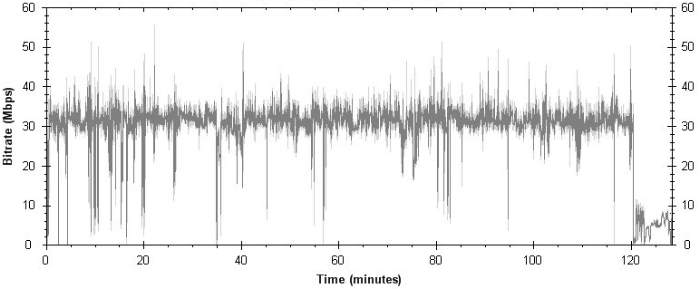 Audio:
DTS-HD Master Audio English 4040 kbps 5.1 / 48 kHz / 4040 kbps / 24-bit
(DTS Core: 5.1 / 48 kHz / 1509 kbps / 24-bit)

Subtitles:
English, Spanish, French, and none
Extras (all in HD):
• Remembering Harvey (13:21)
• Hollywood Comes to San Francisco (14:32)
• Marching for Equality (7:58)
Exclusive to Blu-ray:
• BD-Live 2.0
Synopsis: From the acclaimed director Gus Van Sant (Good Will Hunting and Elephant) comes the powerful and inspiring story of California's first openly gay elected official, Harvey Milk. With a powerhouse performance in the leading role, Sean Penn (Mystic River) and supporting cast Emile Hirsch (Into the Wild), Josh Brolin (No Country for Old Men) and James Franco (Spider-Man 1, 2 and 3) bring this unforgettable story to the big screen.

Gay Rights Activist. Friend. Lover. Unifier. Politician. Fighter. Icon. Inspiration. Hero. His life changed history, and his courage changed lives.

In 1977, Harvey Milk was elected to the San Francisco Board of Supervisors, becoming the first openly gay man to be voted into major public office in America. His victory was not just a victory for gay rights; he forged coalitions across the political spectrum. From senior citizens to union workers, Harvey Milk changed the very nature of what it means to be a fighter for human rights and became, before his untimely death in 1978, a hero for all Americans.
The Film: 8
While the date doesn't stick in my mind, I remember where I was, what I was doing and what the reactions of others around me when we heard the news that San Francisco Supervisor Harvey Milk and Mayor George Moscone were shot – and by another politician, no less. I knew a number of people who were active in the Gay Pride and Anti-Discrimination movements and who met or knew Harvey during his brief career as a political activist.

Gus Van Sant's quasi-documentary film about those years reminds us that there was a time just a few decades ago when gays were routinely rousted by police in various large cities, when gays and lesbians were self-closeted for fear of something worse than death, and when you could walk into a public building without first being cleared by a metal detector.

Two of the most powerful forces at work in human psychology are martyrdom and humiliation. We wince at the irony that Harvey, of all people, could not fathom the implications of Dan White's humiliation at what he felt, however misguided, was at Milk's hands. But who could have predicted how far his feelings of impotence would carry him? For that matter who could have predicted the extent to which Harvey's murder energized the movement instead of stopping it in its tracks (though this was hardly White's motivation)?

I'm not all that convinced that Van Sant's movie is nearly as good a film as it is an important and relevant one: a story that needs telling. It's the story of the first openly gay man to be elected to public office in the U.S., and how he discovered the political power inherent in coming out for all gays. (At one point Milk notes that if a gay comes out to his parents, "they'll vote for us 2 to 1 if they know one of us." While the evocation of time and place seems flawless – it was certainly so in my case – I was less convinced by the narrative. Milk (Sean Penn in his second Oscar-winning performance) tells his story to a tape recorder shortly before his death. Instead of bringing me closer to the man and his fate, I felt the device took me out of the story each time we returned to it. Perhaps my expectations were too high, a second viewing at a later time will tell.

Van Sant clearly wanted to bring us back to the chaos, excitement and fear of the first marches. Still, these seemed too short in time and distance (more like 1.5 miles than a couple of blocks) and without a sense of how the city was reacting as it happened. Instead, and to give the events in the Castro some context, the anti-gay political movements spearheaded by O.J. Anita Bryant in Florida and State Senator John Briggs in California were placed front in center in the movie. The personal distress of Supervisor Dan White (Josh Brolin in a deserved Oscar nominated performance) or his constituency could hardly have been felt to be of great concern by comparison.

Milk's personal life, especially toward the end, might optimistically be described as a distraction. I was reminded of Jesus Christ Superstar for a moment when it was hard for the hero of the story to tell true friends from those who wanted to bask in the glory from those who wanted to promote some political or social agenda, even if it was his or His. The candlelight march at the movie's end finally enlarges the scope of the effects of the movement and Harvey Milk's role in it. The epilogues make for hopeful epitaphs for our time.
Image: 3-8/9 NOTE: The below Blu-ray captures were taken directly from the Blu-ray disc.

The first number indicates a relative level of excellence compared to other Blu-ray video discs on a ten-point scale. The second number places this image along the full range of DVD and Blu-ray discs.
Van Sant liberally folds in archive docufootage. The black & white film used over the opening credits is tabloid material taken from the police raids from two decades earlier. As events unfold in around the Castro, it's sometimes hard to tell where his movie leaves off and archive footage begins. A native of the area would be trying to find themselves amongst the people just crossing the street or waiting for a bus. Some of the archive footage is pretty ratty with grain the size of snowballs and contrast with no grayscale to speak of. My only quibble here is that original 4:3 material is stretched to fit into the 1.85:1 format instead of being cropped so that circles become ovals and everyone needs to be on a diet. None of this, of course, is the fault of the transfer.
As to that, Van Sant smartly uses a fairly grainy filmic look, and only occasionally – and not disruptively – are things highly resolved with a longer tonal scale. Still, there is no noise to speak of in the darker, shadowy scenes. And though I thought maybe there was some sharpening, perhaps to overcome the grain, I was hard pressed to give it a name. The bit rates are fairly high, settling around the low 30s. All in all, I think the resulting high definition video looks as good or better than we might have seen in the theatre – if for no other reason than if the projectionist didn't nail the focus during the opening credits, he might find it difficult to find a suitable point later in the film
.
CLICK EACH BLU-RAY CAPTURE TO SEE ALL IMAGES IN FULL 1920X1080 RESOLUTION
Audio & Music:
6
/9
Before I forget to mention it, high praise indeed for Danny Elfman's moody and elegiac score (At times it put me in mind of Ennio Morricone's The Mission.) Instead of going for a polyglot of 70s pop music, the musical fabric for Milk was kept fairly discreet with only occasional clips from those days, with dollops of opera, the music that Harvey preferred to relax by.

While the image quality of this Blu-ray might not be enough to warrant purchase over the DVD, the uncompressed audio mix has to be a plus – not because it is so exciting or anything resembling demonstration material but because it is so often whispered. Even so, I would not go so far as to call the dialogue track crisp. The surrounds get a shot at opening things up in big crowd scenes, of which there are a couple of important ones, and in its few big music cues. I was dismayed, however - though again, not the fault of the transfer - that speech through the bullhorn was not sufficiently altered. I guess Van Sant went for clarity rather than realism here.
Operations:
8

Loading is fast, after which we are taken directly to the main menu, which is laid out like other Universal Blu-rays. Arrows tell you which way to direct your remote, and the bonus feature instructions are detailed and intuitive. There is no U-Control this time around so navigation couldn't be easier.
Extras:
3

These were something of a disappointment. Did my eyes deceive, or was there really no footage of Harvey Milk in the segment titled "Remembering Harvey"? It was good as far as it went, as we heard from people like Carol Ruth Silver, a SF Supervisor who sat alongside Milk and championed his causes; Anne Kronenberg, Harvey's campaign manager, played in the movie by Alison Pil (who has been doing a lot of TV, mostly); Cleve Jones, played by Emile Hirsch; Alan Baird, who has a cameo in the movie as himself (he was the Coors Boycott Organizer who approaches Harvey to get Coors beer out of the Castro); and Danny Nicoletta, campaign photographer, played by Lucas Grabeel (remember him from High School Musical – you see, some of those actors do actually grow up to become adults.)

"Marching for Equality" covers two of the major march sequences from the movie as seen, both in retrospect and on the set by Cleve Jones, Daniel Nicoletta and Gilbert Baker. "Hollywood Comes to San Francisco" – an unimaginative title under the circumstances - is a series of brief interviews from cast, often commenting on their real-life counterparts, some of whom they got to meet. The producers chime in, and the writer, Dustin Lance Black, tells his personal story as well.

These are all in wonderful 1080i, but conspicuously absent are Sean Penn and Gus Van Sant, speaking to us directly. I shall say no more.
Bottom line:
7

Despite the lightweight bonus features, especially the absence of Van Sant and Penn (no audio commentary, either), one can hardly not recommend the video, if hesitantly, as we cannot tell when the oversight (more likely, a rush to press deadline) might be corrected.
Leonard Norwitz
February 28th, 2009