Review by Gary Tooze
Studio:
Theatrical: Sandrew Metronome
Video:
Magnolia Home Entertainment
Disc:
Region FREE
Runtime: 1:54:35.910
Disc Size: 24,843,799,728 bytes
Feature Size: 23,713,351,680 bytes
Average Bitrate: 27.59 Mbps
Chapters: 17
Case: Standard Blu-ray case
Release date: March 10th, 2009
Video:
Aspect ratio: 2.35:1
Resolution: 1080p
Video codec: VC-1
Audio:
DTS-HD Master Audio English 2240 kbps 5.1 / 48 kHz / 2240 kbps / 16-bit (DTS Core: 5.1 / 48 kHz / 1509 kbps / 16-bit)
DTS-HD Master Audio Swedish 2157 kbps 5.1 / 48 kHz / 2157 kbps / 16-bit (DTS Core: 5.1 / 48 kHz / 1509 kbps / 16-bit)
Subtitles:
English, Spanish, none
Extras (all in SD):
• Four Deleted Scenes (5:53)
• Behind the Scenes (7:37)
• Photo Gallery (21)
• Theatrical Poster Gallery (6)
Bitrate: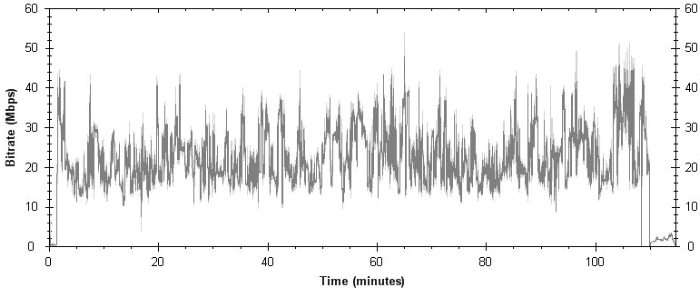 Description: Oscar, a 12-year-old fragile and bullied boy, finds love and revenge through Eli, a beautiful but peculiar girl he befriends, who moves into his building. When Oscar discovers that Eli is a vampire it does not deter his increasing feelings and confused emotions of a young adolescent. When Eli loses the man who protects and provides for her, and as suspicions are mounting from her neighbors and police she must move on to stay alive. However when Oscar faces his darkest hour, Eli returns to defend him the only way she can.
The Film:
The enduring popularity of the vampire myth rests, in part, on sexual magnetism. In Let the Right One In, Tomas Alfredson's carefully controlled, yet sympathetic take on John Ajvide Lindqvist's Swedish bestseller-turned-screenplay, the protagonists are pre-teens, unlike the fully-formed night crawlers of HBO's True Blood or Catherine Hardwicke's Twilight (both also based on popular novels). Instead, 12-year-old Oskar (future heartbreaker Kåre Hedebrant) and Eli (Lina Leandersson) enter into a deadly form of puppy love. The product of divorce, Oskar lives with his harried mother, while his new neighbor resides with a mystery man named Håkan (Per Ragnar), who takes care of her unique dietary needs. From the wintery moment in 1982 that the lonely, towheaded boy spots the strange, dark-haired girl skulking around their outer-Stockholm tenement, he senses a kindred spirit. They bond, innocently enough, over a Rubik's Cube, but little does Oskar realize that Eli has been 12 for a very long time. Meanwhile, at school, bullies torment the pale and morbid student mercilessly. Through his friendship with Eli, Oskar doesn't just learn how to defend himself, but to become a sort of predator himself, begging the question as to whether Eli really exists or whether she represents a manifestation of his pent-up anger and resentment. Naturally, the international success of Lindqvist's fifth feature, like Norway's chilling Insomnia before it, has inspired an American remake, which is sure to boast superior special effects, but can't possibly capture the delicate balance he strikes here between the tender and the terrible.
Excerpt from Kathleen C. Fennessy at Amazon located HERE
Image :
NOTE: The below Blu-ray captures were ripped directly from the
Blu-ray disc.
I was probably less impressed with the Blu-ray image than I was with Hoyte Van Hoytema's wonderful cinematography that captured a Giallo-ish Euro-feel (actually made in Sweden). The frame usage and mis-en-scene produced so many interesting visuals. Technically the Blu-ray had decent moments supporting this style with camera focus drifting in and out of character focus. Pastel colors appeared tight and true and close-ups had some impressive moments. The image transfer produces some depth with no glossiness and contrast was precise. I saw no DNR or other flagrant digital manipulations. The image quality gives a strong presentation, obviously far superior to SD-DVD, and supporter the film's beneficial 'feel' to a very high ideal. I have no evidence to support that the film looked any better theatrically and it seems faithful. Technically it seems competent being single-layered with the feature taking up over 23 Gig. Bitrate is reasonable - being well over 25 Mbps. Outdoor scenes and open spaces tend to look the best but overall the image quality works well with this cool, brooding vampire flic. This Blu-ray image never explodes in unrealistic superficial colors - in fact it has a kind of 70's feel which ingratiates Let the Right One In's essential charm and appeal.
NOTE: It has come to our attention (thanks Josh) that Magnolia has altered the subtitles from those used in theatrical version and their DVD screener copies to an alternate translation. I'm unaware of which, or how much, dialogue was altered.
CLICK EACH BLU-RAY CAPTURE TO SEE ALL IMAGES IN FULL 1920X1080 RESOLUTION
Audio :
The available
DTS-HD Master tracks (original Swedish and an English DUB) at somewhere over 2000 kbps a piece aren't going to blow your windows out. The film has a tension-filled sparseness with an appropriately chilling original score by Johan Söderqvist. There is some minor separations that seem to jump in at key moments. Bottom line - this is not audio demo material but works quite adeptly for this particular film. I watched it a second time with the DUB (which the disc defaults to) and liked it a lot as it felt even more Giallo-like. Nothing was gravely out of place but it added to the charm and nostalgia I was feeling about Let the Right One In. There are English or Spanish optional
subtitles. This disc is reported to be region free.
NOTE: Kevin tells us in email" "In case you haven't seen this, here's a link discussing the subtitle changes on "Let The Right One In". Apparently they are significant (see HERE) and according to "The Digital Bits", Magnolia will be doing future pressings with the correct subtitles (no exchanges though). You can read about it in their 3/24 post (see HERE). - Thanks Kevin!


Extras :
Nothing worth writing home about - deleted takes and a shortish "Behind the Scenes..." with some appropriate footage and brief discussion. There is a click-thru photo gallery and some neat posters for those interested in viewing.
BOTTOM LINE:
Whether intentional or not this film is brilliantly realized. The Blu-ray supports this genre film about as well as one could hope. I was very taken with my viewing and decided to make it our Feature Blu-ray of the Month for March 09'. Perhaps my expectations were low and I received a beneficial surprise but there is definitely something to this film experience. I imagine many like-minded fans will eat this right up.
Gary Tooze
March 1st, 2009