Firstly, a massive thank you to our Patreon supporters. Your generosity touches me deeply. These supporters have become the single biggest contributing factor to the survival of DVDBeaver. Your assistance has become essential.
What do Patrons receive, that you don't?
1) Our weekly Newsletter sent to your Inbox every Monday morning!
2) Patron-only Silent Auctions - so far over 30 Out-of-Print titles have moved to deserved, appreciative, hands!
3) Access to over 20,000 unpublished screen captures in lossless high-resolution format!
Please consider keeping us in existence with a couple of dollars or more each month (your pocket change!) so we can continue to do our best in giving you timely, thorough reviews, calendar updates and detailed comparisons. Thank you very much.






| | |
| --- | --- |
| | S E A R C H D V D B e a v e r |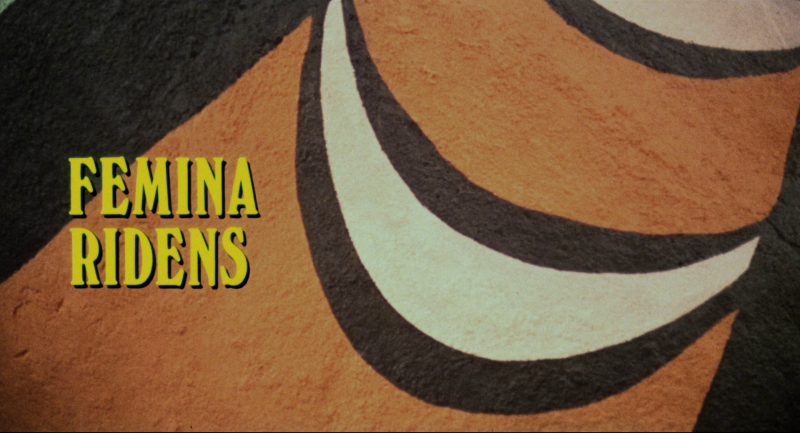 (aka "Femina Ridens" or "The Laughing Woman" or "Duo de la mort" or "Gioco d'amore, gioco di morte" )
directed by Piero Schivazappa
Italy 1969
The Blu-ray of The Frightened Woman is compared to these two DVDs HERE
Journalist Maria (Dagmar Lassander, BLACK EMANUELLE 2) is writing an article advocating male sterilization and wealthy philanthropist Dr. Sayer (Philippe Leroy, MOTHER OF TEARS) offers her access to some relevant files kept at his penthouse apartment. There he drugs her and spirits her off to his country house/pop-art S&M lair where he subjects her to his kinky desires; holding off on having sex with her as he plans to eventually kill her at the moment of orgasm (he even shows her a room full of his previous conquests). Maria, however, responds differently and Sayer finds himself falling in love with her; but is Maria as innocent and open as she comes across?

Although not particularly transgressive (and even tame for a late sixties Italian exploitation film), THE FRIGHTENED WOMAN is memorable for its wonderful pop-art set designs, and a fantastic score by Stelvio Cipriani (recently issued on stereo CD by Digitmovies in Italy after decades as a bootleg release sourced from an incredibly rare LP). Lassander and Leroy both make charismatic leads and director Schivazappa surprises consistently the viewer with the film's shifts of tone and atmosphere that make the ending reversal unexpected. The film is a must for fans of European sixties exploitation cinema.
Poster
Theatrical Release: 24 August 1969
Reviews More Reviews DVD Reviews
DVD Comparison:
First Run Features - Region 0 - NTSC vs. Shameless Entertainment - Region 0 - PAL
Big thanks to Eric Cotenas for all the Screen Caps!
(First Run Features - Region 0 - NTSC - LEFT vs. Shameless Entertainment - Region 0 - PAL - RIGHT)
DVD Box Covers

Distribution

First Run Features

Region 0 - NTSC

Shameless Entertainment
Region 0 - PAL
Runtime
1:26:27
1:26:03 (4% PAL speedup)
Video

1.73:1 Aspect Ratio
Average Bitrate: 6.75 mb/s
NTSC 720x480 29.97 f/s

1.85:1 Original Aspect Ratio

16X9 enhanced
Average Bitrate: 5.2 mb/s
PAL 720x576 25.00 f/s

NOTE: The Vertical axis represents the bits transferred per second. The Horizontal is the time in minutes.

Bitrate:

First Run Features

Bitrate:

Shameless Entertainment

Audio
English (Dolby Digital 2.0 mono)

English (Dolby Digital 2.0 mono)

Subtitles
none
none
Features
Release Information:
Studio: First Run Features

Aspect Ratio:
Widescreen letterboxed - 1.73:1

Edition Details:
• Theatrical Trailer (4:3; 1:39)

DVD Release Date: 25 July 2000
Amaray

Chapters 9


Release Information:
Studio: Shameless Entertainment

Aspect Ratio:
Widescreen anamorphic - 1.85:1

Edition Details:
• Theatrical Trailer [newly created] (16:9; 1:08)
• MY DEAR KILLER trailer [newly created] (16:9; 1:29)
• WHAT HAVE THEY DONE TO YOUR DAUGHTERS trailer [original] (16:9; 1:10)
• BABA YAGA trailer [original] (16:9; 3:40)
• VENUS IN FURS trailer [original] (16:9; 3:45)
• RATMAN trailer [newly created] (16:9; 1:11)
• THE BLACK CAT trailer [original] (16:9; 3:00)

DVD Release Date: 14 April 2008
Amaray

Chapters 12
Comments

The Blu-ray of The Frightened Woman is compared to these two DVDs HERE

Although the US and UK discs have roughly the same running time, the US is not a PAL-NTSC transfer. It was derived from a video master of the US version from the Audubon Films library (the widescreen disc was a huge improvement over their cropped tape release but the colors were still faded). The UK disc - which would run 4 minutes longer without the PAL speed-up - was assembled from multiple sources to create the longest version available (so variable image quality is expected) and is director-approved. As such, we get a snippet of the Italian version of the theme song which then switches to the English version for the end credits scroll. It is also a monumental improvement colorwise (not the subtle blue lighting on capture 5 which is not evident at all in the US transfer). Although the UK image has a black border around all four sides, the 1.86:1 image reveals significant picture information on the right and a little more on the bottom than the US. While the left side seems to be the same in both, there is occasionally more headroom in the UK transfer over the US one but not in every shot (the reverse is true occasionally but the US version usually only offers a sliver of extra info at the top - see cap 2). The anamorphic UK transfer also has more detail (whites tend to blow out in the US version which is also dominated by a brownish tint).


Both discs are slim on extras but the US disc features the original Audubon Films theatrical trailer which sells this as an arty and sophisticated piece of sixties erotica while the UK disc has a newly-created trailer that has a retro feel but the original trailer better captures that sense of the sixties for those of us who weren't around for it.
---

DVD Menus
(First Run Features - Region 0 - NTSC - LEFT vs. Shameless Entertainment - Region 0 - PAL - RIGHT)
| | |
| --- | --- |
| | |
| | |
| | |
| | |
---
Screen Captures
(First Run Features - Region 0 - NTSC - TOP vs. Shameless Entertainment - Region 0 - PAL - BOTTOM)
---
(First Run Features - Region 0 - NTSC - TOP vs. Shameless Entertainment - Region 0 - PAL - BOTTOM)
---
(First Run Features - Region 0 - NTSC - TOP vs. Shameless Entertainment - Region 0 - PAL - BOTTOM)
---
(First Run Features - Region 0 - NTSC - TOP vs. Shameless Entertainment - Region 0 - PAL - BOTTOM)
---
(First Run Features - Region 0 - NTSC - TOP vs. Shameless Entertainment - Region 0 - PAL - BOTTOM)
---
(First Run Features - Region 0 - NTSC - TOP vs. Shameless Entertainment - Region 0 - PAL - BOTTOM)
---
(First Run Features - Region 0 - NTSC - TOP vs. Shameless Entertainment - Region 0 - PAL - BOTTOM)