Review by Leonard Norwitz
Studio:
Theatrical: 20th Century Fox
Blu-ray: 20th Century Fox Home Entertainment
Disc:
Region: 'A' locked
Runtime: 1:48:26.875
Disc Size: 44,322,188,834 bytes
Feature Size: 35,420,971,008 bytes
Total Bitrate: 43.55 Mbps
Chapters: 24
Case: Standard Blu-ray case
Release date:
February
10th, 2007
Video:
Aspect ratio: 2.35:1
Resolution: 1080p / MPEG-4 AVC Video
Bitrate: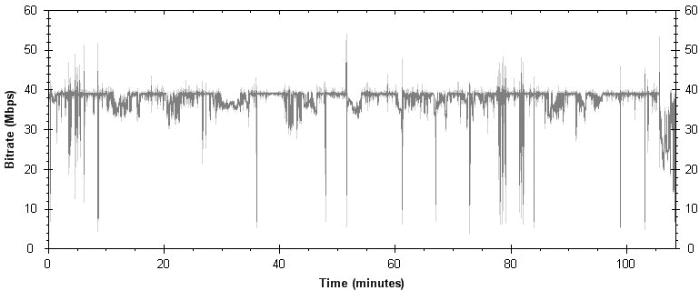 Audio:
DTS-HD Master Audio English 3196 kbps 5.1 / 48 kHz / 3196 kbps / 24-bit (DTS Core: 5.1 / 48 kHz / 1509 kbps / 24-bit)
Dolby Digital Audio English 192 kbps 2.0 / 48 kHz / 192 kbps
Dolby Digital Audio English 192 kbps 2.0 / 48 kHz / 192 kbps

Subtitles:
English, Spanish and none
Extras:
• Theatrical & Director's Cut
• Audio commentary with writer/director Troy Duffy
• Audio commentary with actor Billy Connolly
• Outtakes in SD (1:32)
• 7 deleted scenes in SD (ca. 15 min.)
• The Boondock Saints script
• Theatrical trailer in 4:3 480p
• D-Box enabled
The Film: 4
Irish brothers Connor and Murphy MacManus (Sean Patrick Flanery & Norman Reedus) live and work in South Boston. After killing a couple of Russian mobsters in self-defense, the brothers believe they have found their calling from God ridding the earth of human evil. So they set out to on their divine mission by ridding the streets of gangsters, criminals and lowlifes. As the body count rises, the brothers become local heroes (deemed the "Boondock Saints".) FBI agent Paul Smecker (Willem Dafoe) follows their trail of bloodshed, but admits that the boys are doing exactly what he has always secretly wished for.

I kind of enjoyed this movie for as long as I was able to see it as a satire of vigilante vengeance films. Between the bemused glances between the brothers, the deliciously crazed "Funny Man" Rocco, and the entertaining song and dance performed by Detective Smecker, as well as his identification with the objectives of the "Saints" were such that I couldn't help myself. But in the last couple of reels I felt that Writer/Director Duffy was beginning to take his subject seriously and then he lost me. On reflection, Duffy probably never means for us to take the idea of the vigilante seriously, if only because the way he puts the thesis across is so preposterous. Or, maybe he's a little confused about it himself.
Image: 8/9 NOTE: The below Blu-ray captures were ripped directly from the Blu-ray disc.
The first number indicates a relative level of excellence compared to other Blu-ray video discs on a ten-point scale. The second number places this image along the full range of DVD and Blu-ray discs.

The movie has an uninteresting look, but is given a solid production for the Blu-ray transfer. Good blacks, convincing warmish flesh tones, some grain. The sky in one of the opening scenes is very noisy, but things settle down nicely after that.
NOTE:
ED. - I didn't find the image quality very remarkable - better than the DVD - but compared to other
Blu-ray
there isn't much depth and it is not particularly detailed either. Colors are heavily to the warmer end of the spectrum.
CLICK EACH BLU-RAY CAPTURE TO SEE ALL IMAGES IN FULL 1920X1080 RESOLUTION
Unrated Special Edition 'Tin Box' DVD TOP vs. Region 'A' Blu-ray BOTTOM
Unrated Special Edition 'Tin Box' DVD TOP vs. Region 'A' Blu-ray BOTTOM
More Blu-ray grabs
Audio & Music: 8/6
I found the audio mix to hit just the right balance between clarity and bang. It's never over-the-top even in the scenes with resonant multiple ordinance going off.
Operations: 6
Another case of no Play-All function for the Deleted Scenes. But it doesn't really matter all that much since the video quality is so unfinished. Otherwise, the menu operations work as advertised.
Extras: 4
Two commentaries: one by the writer/director – that makes sense - and one from Billy Connelly, who has a small supporting role in the movie. Conspicuous by their absence are Flanery, who's been very busy on the big and little screen since, and Reedus, mostly seen in films. And, yes, the entire screenplay can be viewed if you want to see it. A final note about the two cuts of the film: they are within seconds of each other in length, so we might assume that the difference is largely organizational.
Bottom line: 6
If you want to make a movie that endorses vigilante violence, then I think it has to avoid comedy to be taken seriously. If you want to make a movie that has good time just shooting up the scenery and the bodies that come with it, then you have to beware of self-parody. The Blu-ray makes as good a case for the movie as we're ever likely to see or hear, so you know what to do here.
Leonard Norwitz
February 20th, 2009