Review by Leonard Norwitz
Studio:
Theatrical: Starz Vanguard Animation
Blu-ray: 20th Century Fox Home Entertainment
Disc:
Region: A
Runtime: 81 minutes
Chapters: 20
Size: 50 GB
Case: Standard Amaray Blu-ray case
Release date: November 25, 2008
Video:
Aspect ratio: 2.35:1
Resolution: 1080p
Video codec: AVC @ 24 Mbps
Audio:
English DTS HD 5.1 Master Audio. Dolby Digital Spanish & French 5.1
Subtitles:
English & Spanish
Extras:
• Trivia Balst-Off
• Fox Movie Channel Presents: Casting Session in SD (8:55)
• Still Gallery
• TV Spots
The Film:
Despite that IMDB Users give this movie a 4 out of 10 score, these two names brand critics liked it, as did I:

• "Space Chimps" is delightful from beginning to end: A goofy space opera that sends three U.S. chimptronauts rocketing to a galaxy, as they say, far, far away. Although it's aimed at a younger market and isn't in the same science-fiction league as "WALL*E," it's successful at what it wants to do: Take us to an alien planet and present us with a large assortment of bug-eyed monsters, not to mention a little charmer nicknamed Kilowatt, who lights up when she gets excited, or afraid, or just about anything else.
– Roger Ebert Chicago Sun Times.

• Journalism is all about having the courage to write the truth even if it will get you mocked by your relatives and co-workers, so here goes: "Space Chimps" is hilarious. Yes, the name combined with the G rating might have parents thinking they should stay in the car while the kiddies go into the theater, but that would be a mistake. It would, among other things, cause them to miss one of the better one-liners of the summer, the capper in a string of chimp puns delivered by a title character. If "Wall-E" pushes the boundaries of what can be done in an animated movie, "Space Chimps" proves that the old formula is still pretty effective when executed well. The old formula being a child-friendly tale laced with deadpan asides for grown-ups and delivered by top-notch voice actors.
The Movie: 6
NASA loses contact with the unmanned Infinity explorer probe through a wormhole in deep space. Fearful that wormhole travel might be too risky for humans, chimps are selected for the mission, just as one was chosen to be the first in space decades earlier. That first chimp's name was Ham. Seems like Ham's grandson, Ham III, is now working in a circus, enjoying being shot out of a cannon - a clown in every way. Clearly, this character does not have the "Right Stuff." In ought to be a publicity coup, NASA enlists Ham III to accompany two other astronaut chimps to follow the course of the missing probe and bring it back.

So, where did Infinity end up? - on a colorful planet whose bizarre inhabitants are all under the thumb of Zartog, whose very house Infinity landed on (something like The Wizard of Oz - only the witch lives). Zartog uses the alien mechanical device like a giant erector set to keep his subjects in line. With parodies of Star Trek, The Right Stuff, 2001, and others, our three chimps are in pursuit, with our very reluctant hero trying his best to put the make on the female astrochimp.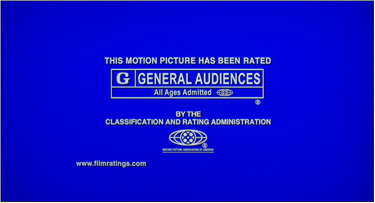 Image: 8/8
The first number indicates a relative level of excellence compared to other Blu-ray video discs on a ten-point scale. The second number places this image along the full range of DVD and Blu-ray discs.

Digitally created images aren't always razor sharp with resolution tight enough to shave in its reflection. It's partly a matter of art design. Pixar's Cars has a very high gloss look to it, whereas The Incredibles is more painterly. Ratatouille glows and WALL-E is so subtle for much of the movie it's like watching iron rust. Then there's Surf's Up from Sony Pictures Animation: what a peculiarly fuzzy image! Starz' Space Chimps looks to me like 1080i – as if all the pixels haven't quite jelled. It's clear enough, just absent any texture to speak of. I suspect they didn't want to have to deal with anything like realistic fur. Bit rate hovers mostly in the uppers 30s.
Audio & Music: 7/8
I felt about the audio much the same as I did about the image: it's not quite as dynamic, not quite as crisp as I thought it could have been – and this with uncompressed audio. The surround mix is good: it certainly gets the point across. There aren't any really earth-shaking nor ear-splitting moments, despite rockets taking off. And spears shot from flying beasts didn't quite have that zip.
Operations: 5
Dual layer Fox discs take a while to load, even on a PS3, but once on board we get to the main menu quickly. The remote's Top Menu permits direct bypass of promotional material which, oddly enough, includes previews of DVD material. Fox is experimenting with a new chapter search design, where only one scene thumbnail at a time is viewable. I don't feel that the increase in scene size outweighs the loss of strategical navigation. Worse still is that there is no Play All function for the TV spots, which require returning to the menu after 15-30 seconds!
Extras: 4
The Trivia Blast Off function addresses production, casting, background and trivia throughout the feature film. Once activated, a readable window comes up with the scene-appropriate bit. It's a fun watch – and for the target audience, is satisfactory. There are, however, no separate features about the animation.
Bottom line: 8
Despite my qualified remarks about image, sound and extra features, I still recommend this Blu-ray for its feature film content, which plastered a permanent smile on my face from one end of the movie to the other.
Leonard Norwitz
November 27th, 2008