Review by Leonard Norwitz
Studio:
Theatrical: Universal Pictures
Blu-ray: Universal Studios Home Entertainment
Disc:
Region: All
Runtime: 119 min
Chapters: 20
Size: 50 GB
Case: Standard Blu-ray case
Release date: December 30, 2008
Video:
Aspect ratio: 2.35:1
Resolution: 1080p
Video codec: VC-1
Audio:
English DTS HD-Master Audio 5.1; French, Spanish, Italian, German, Japanese DTS 5.1
Subtitles:
English SDH, French, Spanish, Italian, German, Dutch, Swedish, Norwegian, Finnish, Danish, Greek, Portuguese, Korean, Mandarin, Japanese
Extras:
• Audio Commentary by Writer/Driector Joss Whedon
• What's in a Firefly (6:33)
• Future History: The Story of Earth That Was (4:32)
• Re-Lighting the Firefly (9:41)
• 9 Deleted Scenes (13:54) & Outtakes (6:04)
• New: Take a Walk on Serenity (4:06)
• New: A Filmmaker's Journey (19:55)
• New: The Green Clan (3:07)
• New: Extended Scenes: Session 416 (8:00)
• U-Control: Picture-in-Picture Commentary - with Whedon, cast members Nathan Fillion, Adam Baldwin, Summer Glau, and Ron Glass.
• U-Control: Picture-in-Picture making-of track
• U-Control: My Universe Compendium
• U-Control: Digital Tour of Serenity
• BD-Live 2.0
The Film:
Also see the DVDBeaver review of Firefly:

The Movie: 7
You may recall that Serenity had its theatrical debut on the heels of the final installment of the much anticipated Star Wars Episode III – Revenge of the Sith. While I feel the tug, it's almost not fair to compare the two: the one derived from a television series famously cancelled in mid-season, with a budget of something like $40M; the other some 25 years in gestation, with five galactically successful movies before it and a budget of over $110M (and made nearly all of it back on the opening weekend!) The Lucas movie was pretty well trashed by the critics, whereas Joss Whedon film was generally given high marks. Even so, Serenity never came close to recouping its production and distribution costs.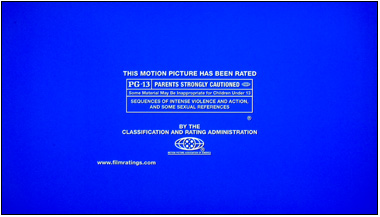 Serenity was a movie about which Joss enjoys saying shouldn't have been made, given the history of the TV series. The movie has no A-list stars (Chiwetel Ejiofor had been lauded for his work in Dirty Pretty Things, but had not cracked the big time ceiling), and its special effects come off more like animé CG. But the writing and general level of performance in Joss's movie was, and remains, an order of magnitude more entertaining than George's.

All the actors from the series were still available and they fell into their personas and the rhythms of Joss's dialogue instantly. The movie is, as expected, edgier than anything in the series, and in Ejiofor, the crew of the Serenity found a worthy opponent. The setup from the TV series is neatly and intensely reprised at the start of the film: we have you basic distant star system, now peopled by Earthlings. We have a history of civil war with the orderly Alliance coming out the winner. And we have the rescue of River and the introduction of her pursuer. Captain Mal Reynolds commands Serenity's small crew along with two paying customers: River and her brother, Dr. Simon Tam (Inara and Book are not aboard at the moment, but we come upon them later).

The series, and the movie as well, concerns the fate of River Tam (Summer Glau), whose remarkable intellectual and physical powers the Alliance is most interested in exploiting. She is rescued from the hands of their hands by her brother (Sean Maher) and they soon find a restless sanctuary on board the Serenity. The Alliance has been in hot pursuit ever since – this time by the Operative (Ejiofor). There is always a dynamic discussion about whether to make use of River's talents to aid the crew in whatever it is that they do – legal and illegal – even if it might bring her whereabouts to the attention of the Alliance.
Image: 7/8
The first number indicates a relative level of excellence compared to other Blu-rays on a ten-point scale. The second number places this image along the full range of DVD and Blu-ray discs.

The color scheme tends to enjoy saturated blues, which seems to be the favorite hue of the future these days. The frame tends to the dark side, with barely enough shadow detail to keep things interesting. Some of these scenes show some grain, but not enough to be distracting. Like the TV series, Whedon wanted a grungy, unpolished look for the production to underscore the nuts and bolts ship that Mal commands. There are also scenes in some desert areas where the picture is deliberately overexposed. This is not an image you want to show off to your friends as the raison d'etre for high definition video. Bit rates cluster around the upper teens-mid twenties.
Audio & Music: 8/8
This movie has seen DVD and HD-DVD incarnations, but this is the first time it has felt the benefit of uncompressed audio which Universal offers in almost too much of a good thing: I found that a comfortable level for dialogue resulted in building shaking during action and effects scenes. I'm not saying it's wrong, just to caution you about what time of the day you can watch and listen.
Operations: 7
The menu is laid out like other Universal Blu-rays. Arrows tell you which way to direct your remote, and the bonus feature instructions are detailed and intuitive. The chapter menu includes buttons for U-Control in case you want to approach those functions from that point. And, there are the usual number of U-Control opportunities to invite and confuse: in this case, two PIP features: one is a group commentary with Joss, Nathan, Adam, Ron and Summer, another consists of making-of production interviews and behind the scenes bits. There is also a pull-down option that offers details on characters and the other ships and planets in play. Something I'm seeing a lot of lately is the lack of a Play All feature for short segments that obviously are part of an arc of sorts. This happened – or didn't happen – twice here, so there is a great deal of returning to the menu.
Extras: 6
While both the DVD and HD-DVD had identical bonus features (all in 480 res), Universal adds several new bonus features, though still in SD. All the same, I found that the two PIP tracks, especially the making-of feature, if you're interested in production, covers much the same material. It's all presented in a small image, but the other bonus features are generally of only fair image quality so you don't lose all that much. I didn't watch all of the bonus features but one that held my attention – and wasn't included on the previous video incarnations – is titled "A Filmmaker's Journey" where Joss and the cast talked candidly and directly about resurrecting their roles - in a feature film at that.
| | |
| --- | --- |
| | |
| | |
| --- | --- |
| | |
| | |
| --- | --- |
| | |
| | |
| --- | --- |
| | |
Bottom line: 7
By this time we should all know who Joss Whedon is: he is best known as the creator of Buffy the Vampire Slayer and Angel, but he also contributed his writing talents to Toy Story, and is the creator and writer of the new Fox TV series: Dollhouse. His writing style is instantly recognizable – like Aaron Sorkin or David Mamet. At his best his dialogue is a delight to hear, for without a good script you have bupkis. Serenity feels to me at times a little self-conscious of its writing, but once we tumble to Whedon's style and the whole notion of a space western, Serenity is great fun and, in its new Blu-ray incarnation just that much better than it's ever been to enjoy at home.
Leonard Norwitz
December 21st, 2008