Review by Gary Tooze
Studio: Mei Ah
Discs:
Region: FREE
Feature Runtime: 2:25:21.041
Chapters: 20
Disc Size: 46,615,517,714 bytes
Feature Size: 42,890,151,936 bytes
Average Bitrate: 39.34 Mbps
One dual-layered Blu-ray
Case: Standard Blu-ray case
Release date: September 10th, 2008
Video:
Aspect ratio: 2.35:1
Resolution: 1080p
Video codec: MPEG-4 AVC
Audio:
LPCM Audio Chinese 6144 kbps 7.1 / 48 kHz / 6144 kbps / 16-bit
DTS-HD Master Audio Chinese 2587 kbps 7.1 / 48 kHz / 2587 kbps / 16-bit (DTS Core: 5.1 / 48 kHz / 1536 kbps / 16-bit)
Dolby TrueHD Audio Chinese 1996 kbps 7.1 / 48 kHz / 1996 kbps / 16-bit (AC3 Core: 5.1 / 48 kHz / 640 kbps)

Subtitles:
Feature: English, Chinese (Traditional and simplified) and none

Supplements:
•
Press Conference footage
•
Trailers in HD!
Bitrate Graph: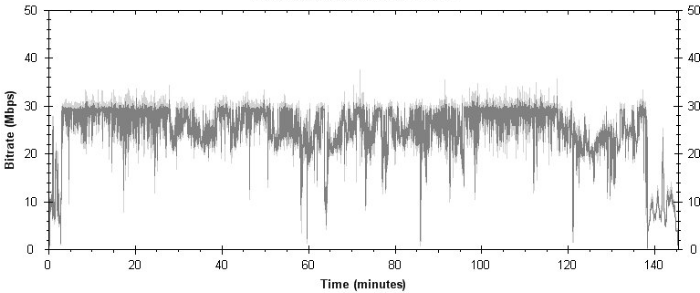 Product Description: In 208 A.D., in the final days of the Han Dynasty, shrewd Prime Minister Cao Cao (Zhang Feng Yi) convinced the fickle Emperor Han the only way to unite all of China was to declare war on the kingdoms of Xu in the west and East Wu in the south. Thus began a military campaign of unprecedented scale, led by the Prime Minister, himself. Left with no other hope for survival, the kingdoms of Xu and East Wu formed an unlikely alliance. Numerous battles of strength and wit ensued, both on land and on water, eventually culminating in the battle of Red Cliff. During the battle, two thousand ships were burned, and the course of Chinese history was changed forever...
The Film:
Legendary director John Woo (A Better Tomorrow, The Killer) returns to Asia after fifteen years in Hollywood with Red Cliff, his adaptation of the Chinese classic, The Romance of the Three Kingdoms. Woo's epic is much more faithful and grand than the recent Three Kingdoms: Resurrection of the Dragon, but the director still puts his own personal stamp on the material, concentrating on his human heroes, their personal relationships, and above all the brotherhood they forge in the heat of battle. The first of two films chronicling the legendary battle, Red Cliff is without doubt the Chinese film event of the year.



Re-teaming with Woo for the first time since 1992's Hard Boiled is Tony Leung Chiu Wai, fresh from his Golden Horse Award-winning turn in Lust, Caution. Leung plays the role of strategist Zhou Yu, and stepped in to help old friend John Woo when original lead Chow Yun Fat vacated the leading role. Rounding out the all-star cast are Kaneshiro Takeshi (The Warlords), Chang Chen (The Go Master), Zhang Feng Yi (The Emperor and the Assassin), Vicki Zhao (Shaolin Soccer), Hu Jun (Infernal Affairs 2), Japanese actor Nakamura Shidou (Fearless), and in her debut performance, Taiwanese model Lin Chi Ling.

208 A.D., The Battle of Chang Ban. Liu Bei (You Yong) and his followers narrowly escape the armies of Prime Minister Cao Cao (Zhang Feng Yi), but Cao Cao's lust for power continues to grow. Fearing that Liu Bei and the Kingdom of Shu cannot oppose Cao Cao, strategist Zhuge Liang (Kaneshiro Takeshi) proposes an alliance with the Kingdom of Wu. However, Wu ruler Sun Quan (Chang Chen) is uncertain on challenging Cao Cao. Zhuge Liang instead looks to persuade Sun Quan's chief strategist Zhou Yu (Tony Leung Chiu Wai), and discovers in Zhou a kindred spirit versed in the arts as well as battle. The two men form an instant bond, and decide to battle Cao Cao at the water port of Red Cliff. Their alliance comes not a moment too soon, as Cao Cao approaches with an army that vastly outnumbers the combined Wu and Shu forces. But Zhuge Liang has a plan - one that will hopefully enable the smaller force to emerge victorious.
Image : NOTE: The below Blu-ray captures were ripped directly from the Blu-ray disc.
The visuals are almost as impressive as the immense cast and grandiose production expense. The Blu-ray is dual-layered with the feature taking up more than 42 Gig of disc space. Detail is at the higher tier for the Blu-ray format but the film's wave after wave of epic cinematography bally-hoos are impossible to ignore. I'm unsure if its these incredible scope shots or the transfer itself that leaves one genuinely impressed - bordering on breathless. Typical of Woo, and sometimes Asian war epics in general, dynamic extremes are pursued and achieved. It has an air of artificialiality (and production haste) but one has to give credit for the eventual product. A lavish, beautiful image whose only flaw may be in the digital background grain/noise issues that I can only expect were intentional rendered - relating the film experience with accuracy. Colors are strong but fairly flat and true - definitely escalating above any SD-DVD. Contrast seems peaked in darker scenes approaching, but never delving directly in, saturation. Really, one would consider this quite a flawless appearance. The Blu-ray presentation can be exhausting with its captivating images that tend to overwhelm at every turn. This is a disc you might use to demo your system to friends.
NOTE: Although I wasn't aware of them, there are, supposedly, some Mei-Ah watermarks that briefly appear in a few scenes - in earlier release editions. If they were on my 3-month old copy - I did not notice them.
CLICK EACH BLU-RAY CAPTURE TO SEE ALL IMAGES IN FULL 1920X1080 RESOLUTION
Audio & Music:
We run the gamut of high-end options with three original Mandarin language track choices, LPCM 7.1, TrueHD 7.1 and a DTS-HD Master - also in 7.1. I tested all three eventually settling on the LPCM option (for no specific reason.) Each mix sounds exceptionally strong filling the room with effect noise. Like the image - this audio is flawless with impressive range and solid depth. Red Cliff is filled with demonstrative sound and it really comes through clean and tight - energetically separated when called upon and even some nice subtle surround touches. Dialogue is clear and consistent. There are English
, or Chinese (both traditional and simplified) optional subtitles available
.
Extras:
The only weak point of the Blu-ray with only some un-subtitled interview/Press Conference celebration footage, photo gallery and a couple of trailers (in HD!). This can easily be forgiven as I didn't need anymore than the film itself offered for entertainment.
Bottom line:

This will eventually come to a direct world-wide release but I don't think you need hesitate as this
Blu-ray
delivers Red Cliff in a tumultuous video/audio that is very generous in its epic genre presentation. One would have to attain quite a stubborn stance not to be wholly impressed with this
Blu-ray
. Prepare for a no-holds-barred 1080P film experience - and this is only Part 1!
Gary Tooze
January 11th, 2008