Review by Gary Tooze
Studio: Paramount
Discs:
Region: 'A'
Feature Runtime: 1:27:56.145
Chapters: 26
Disc Size: 23,265,781,479 bytes
Feature Size: 21,008,627,712 bytes
Average Bitrate: 31.85 Mbps
One singlel-layered Blu-ray
Case: Standard Blu-ray case
Release date: December 16th, 2008
Video:
Aspect ratio: 2.35:1
Resolution: 1080p
Video codec: VC-1 Video
Audio:
Dolby TrueHD Audio English 3419 kbps 5.1 / 48 kHz / 3419 kbps / 24-bit (AC3 Core:
5.1 / 48 kHz / 640 kbps)
Dolby Digital Audio French 640 kbps 5.1 / 48 kHz / 640 kbps
Dolby Digital Audio Spanish 640 kbps 5.1 / 48 kHz / 640 kbps
Dolby Digital Audio English 192 kbps 2.0 / 48 kHz / 192 kbps / Dolby Surround

Subtitles:
Feature: English (SDH), English, French, Portuguese, Spanish and none

Supplements:
• Feature Length Commentary by Akiva Schaffer, Andy Samberg and Jorma Taccon
• Ancestors Protect Me: Behind the Scenes of Hot Rod (7:58)
• Deleted and Extended Scenes (14:40)
• Outtakes Reel (3:32)
• Theatrical Trailer in HD

Bitrate Graph: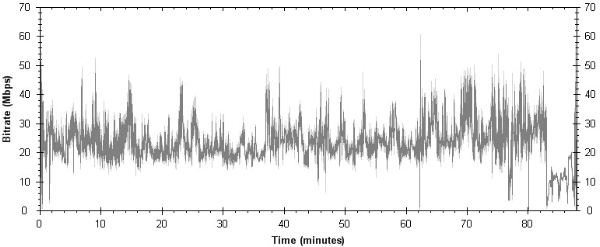 Product Description: Amateur stuntman Rod Kimble (Andy Samberg) has a problem – his step-father Frank (Ian McShane) is a jerk. Frank picks on Rod, tosses him around like a rag doll in their weekly sparring sessions, and definitely doesn't respect him, much less his stunts. But when Frank falls ill, it's up to Rod to stage the jump of his life in order to save his step-father. The plan: Jump 15 buses, raise the money for Frank's heart operation, and then... kick his ass...
The Film:
Rod Kimble, the hero of "Hot Rod," is Evel Knievel on a moped. He leads a life resembling an episode of "Jackass." Not a day passes without him attempting a harebrained stunt, and failure doesn't discourage him, because he knows in his heart that he is destined to become world famous.
[...]


The movie is funny because it is sincere. It likes Rod. It doesn't portray him as a maniacal goofball, but as an ambitious kid who really thinks, every single time, that he will succeed. In creating this aura of sincerity, "Hot Rod" benefits from Spacek's performance: She plays the mom absolutely straight, without inflection, as if she were not in a comedy. That's the only right choice; supporting characters are needed to reinforce Rod, not compete with him...
Excerpt from Roger Ebert at the Chicago Sun-Times located HERE
Image : NOTE: The below Blu-ray captures were ripped directly from the Blu-ray disc.
This came out in, the now defunct, HD format back in November of last year and this is probably the same unremarkable transfer (same VC-1 encode.) It is single-layered with the feature taking up just over 20 Gig of disc space. Detail is at the lower end of the scale for the Blu-ray format. I don't fault the transfer itself as the film seems to have some meager, grass-roots, production values and this is probably close to how the film looked theatrically. Colors are strong (boosted?) and definitely escalate this above SD-DVD but noise exists and the film is fairly hazy at times. The presentation looked respectable on my system but certainly nothing 'to write home about' overall for the image. Some may feel for a comedy of this nature that the transfer is not of prime concern. Either/or this is not a disc you will use to demo your system to friends.
CLICK EACH BLU-RAY CAPTURE TO SEE ALL IMAGES IN FULL 1920X1080 RESOLUTION
Audio & Music:
The TrueHD track has a few boisterous moments that go along with the slapstick efforts of the narrative but not aggressive enough to give the surrounds a full workout. There are some interesting choices for the music from classical pieces to Herbie Hancock. Dialogue is clear and consistent enough. The separation exists but, like the image, seems second rate. There are 2 optional 5.1 foreign language DUBs and English
(SDH), French, Portuguese or Spanish subtitles available
.
Extras:
An occasionally amusing 2.0 channel commentary from the filmmaking trio and you can see their appeal to have the backing to make the movie in the first place. There are some inconsequential deleted scenes and an outtake reel plus a very funny 8-minute piece, entitled Ancestors Protect Me: Behind the Scenes of Hot Rod, that rivals the movie for pure humor. I'll guess this represents nothing new beyond previously released DS-DVDs and HD-DVDs.
Bottom line:
Like co-star Isla Fisher, the film itself is pretty cute. However, I don't think I can recommend as it really seems to under-achieve as both a comedy and a Blu-ray disc. If it was offered at around $12-$14 it might seem worthwhile for a lackadaisical night in the home theater
. As it stands you can certainly do better.
Gary Tooze
December 8th, 2008